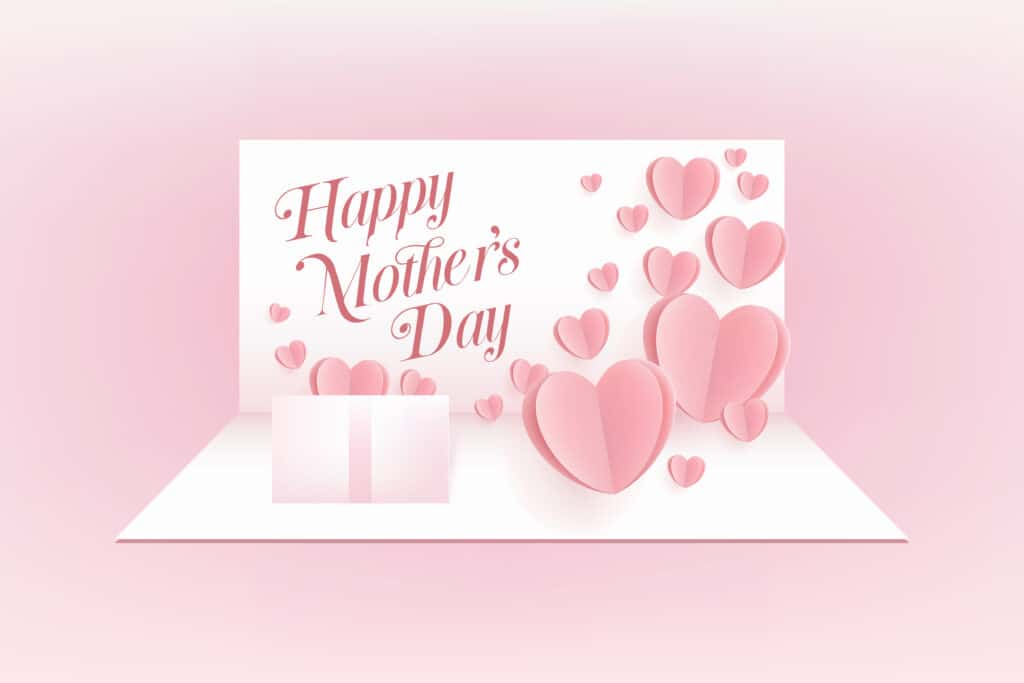 I can't believe that Mother's Day has come and gone.  I don't know about you, but I was not ready.  The plus about owning a Cricut machine is that I can whip up custom handmade cards in less than an hour.  Creating custom cards are so much fun and the best part will be making my favorite people feel special. 😊 It is a good alternative to stock greeting cards.
If you read the entire post, there will be free svg file at the end.
This post may contain affiliate links and we may earn a small commission when you click on the links at no additional cost to you. For additional information, please see my full disclosure policy.
Materials
You may need the following materials depending on the type of card you would like to create.
Cutting Machine
Machine Cutting Mat

Cricut's Green Standard Grip Machine Mat. This is the one that I use.

Cricut's light blue Light Grip Machine mat. This can be used with lighter cardstock.

Cardstock

80 lb regular Card Stock – Pick any color that you and your mom will like and that fits with your custom design.

Glitter Card Stock – I have 6-year-old girls so having glitter cardstock on hand make me a "cool" mom.

Glue
Pens

Any other brand of pens that work with Cricut

Scoring Wheel or Scoring Stylus – These are nice to have. These tools create a score line on your card making it easier to fold. If you don't have one, you could use a rule to help make a straight fold.
Scrapper Tool – This is another nice to have tool. I found this extremely helpful when trying to remove my cards from the mat and I also used it to remove any bits of cardstock left on the mat.
Design
There are many ways to design your own card.
If you are feeling super creative, you could create your own card designs in Inkscape, Adobe Illustrator, Cricut Design Space or any other design tool.
You could buy a design from an Etsy, Cricut Design Space or other shops
If you make it all the way to the bottom of this post, I will give you free svg files to create cards.
Making Card
After you have chosen a design or created your own design for your favorite person and you have all the material then the next step is to make the card. The next steps to make the card are:
Open Cricut Design Space and import your design. If your design is already in Cricut Design Space, you can skip this step.
From the Canvas in Cricut Design Space, click on the upload button on the left-hand side tool bar.
Click on Upload Image.
You can click on browse and select the location of your file, or you drag and drop your file on to this page.
Once your design is in Cricut Design Space, you can click Make It.
Select the type of cardstock being used. I always choose more pressure to make sure it cuts all the way through the cardstock.
Place your cardstock on your mat.
Load your mat by push the double arrow (for Cricut Maker) on the machine.
Push the C button (for Cricut Maker) on the machine.
Unload your mat.
Remove your cardstock from your mat by laying your mat cardstock down and slowly peel the mat from the cardstock. This will help prevent the cardstock from curling.
Repeat steps 5 thru 11 as many times as your design requires.
Assemble your card using glue and fold.
Present Card
Pairing a custom card with a home-made meal will make your favorite person feel really special. My mom is many miles away so making a home-made meal for my mom was not really an option this year. Instead, I got her a gift card to her favorite restaurant, so she still didn't have to cook and she received a handmade card.
Here is my gift to you…FREE svg file to make your favorite person a card. I hope this adds a smile to your favorite person's face.
Here are five (5) hacks to significantly reduce your card making time:
Use a Cricut Joy machine. The Cricut Joy machine was perfectly designed for making cards fast.
Cricut Joy Card Mat. This is a very useful tool to create cards with. It has been specially designed to be used with pre-folded cards. It has a special place to put the back of your card so that you do not cut it while cutting the front of your card.
Use free or paid card designs in Cricut Design Space or Etsy. This will cut your design time. Just search Cricut Design Space, Etsy or other shops for Card projects. Make sure the design you choose is the correct size for your card and if it is not the correct size figure out if it can easily be resized. For me, the hardest part about this is deciding which design to use. There are so many super cute designs.
Use Cricut Insert Cards. These packages include blank card, card insert and envelope. You just need to cut your design into the front of the card and either handwrite or use a Cricut Joy Pen to print inside the card. If you don't like using glue, this is a great option. A couple of things you need to watch:

When choosing a design to go with insert cards, make sure the design has insert card corners. This means that the design needs to have slits cut into the corner of the card so that the insert card can be tucked into the slits.

When cutting your design into the front of the card, the position of the design on the card must be in the right place or the insert card will not fit.

Use Cricut Cut Away Cards. The package has blank cards with adhesive, colored backers and envelopes.

The inside of the card has an adhesive sheet.

Remove the liner and then put the backer good side down on to the adhesive and press firmly.

Cut the cards using the cut away card setting on your machine.

Once your design has been cut into the card, remove the card from the mat.

You will need to remove the first layer of unwanted pieces of cardstock. Almost like weeding vinyl but with cardstock. Be careful using a weeding tool to remove the top layer of unwanted card stock. It could damage the underlying backer that you want to show through. See if you can use your finger or fingernail to remove the unwanted pieces. This will help preserve the backer.
Happy Card Making 😊 😊😊
Other resources: