Do you get bewildered when it comes to designing your craft room? Searching for the perfect furniture and storage can be overwhelming! There are so many things to choose from and how do you know exactly what is going to work for you? Here I am sharing with you some craft room design ideas to help get your creative juices flowing.
No need to stress out about designing your craft room. It just takes a little planning, measuring and searching for the perfect storage, work space and accessories. What makes it daunting is trying to think of the end before starting at the beginning.
What do I mean by that? Well I have looked all over Pinterest and I see some very amazing rooms. The problem is I can't picture them in my space. Why, because those pictures are the "end" not the "beginning". Ruth Soukup of Living Well Spending Less says "Don't compare your middle to someone else's' end." So true.
Now, what I am going to suggest next will seem to go against what I just said, BUT, it is a good thing to have an idea of what you like and what is pleasing to you in regards to the style of room you want to achieve.
Start a Mood Board
A mood board is just a fancy way of saying cut and paste on a poster! LOL Seriously, purchase a poster board at your local dollar store and start searching ideas on Pinterest or Google for craft rooms. Take note of the storage that appeals to you and cut it out and paste it on your board.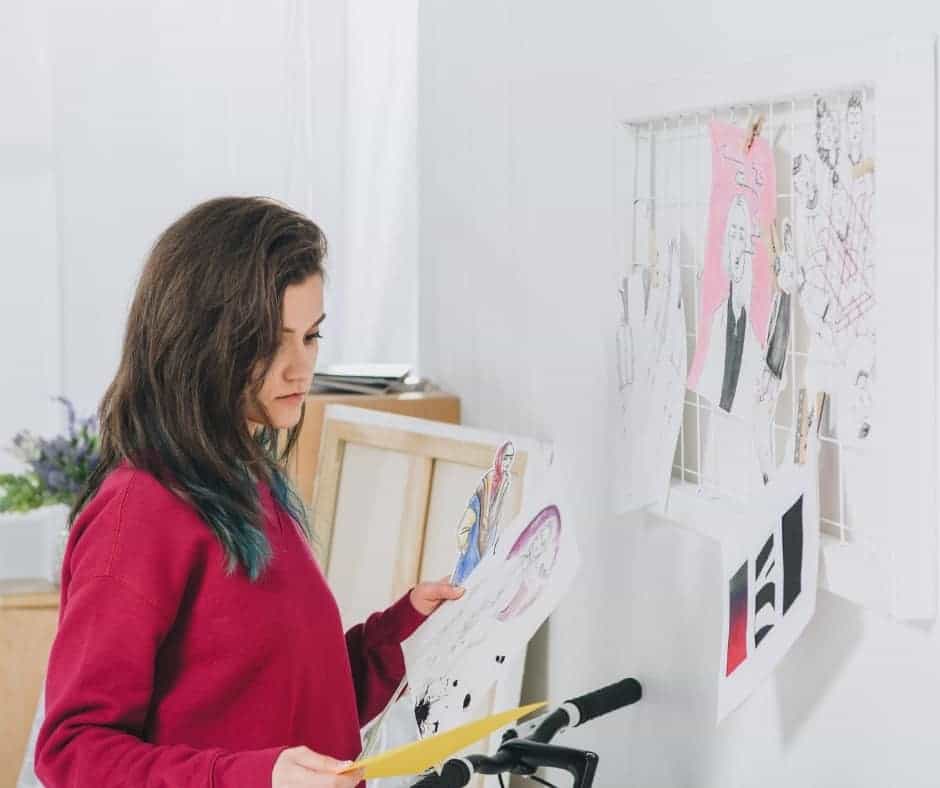 Get ideas for furniture, storage, tables, color, you name it. This will give you inspiration for your room and help you stay focused so you achieve your perfect craft room design.
In these next steps, I'll take you through the process and even the thought process to help you overcome that helpless feeling of "Where do I start?".
How do you start the design process?
Empty your room
Draw a simple diagram with window and doors
Take measurements of your space
That's pretty easy. Ok, maybe not. I can hear the questions already:
What do I do with all my stuff?
Aha, perfect time to purge!
Set aside a full day or even a weekend to start this process from start to finish
Piece by piece take your time to go through what you have now
Set aside areas for Keep, Toss, Donate
Have boxes ready for all the Keep and label the box by the type of craft they are for
Once you have all the boxes full and your room is cleared out you can start the design process which will be easier because you know what you have and how much of it
Decisions to Make at this Stage
Things to consider now that you have your craft room design layout are:
Built in cabinets, counter space, shelving or Moveable options
Size of craft table and chairs and placement
Open shelving or something you can close
Accessibility to certain items and where you will want those items
Pegboard
Wall hangings
Door hangings
Closet space
Flooring
Lighting
Odd spaces
Really take a look at all the things you have and how you want these organized in your craft room. Consider the pieces you have now. Do they fit in with your idea of your perfectly designed craft space? If not, consider selling them or donating them.
So now that you 1) have your room clean; 2) have a good idea of your craft supplies; 3) decided on the overall decisions and 4) have your mood board ready, you are ready to start implementing your design.
With the room layout you made, make little cutouts of the pieces you intend to purchase or you already have. Your shelves, your table, your storage units, chairs, etc. You can use this design template I created that has many of the items available to drop in your layout. It has complete instructions on how to create your layout and how to use the pieces or create your own. Included most popular craft room pieces used already sized and ready to cut out and put in your Craft Room layout!
Doing this exercise will help you in deciding which pieces will fit before you make any purchases.
Getting your room ready for the next step
Give your room a good cleaning – top to bottom
If you decided on new flooring, have it installed
Then if you are going for cabinets and counter tops, have them installed
Install your overhead lighting fixtures
Hang Pegboard
Now you are ready to add all your mobile pieces:
Shelves
Carts
Tables
Chairs
At this point your room is ready to start filling with your craft supplies. Since you have everything already sorted in your boxes, this part should be easier. First you will want to decide if you need storage containers for your crafts or if they are going in cupboards or drawers. Sort the box accordingly and put things in your room that already have a place.
Take your time to search ideas for storage.
Read all about the whole process step by step in the Craft Room Design and Organization Series.
These are places I like to look for Craft Storage:
Ikea
Michaels
The Container Store
Amazon
Office Depot
Target or Walmart
Google Search
Home Depot or Lowes
Joann.com
My Facebook group Craft Room Organization, has so many crafters there and they have the most awesome ideas they are willing to share!
Take a look at a few of the member's craft rooms.
Member: Karen Parker
What I love about her room is that she took a long narrow room, like a galley, and used every bit of it to create a great crafting room for her and her girls!
She currently makes things like machine embroidery, all things Silhouette, sewing, bible journaling, planner girl, scrapbooking (but not in forever).
"I love that everything in my craft room has a place. I have things stored from floor to ceiling. I know exactly where to find what I need. The long counter space with extra LED overhead lighting provides room for my and my girls to craft together."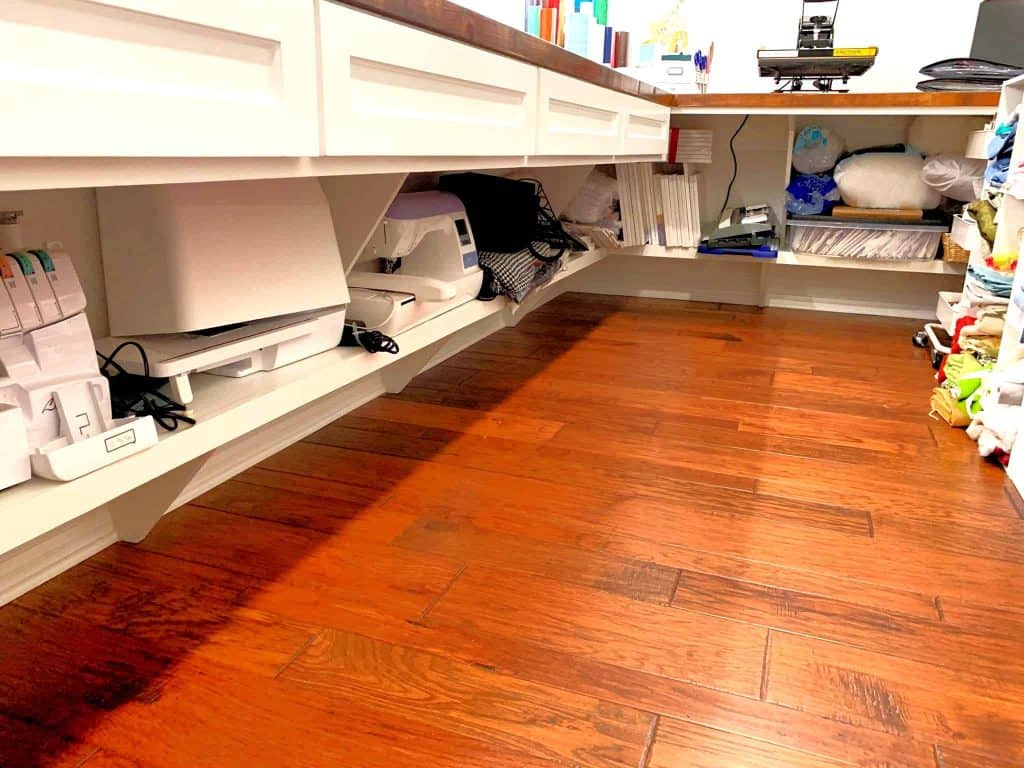 "Another favorite is that I built my desk at counter height!!"

Member: Kelly Burgess
Kelly's room is more square and affords her a nice big craft table right in the middle of the room! She has lots of storage for her stamps, ink pads, markers and paper.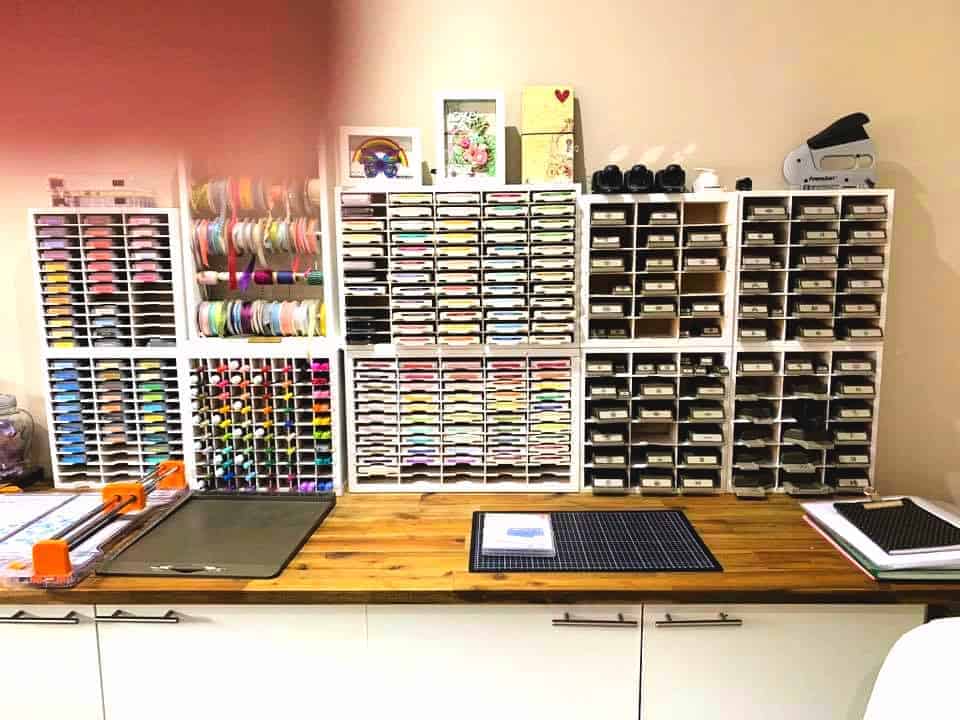 Member: Karen Yegel
Karen is primarily a paper crafter and loves scrapbooking and cardmaking. She also enjoys mixed media, hand embroidery, machine embroidery, jewelry making, drawing and painting.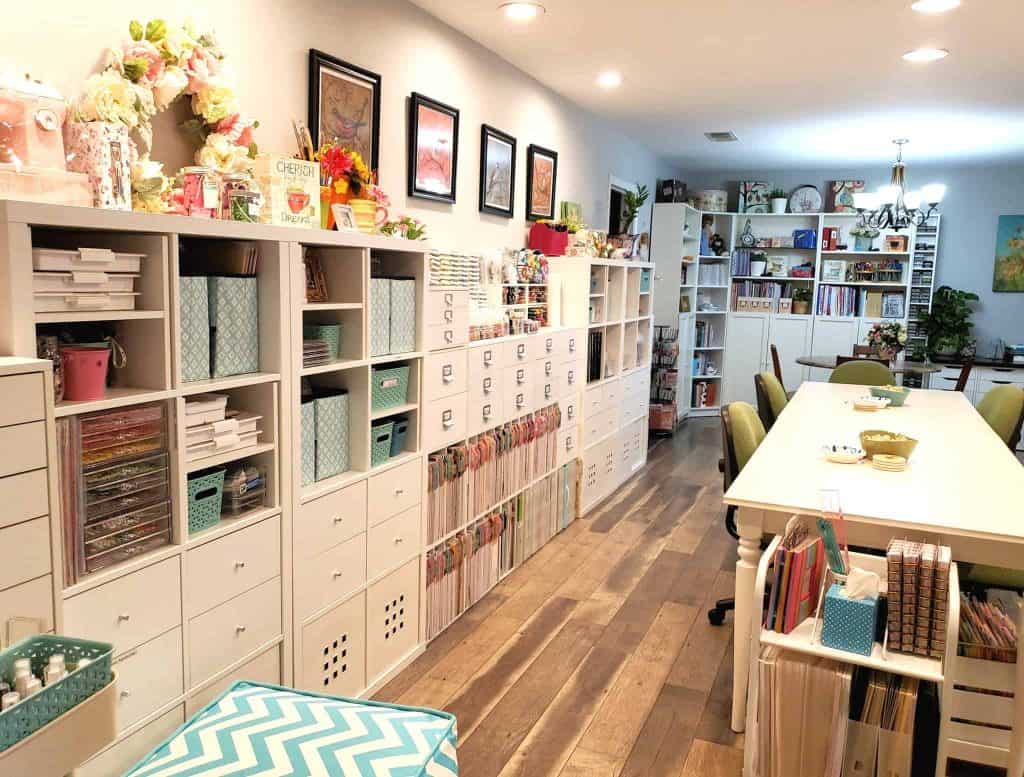 "I love my craft room because it's such a fun and happy place to be. I love to organize as much as I love to craft and having an organized space with a place for everything is a dream come true. My favorite things in my room are the color scheme of teal, coral and white and the two large tables in the middle of the room. It's so awesome to have enough space to share my craft room with friends and family."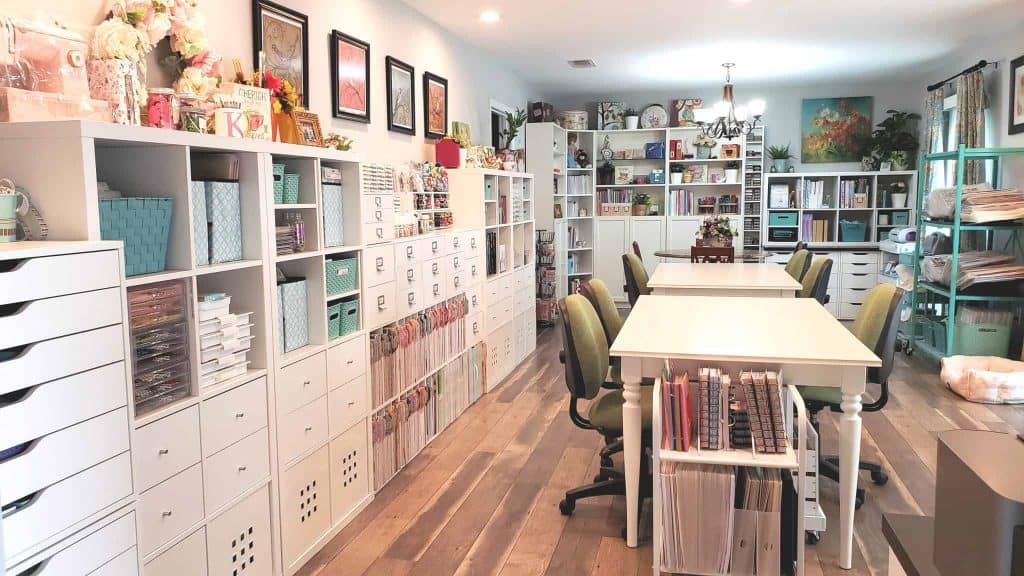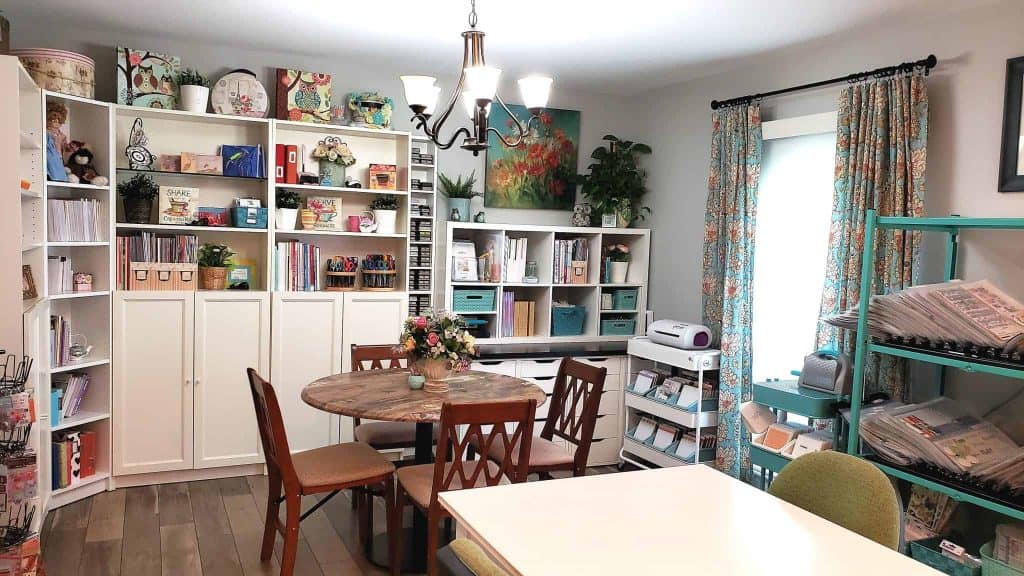 I love the warmth of Karen's Craft Room. It's very comfy and cozy and inviting!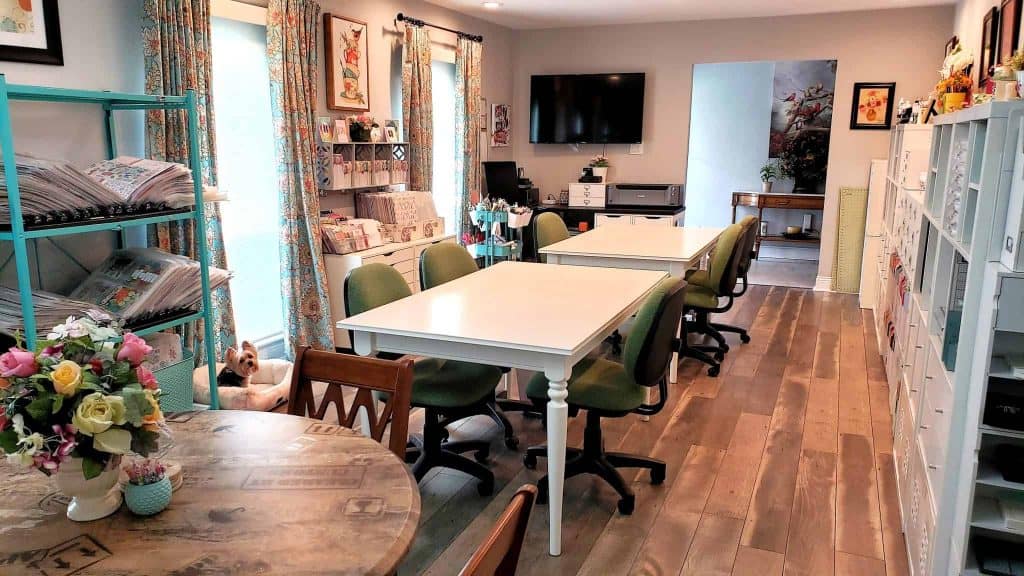 You can find Karen and all her creations on her blog YesPleasePaperCrafts, on her Youtube channel and her Facebook Group.
Member: Cassie Gagnon
"When I craft, I mainly make wood signs but I love to make all sorts of things! From Scrapbooking to painting, working vinyl, acrylic pouring and recently started engraving animal name tags! I'm constantly trying to learn how to make new things!"
Cassie did a lot with her Craft Room as you can see from her before and after photos!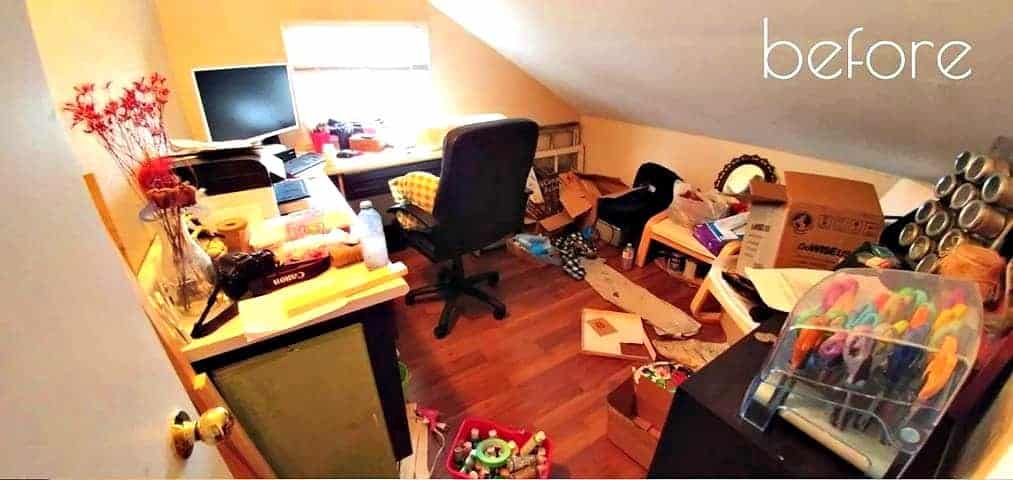 "My craft room is my happy place! This is where I go to reduce stress and focus all my energy into being creative! My best friend also enjoys crafting so lots of great memories are made in there as well! And most of all, there's so much purple!! My favorite color!"