The holidays are approaching and each year it seems they come quicker and quicker. Most crafters like to get a jump on their holiday crafts for gifts and craft fairs. July is the perfect time to get them started. The craft stores are starting to put out the holiday merchandise and offering sales to entice all crafters. We've compiled 27 Crafts to make for Christmas in July to help you get started.
Are you one of those people that craft for craft fairs? Or just want to get a jump on the holidays? Getting new ideas that are fresh and popular certainly helps with that! I asked some of my blogging buddies to share their Crafts for Christmas in July ideas and I'm happy to share them all with you!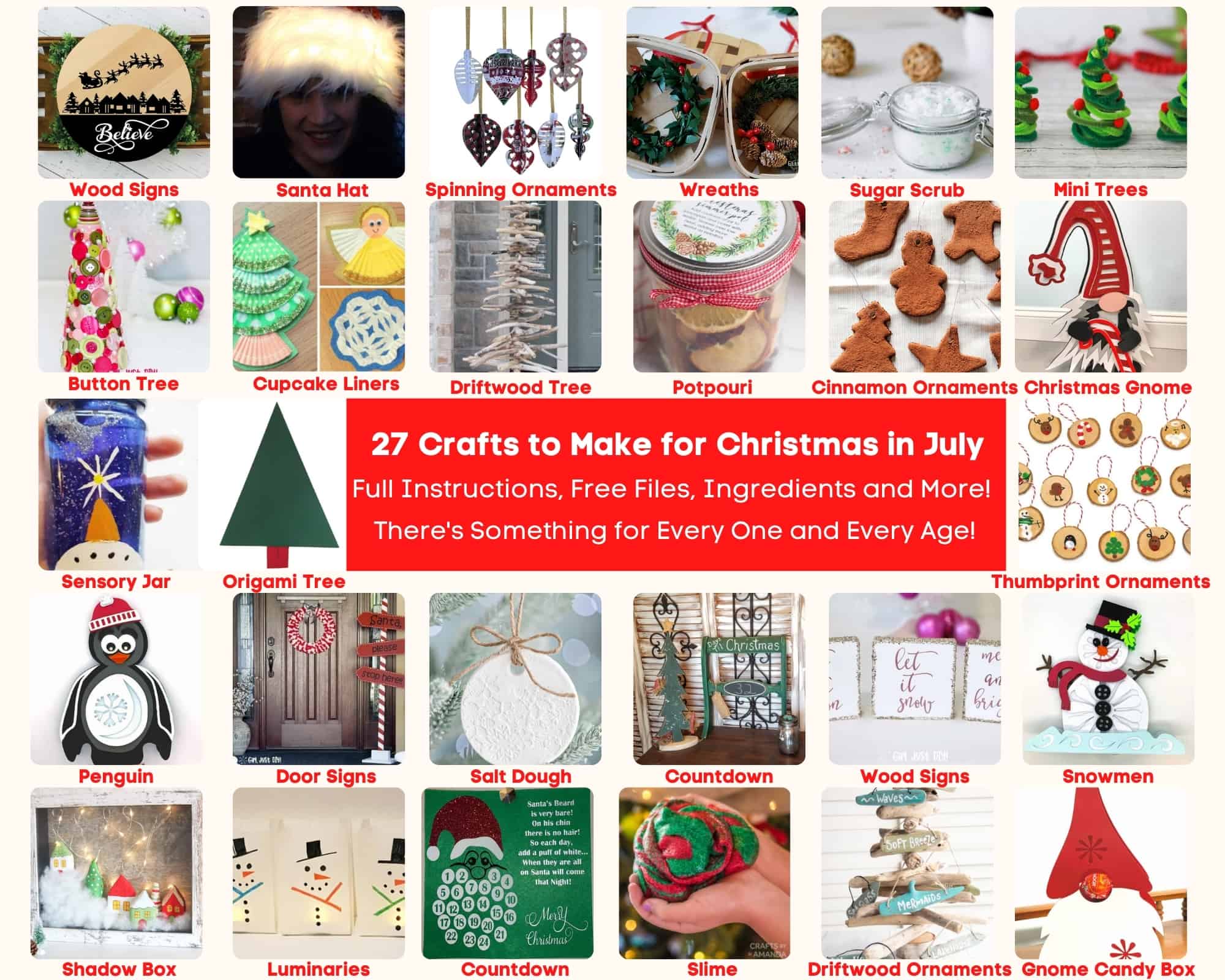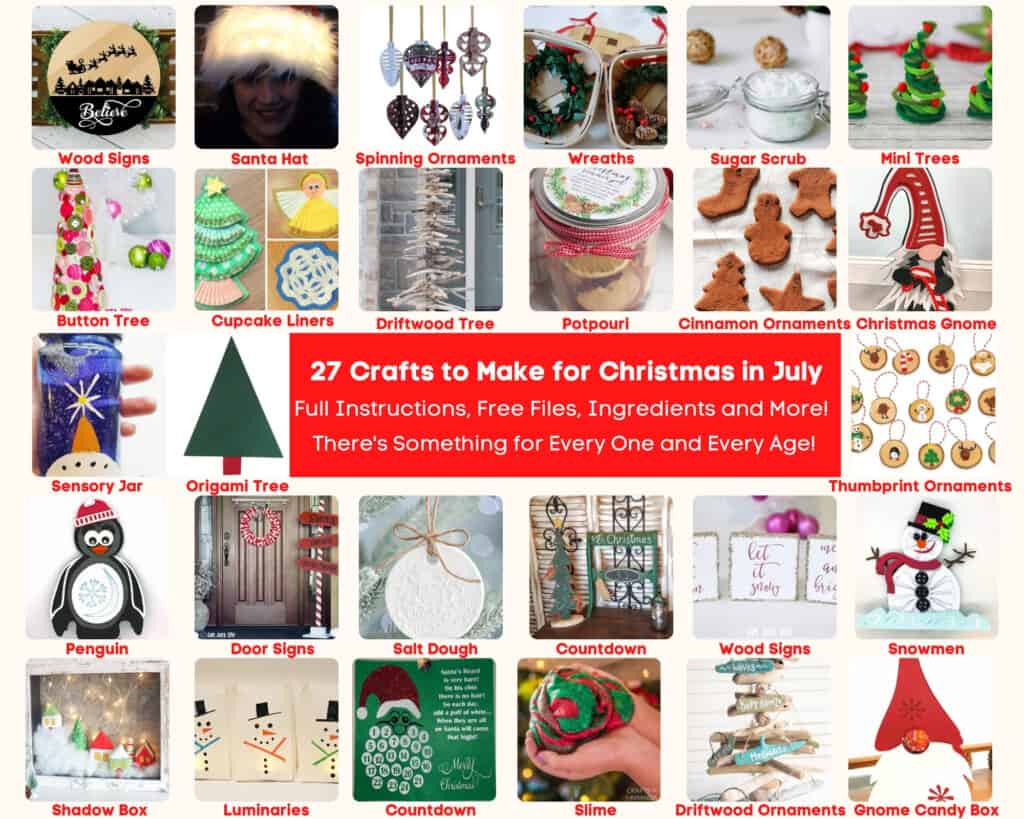 There's a little bit for everyone. Kids, adults, ornaments, wreaths, trees, soap, mason jars, potpourri and more! Take a look and see if there are some you might want to give a try. Let me know in the comments if you get a chance to make any. I'd love to see them too!
This list with links is available as a download so you can save it on your computer and refer to it anytime you like! See bottom of the post for details.
Lights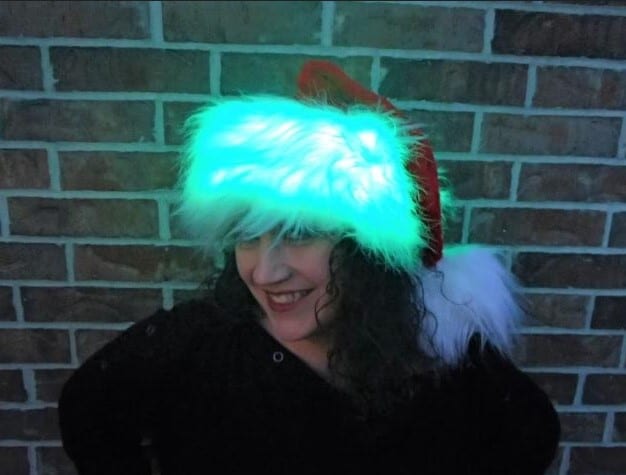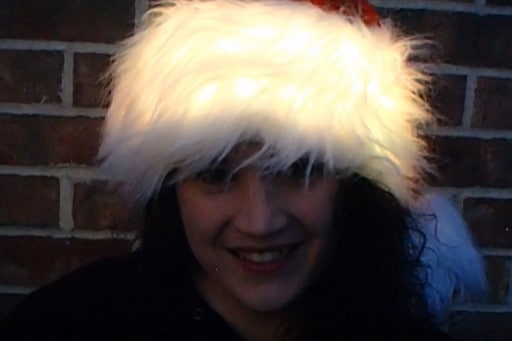 Light-up Santa Hat
Want to try something new? My friend Christina from CreativeHadleydike.com created this absolutely FUN lighted Santa Hat. Her lighted outfits are so unique and she does a great job explaining how to put them together. This project ANYONE can do! Even me lol! Check out the tutorial here.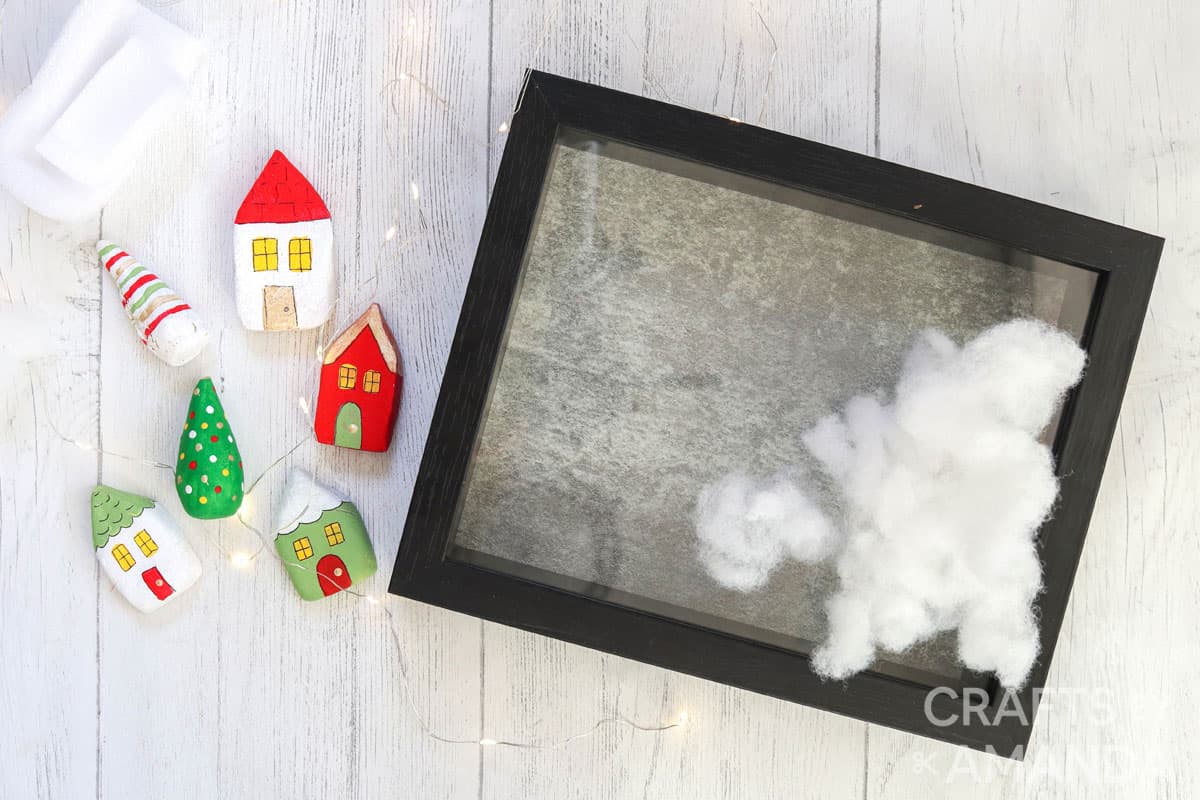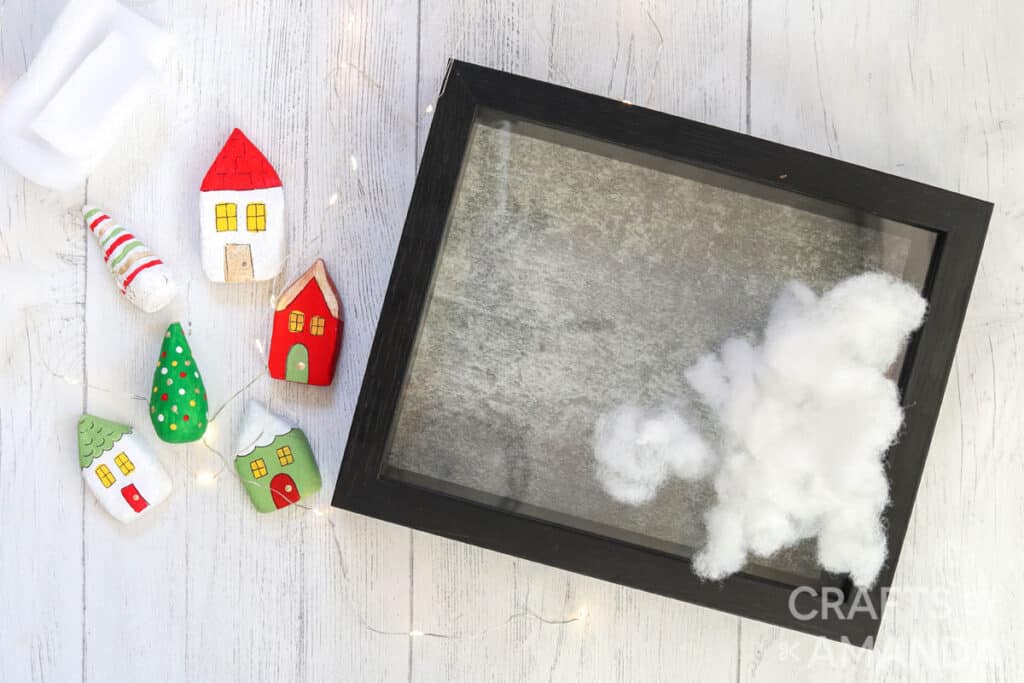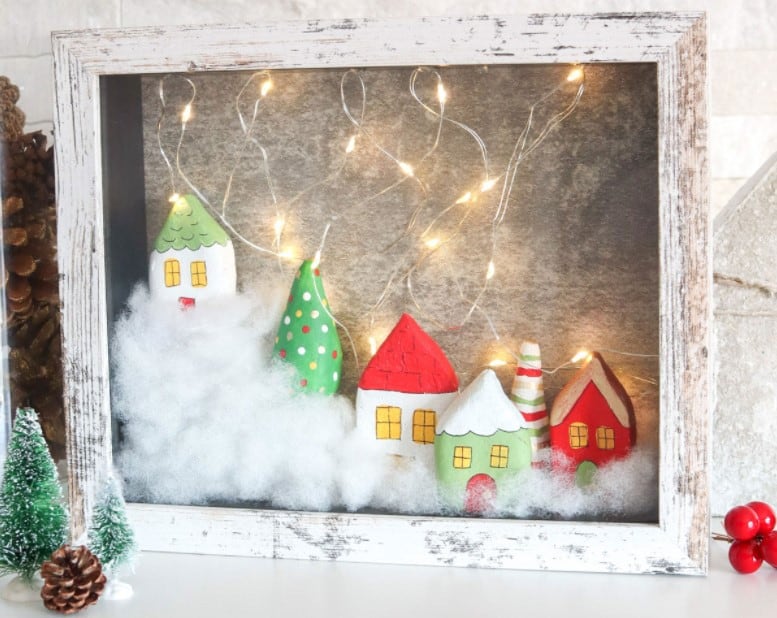 Christmas Village Shadowbox
Shadow boxes are very popular during the holidays and Amanda over at CraftsbyAmanda.com made this adorable little lighted village. It's different than the sheets of layered paper. I love it's compact size that still delivers the look of a Christmas Village! Check out her full tutorial here.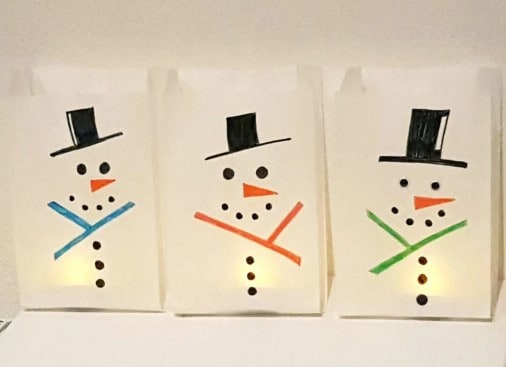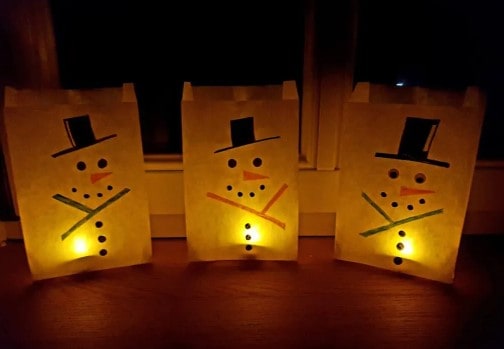 Snowman Luminaries for Kids
You can certainly have the kids make these cute flameless luminary bags to light your porch or even a window! How stinkin cute! Let Susanne from Liltigers.net show you how she did this with her 3 little tiger boys! Check out the post here.
Trees
We all love a pretty holiday tree! Take a look to see what you and even your kids can make together.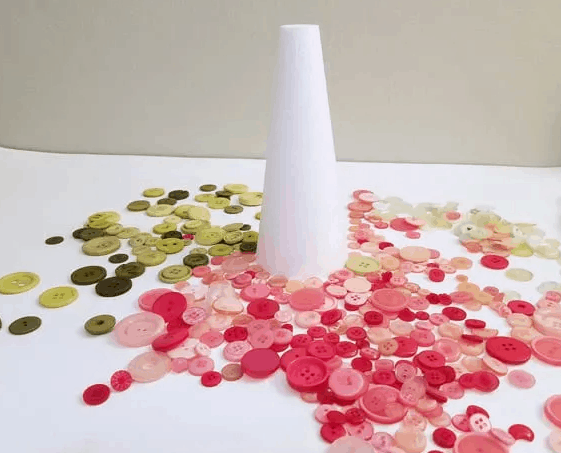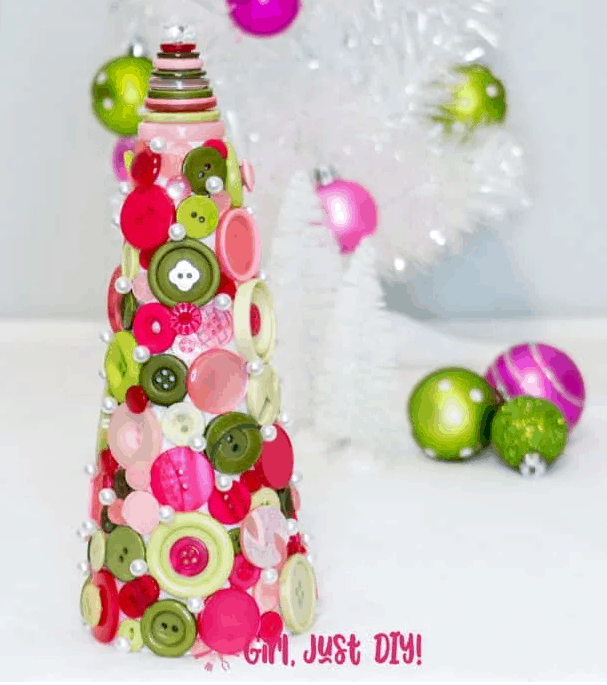 Button Christmas Tree
This cute button Christmas tree is so pretty and easy to make. I love the colors Toni at GirlJustDIY.com used in creating the tree. Her step by step instructions are easy to follow and take very little in supplies to make! Check out her instructions here.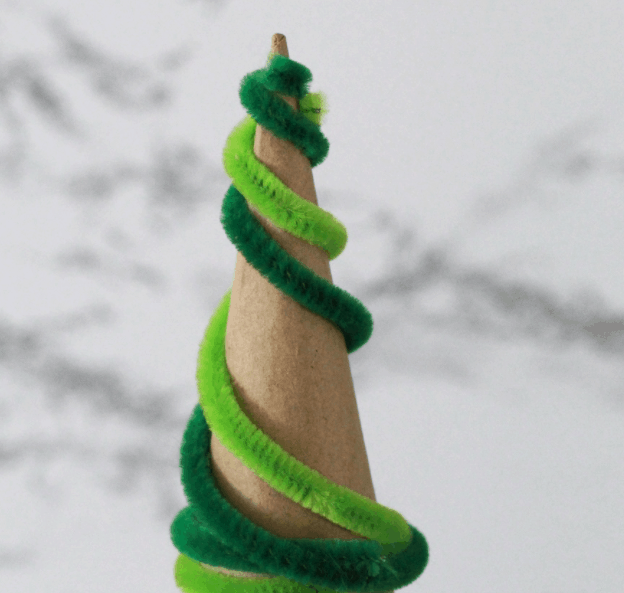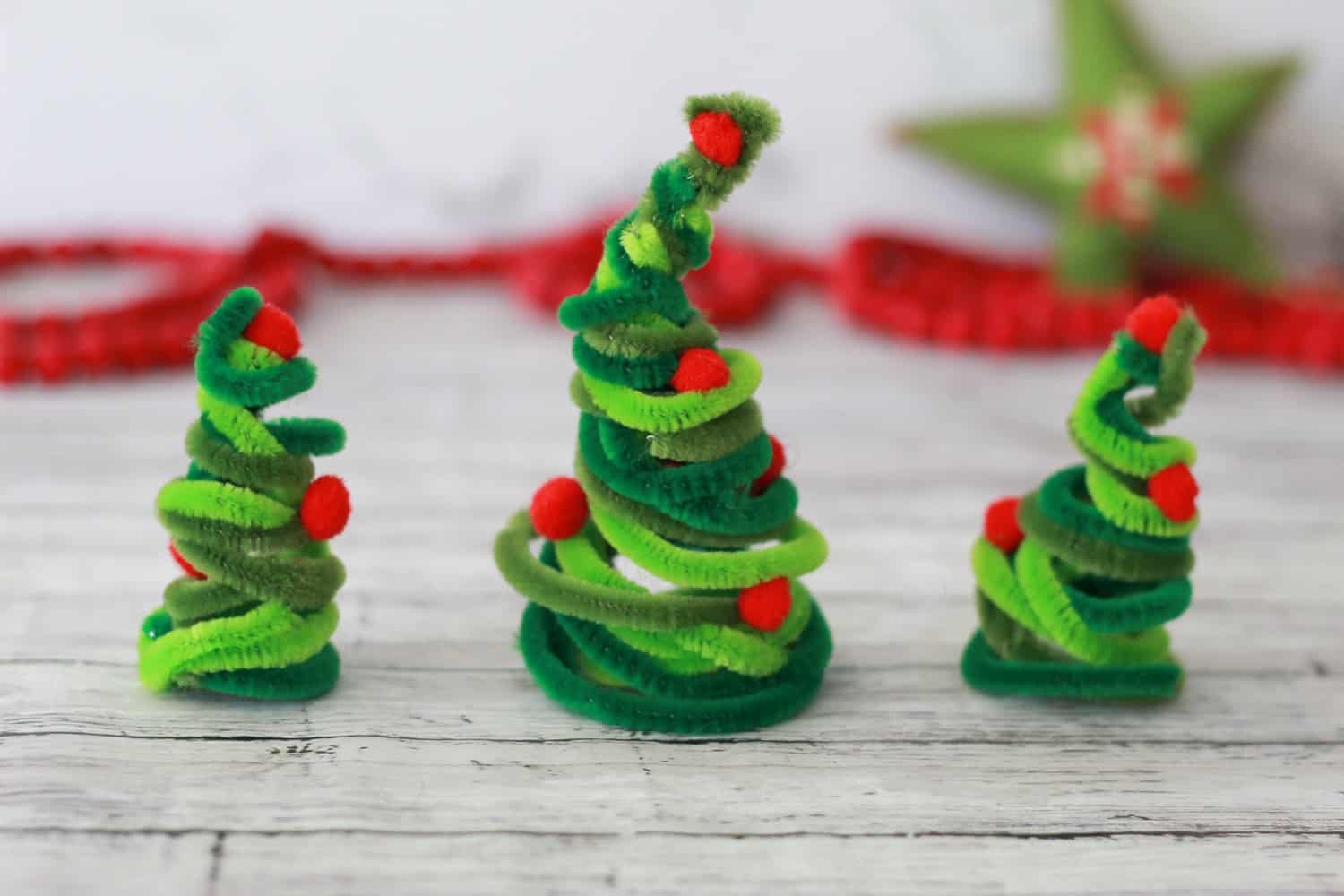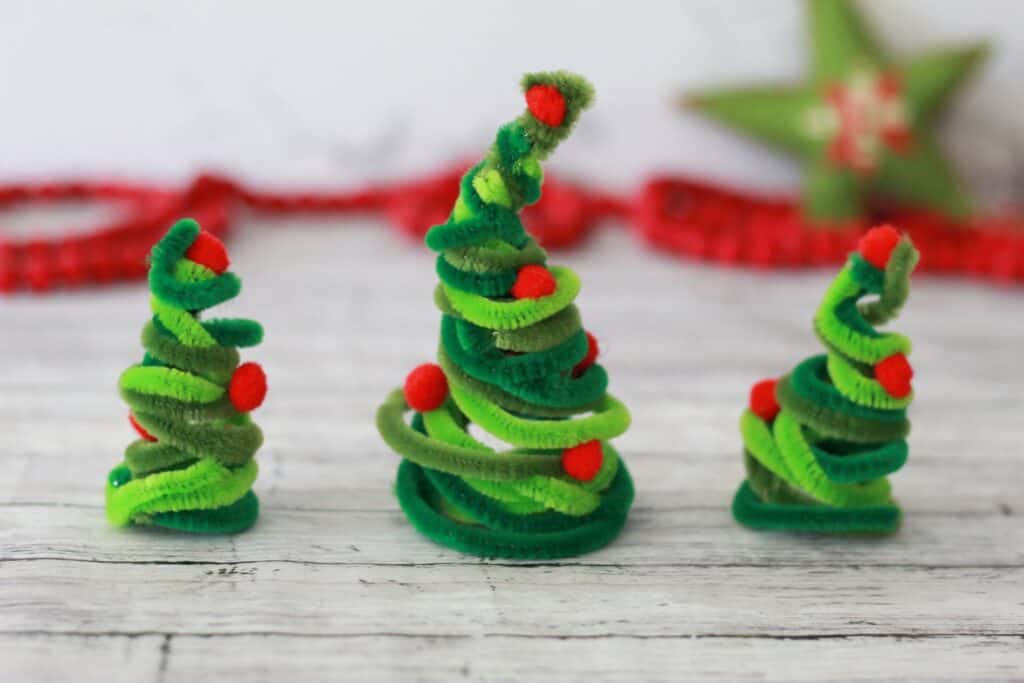 Kid-Friendly Pipe Cleaner Christmas Trees
Get the little ones involved in this fun craft. They will come up with some fun, squirrely, trees that will be so cute for your holiday decor! Kim from TwoKidsandaCoupon.com shared this idea as a fun way to get the kids crafting for the holidays! Check out how to make these with your kiddos here.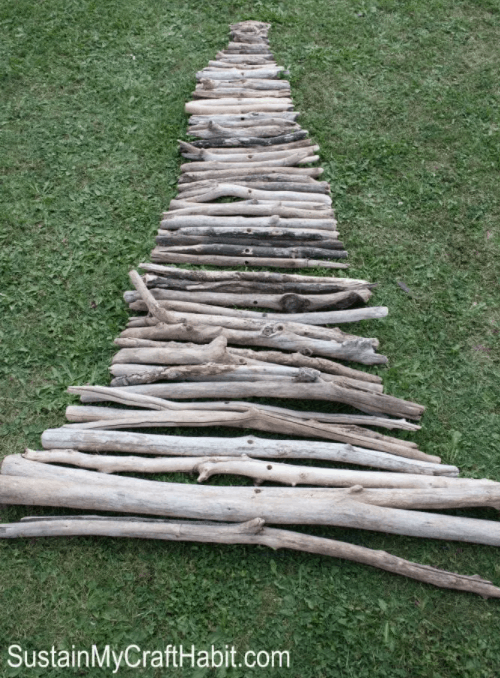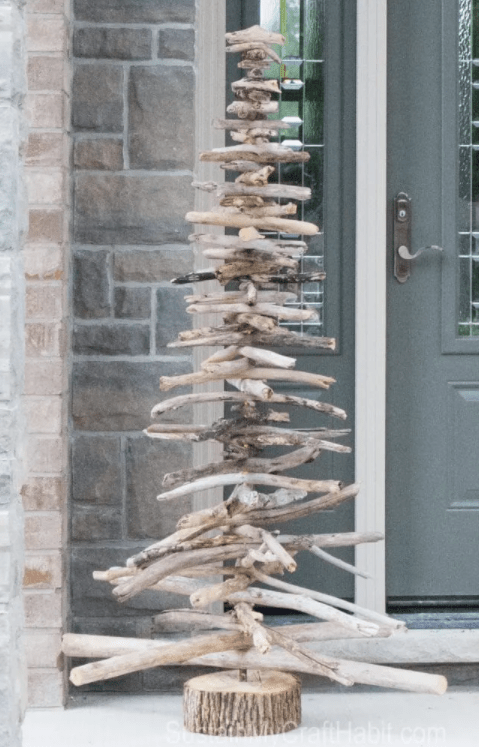 Driftwood Christmas Tree
For all those that decorate with a beach theme, this driftwood tree by Sonja & Jane over at SustainMyCraftHabit.com is perfect! I love the look of the natural wood making up the shape of the tree. It would also be so cute with little fairy lights strung through it. See how they created this tree here.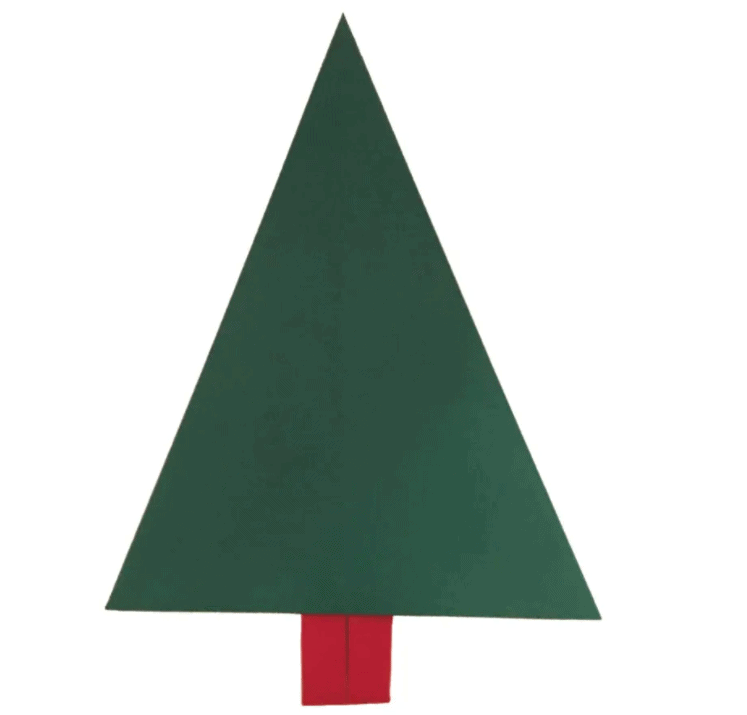 Easy Traditional Origami Christmas Tree
Russell over at OrigamiExpressions.com nailed this little tree and coined it perfectly with the caption
"I never thought it was such a bad little tree. It's not bad at all, really. Maybe it just needs a little love."
Linus Van Pelt, A Charlie Brown Christmas
My granddaughter loves to do Origami so naturally I had to include this little guy! Watch the video to see how easy it is to make and be sure to check out Russle's other tutorials here.
Ornaments
I love making ornaments with the grandkids every year. As they grow, the crafts become more intricate and they love learning new crafting skills. We make them at Thanksgiving while everyone is waiting for the turkey to cook! Take a look at these fun ornaments to make for the holiday tree.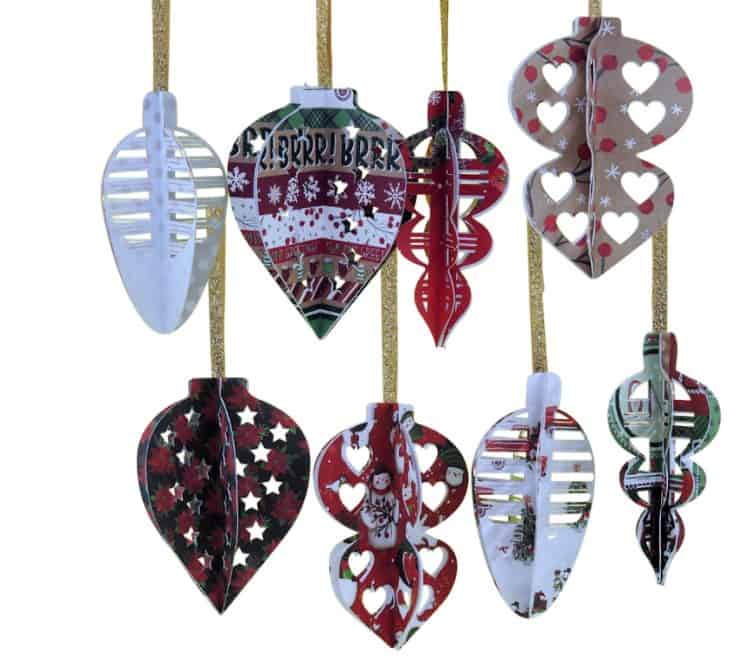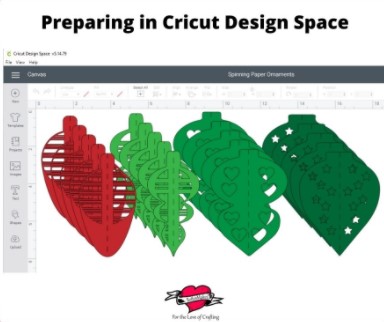 Paper Spinning Ornaments
My friend Bette from BettesMakes.com has created some really cute spinning ornaments for your tree. I love it when a tree has movement and these are sure to provide some. I would hang these from my kitchen lights as well and even on a wired Christmas ornament hanger tree for my holiday table. You can get her free file and instructions here.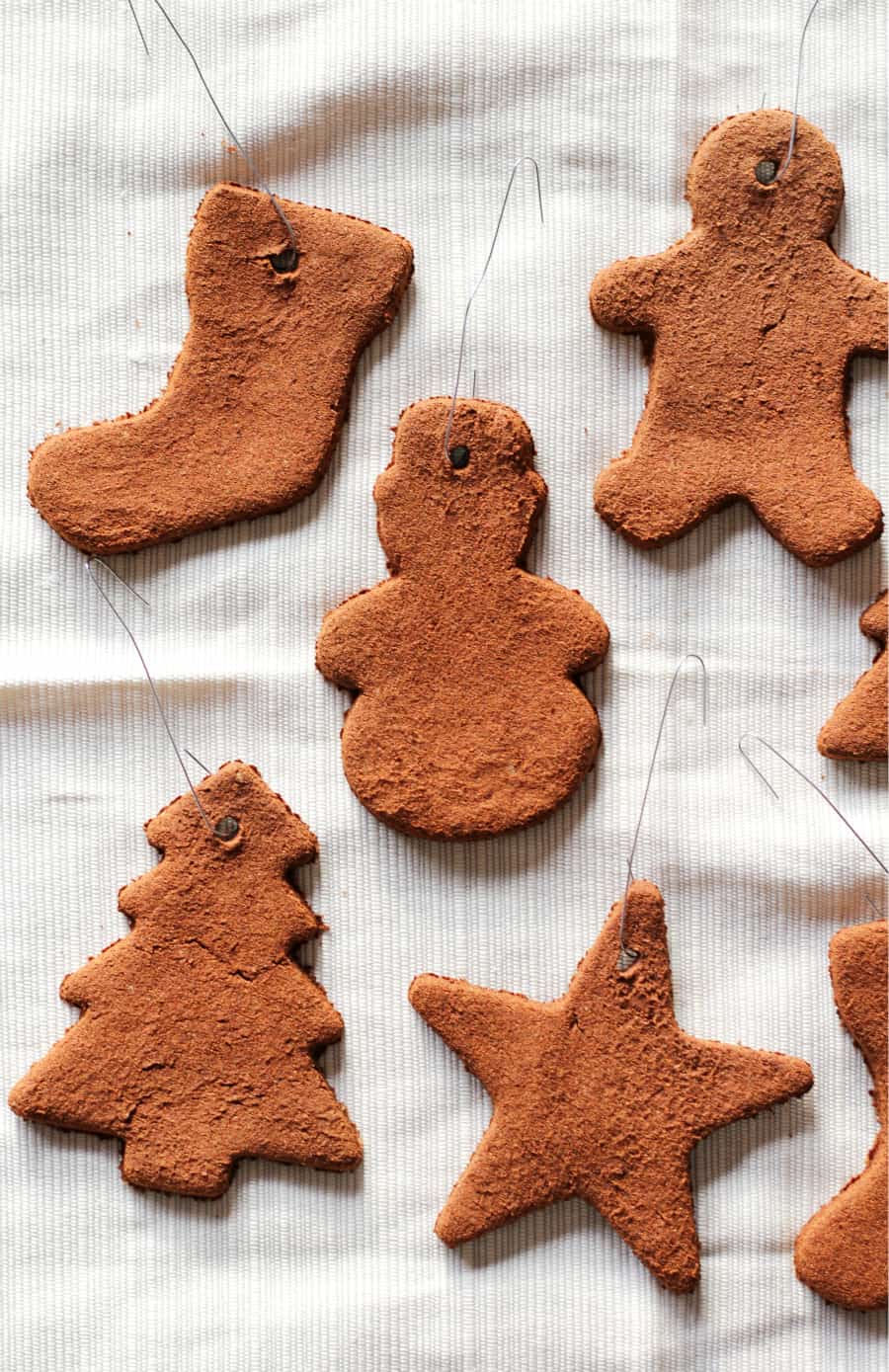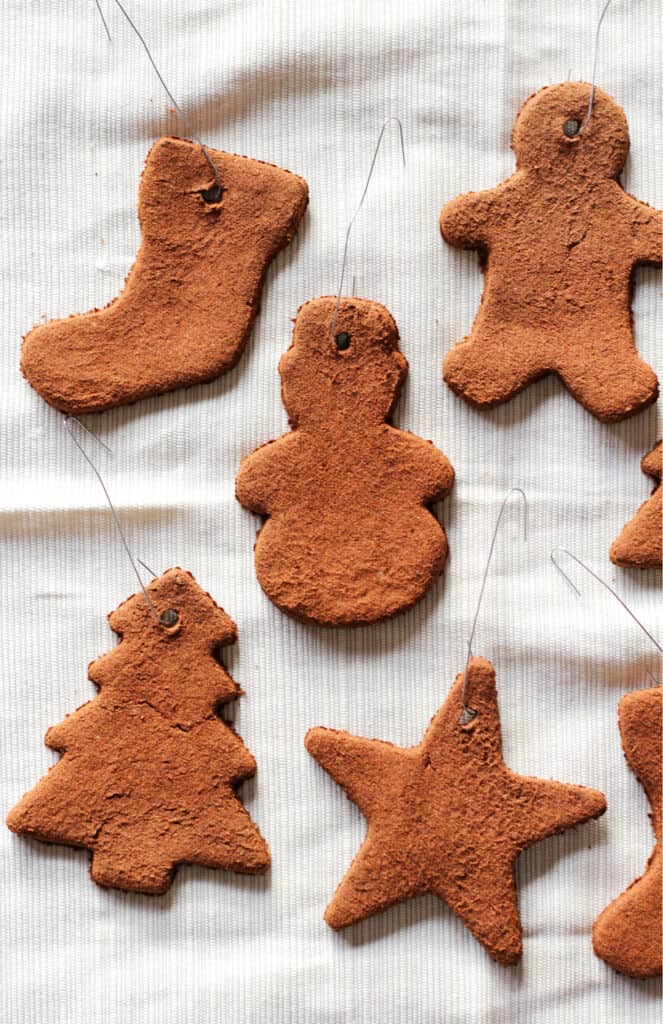 Homemade Cinnamon Ornaments
Gosh, can't you just imagine the wonderful smell of baking cinnamon while making these cute little ornaments! Perfect for a primitive holiday! The kids would also have fun making these with your supervision. I know I loved baking with my mom! Check out Rebecca's post from StrenghtandSunshine.com with full instructions and ingredients here.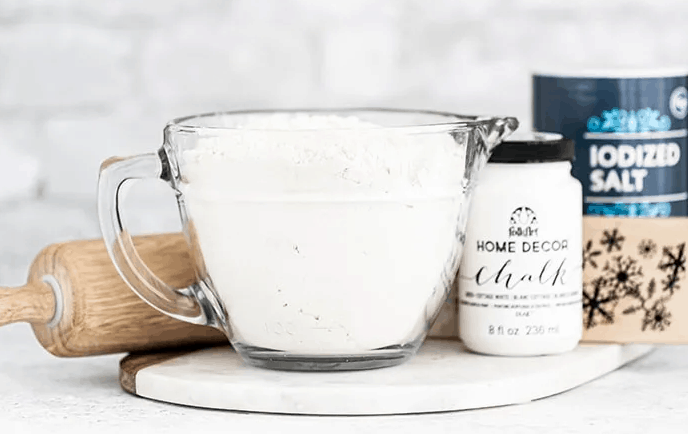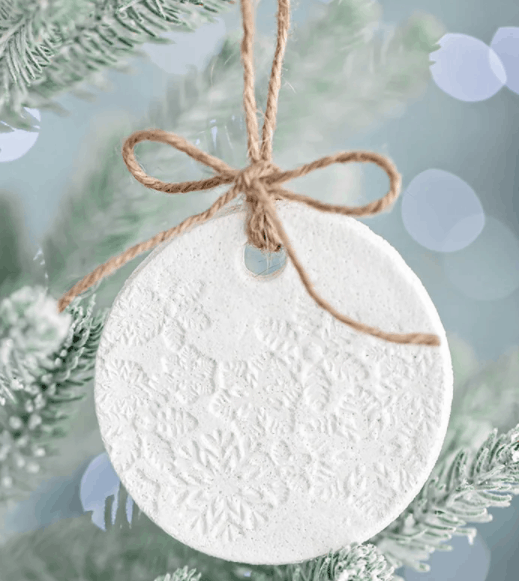 Salt Dough Ornaments
Continuing on with making ornaments from scratch, get the full tutorial of how to make these salt dough ornaments over at Katie's blog GoodLifeEats.com. Get creative with your designs too – this would be so cute with baby hand and foot prints too!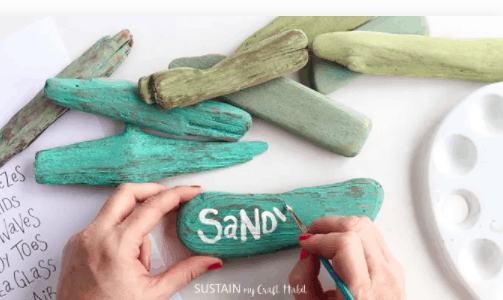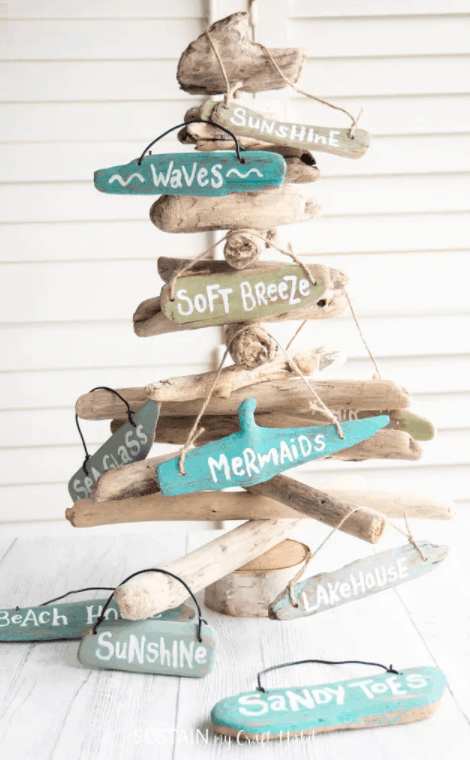 Coastal Christmas Ornaments
How cute are these beachy ornaments! You can hang them on your driftwood tree you made above! Sonja and Jane continue the coastal theme in this cute tutorial here.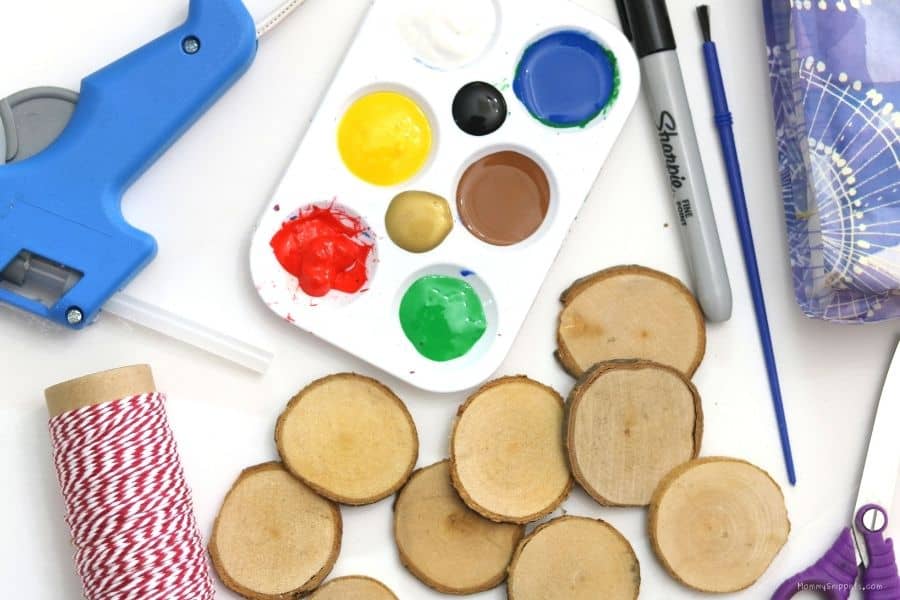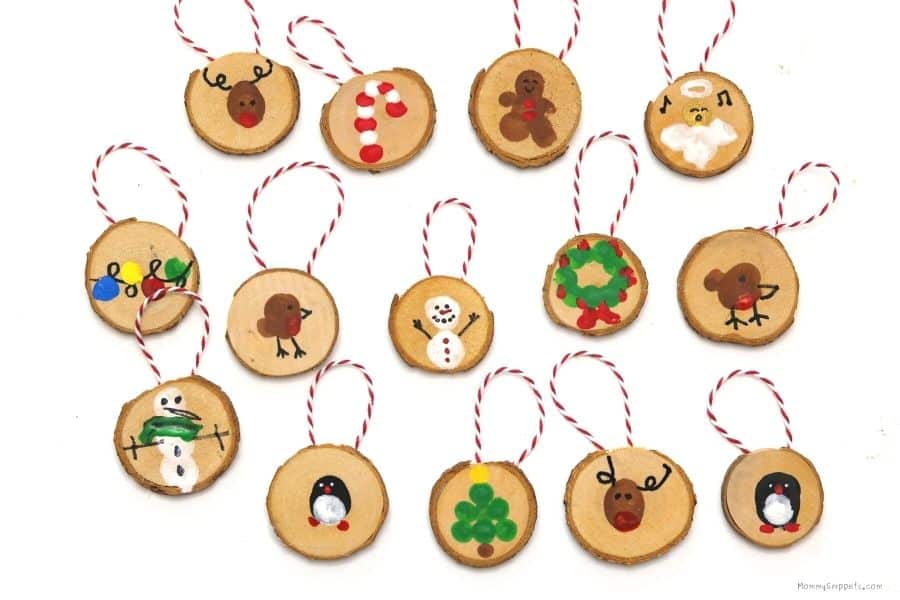 Fingerprint Christmas Ornaments
Aren't these adorable? So easy to make with the kids too! What kid doesn't love to fingerpaint, especially when they can make something out of their own thumb print? Marina from MommySnippets.com walks you through all the designs to show you and your kids how to make these cute ornaments! Check it out here.
Paper Crafts
These paper crafts will add some fun holiday decor to any table or even your office space at work! Take a look at how creative you can get with just paper and some cutting (or let a cutting machine do it for you!)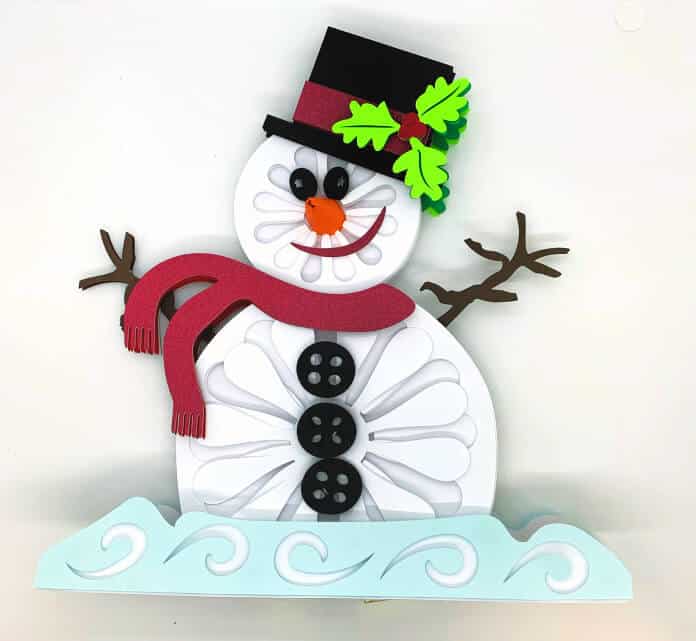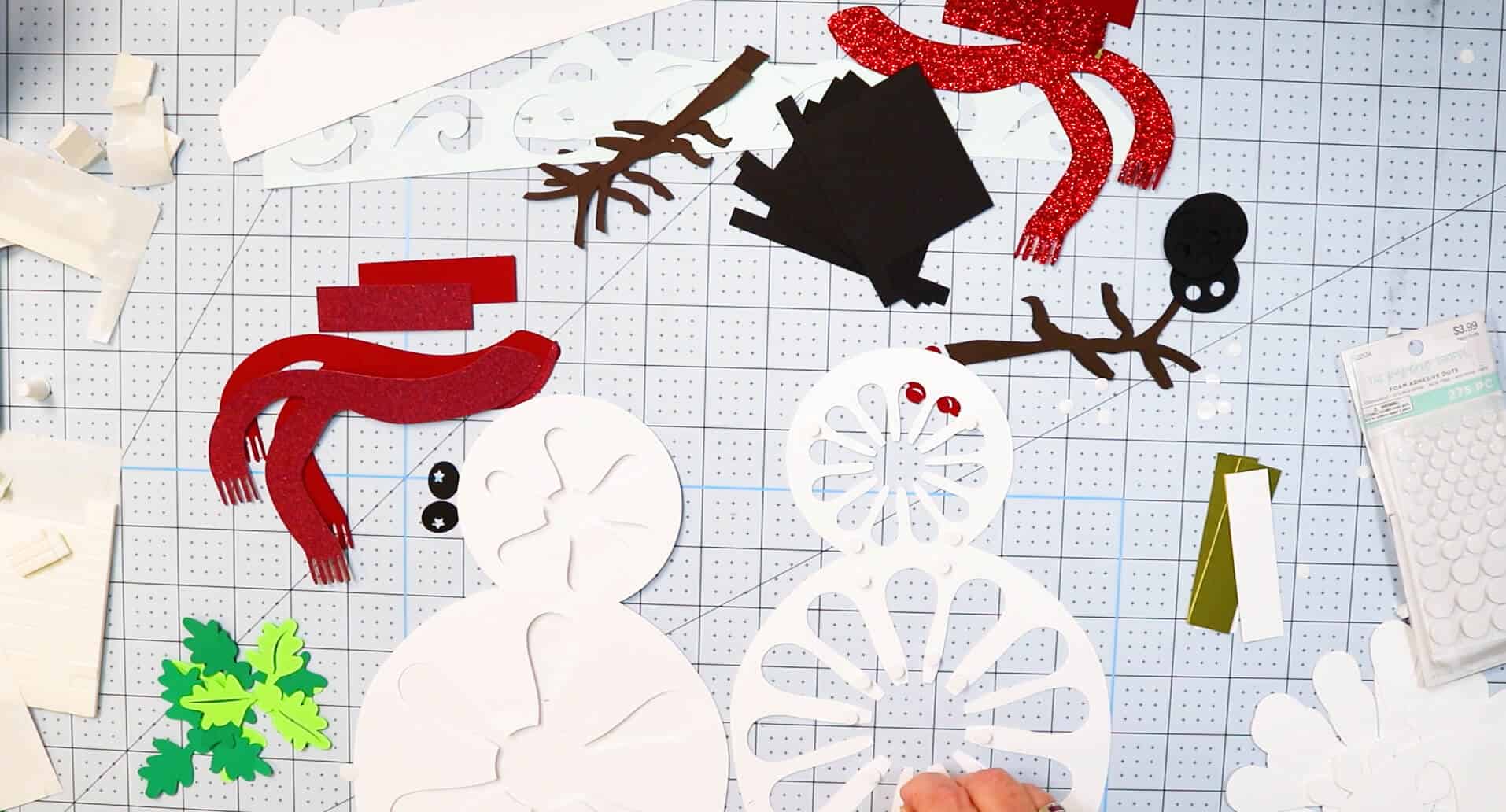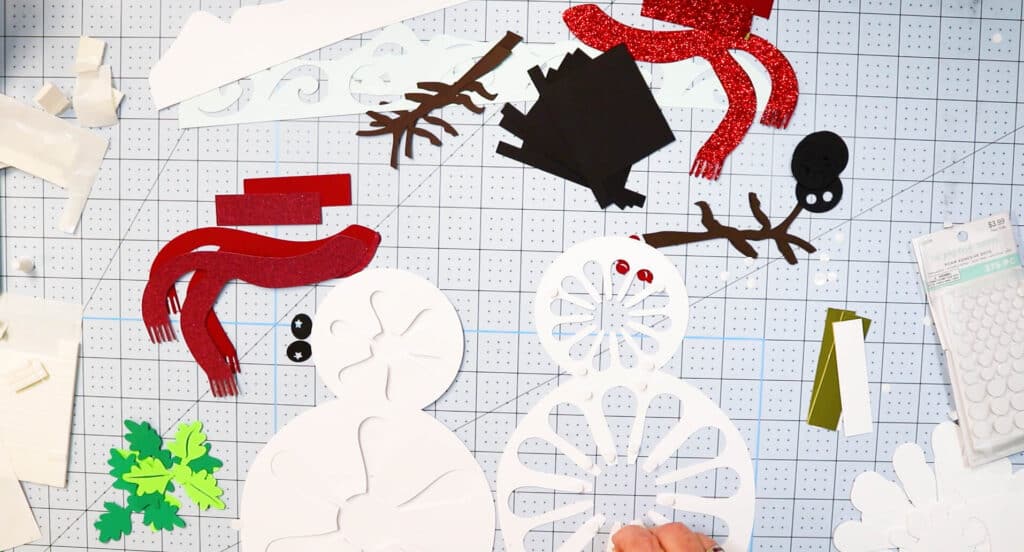 Mr. and Mrs. Snowman
I had a great time making this cute little guy to sit on our buffet amongst all the yummy desserts! I put my Cricut to work and made both Mr. and Mrs. Snowmen with the Free files right here on our blog at CraftRoomTime.com. See the post with full instructions here. Get the full Video Instructions too!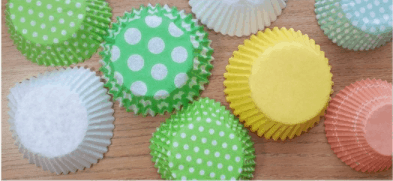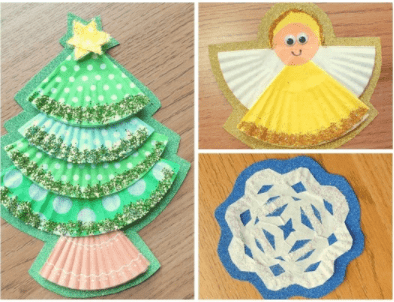 Cupcake Liner Christmas Crafts For Toddlers
How cute are these little guys! With the cute designs on cupcake liners you can really make your crafts so adorable. These would be perfect on top of a card for the grandparents! Susanne over at LilTigers.net came up with a really cute idea so the wee ones can get in on the crafting action too! Check out her post here.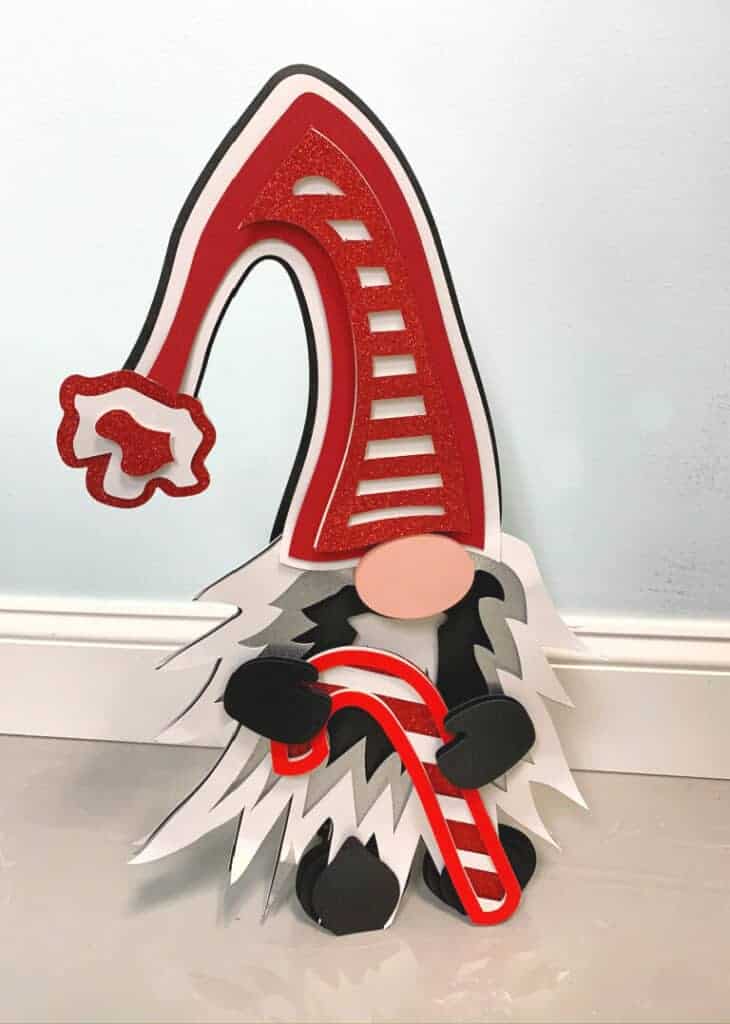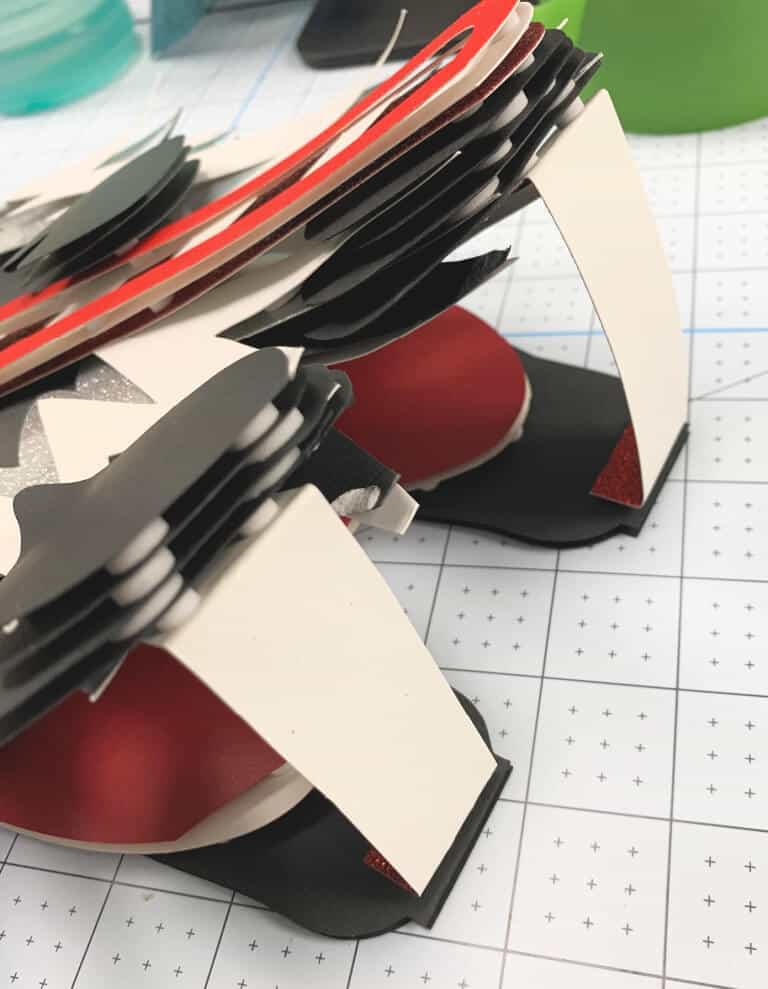 Gnome for the Holidays
One of our very popular projects is Gnomes by our very own Craftroomtime.com! This guy was made to stand tall at 18 inches, but made smaller, her is just as adorable! Don't be intimidated by the layers – he really is easy to cut and put together! Full instructions and free SVG can be found here. The video on just how to make him is also available here.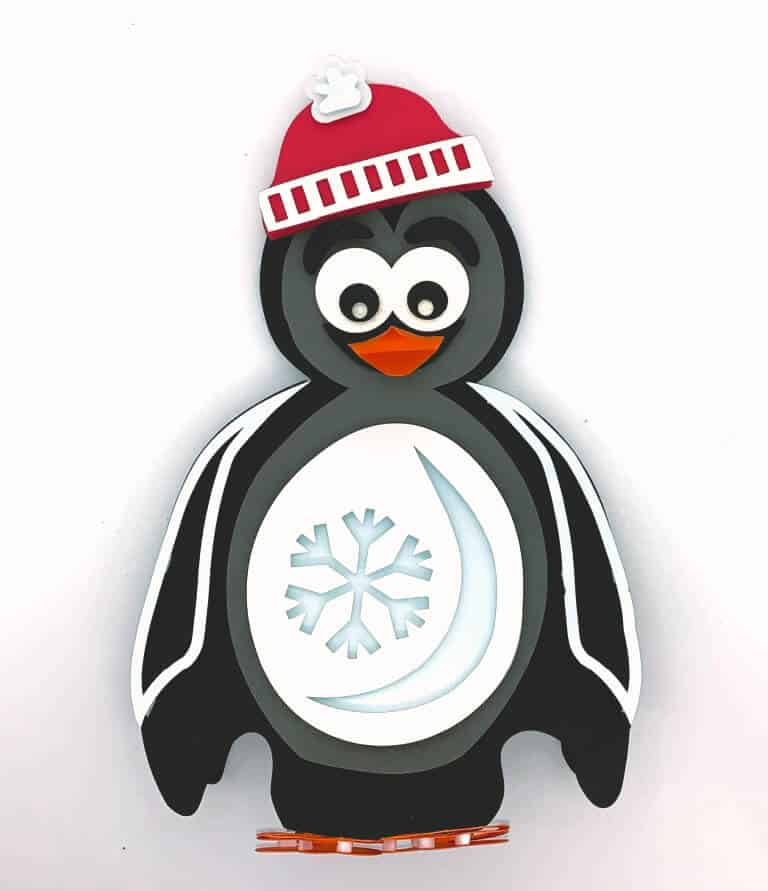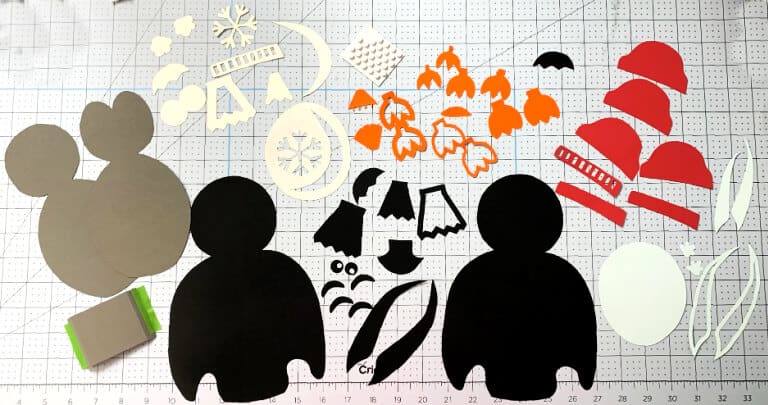 3D Layered Penguin
Just another standing paper project of a cute penguin to add to your holiday decor by Craftroomtime.com! He really was fun to put together and he loves standing with Mr. and Mrs. Snowman! The free SVG and instructions are in this post along with a video too!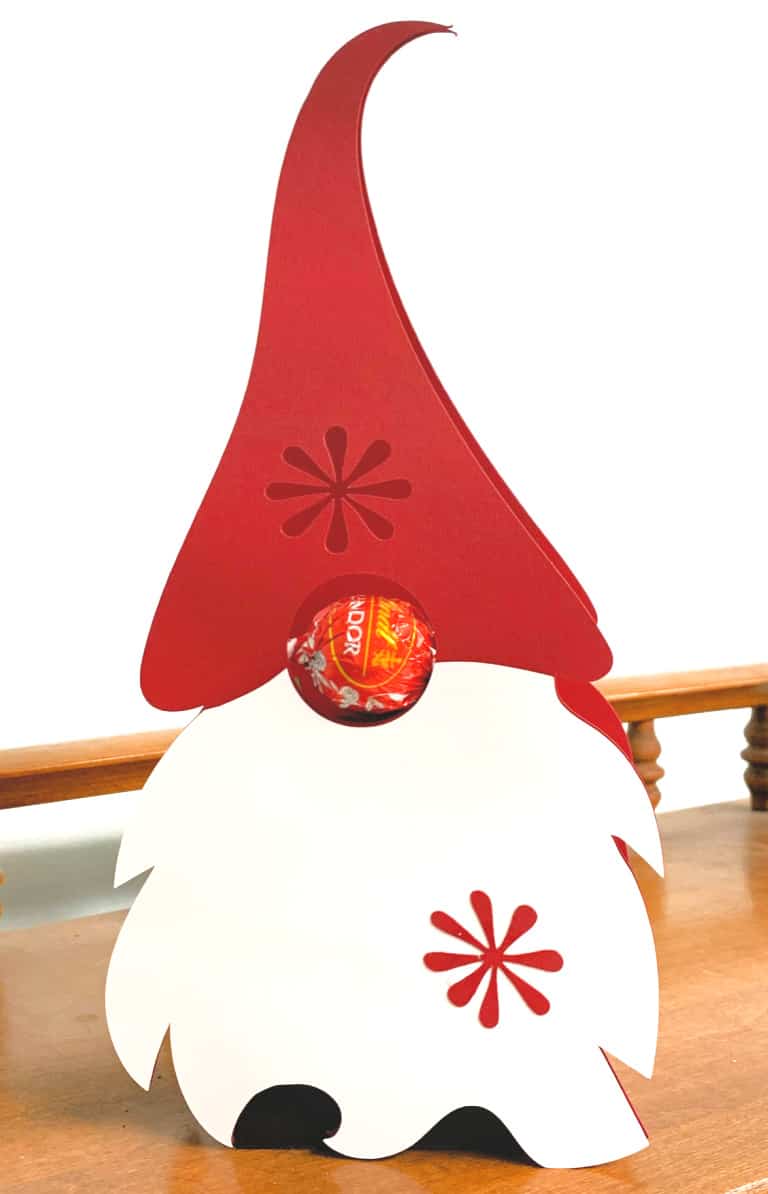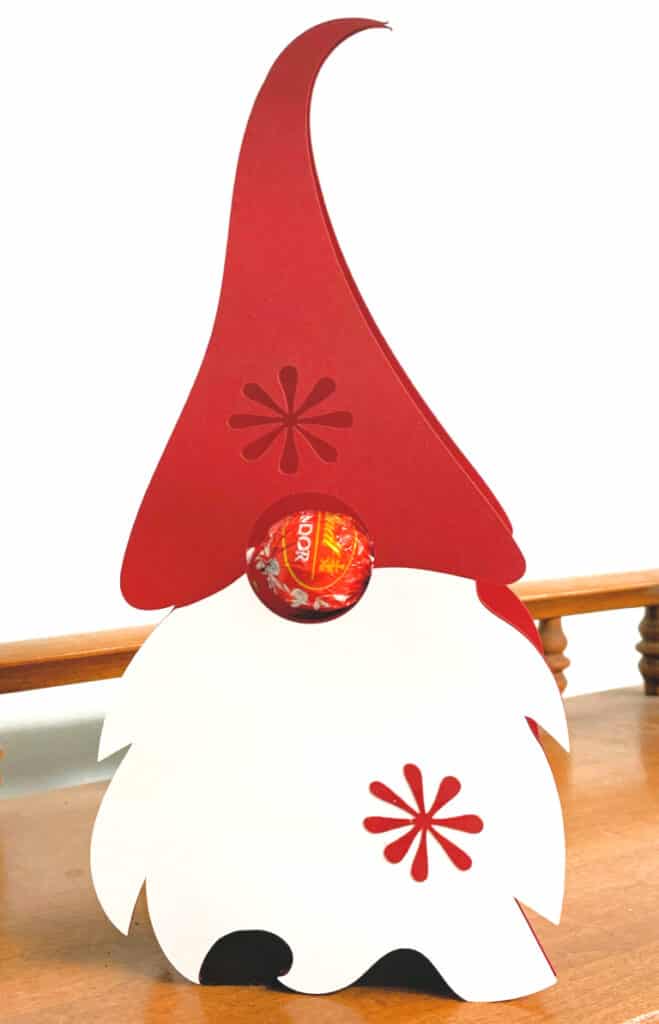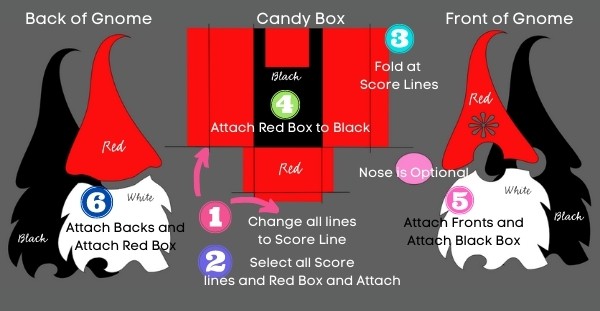 Gnome Candy Box
Everyone loves candy! and Gnomes! Win-win with this cute candy box that you can very easily make with or without a cutting machine by Craftroomtime.com. The Free SVG and PDF files are available here. This is always a big hit and can be given to anyone on your nice list! There's a video for it too here!
Wreaths and Signs
Wreaths and signs have come to be the welcoming point for any home outside and inside. They beautifully adorn the doors, window and even cupboards nowadays! I love the creativity that goes into making wreaths. These are some of the cutest ideas.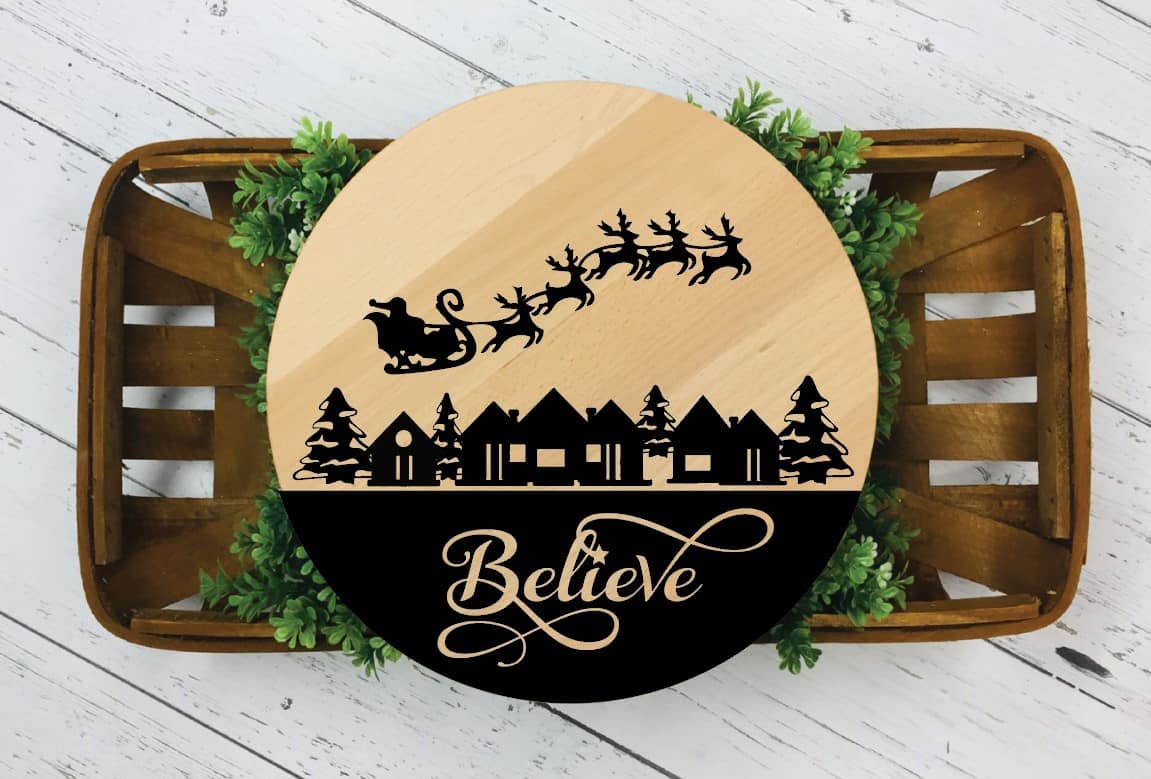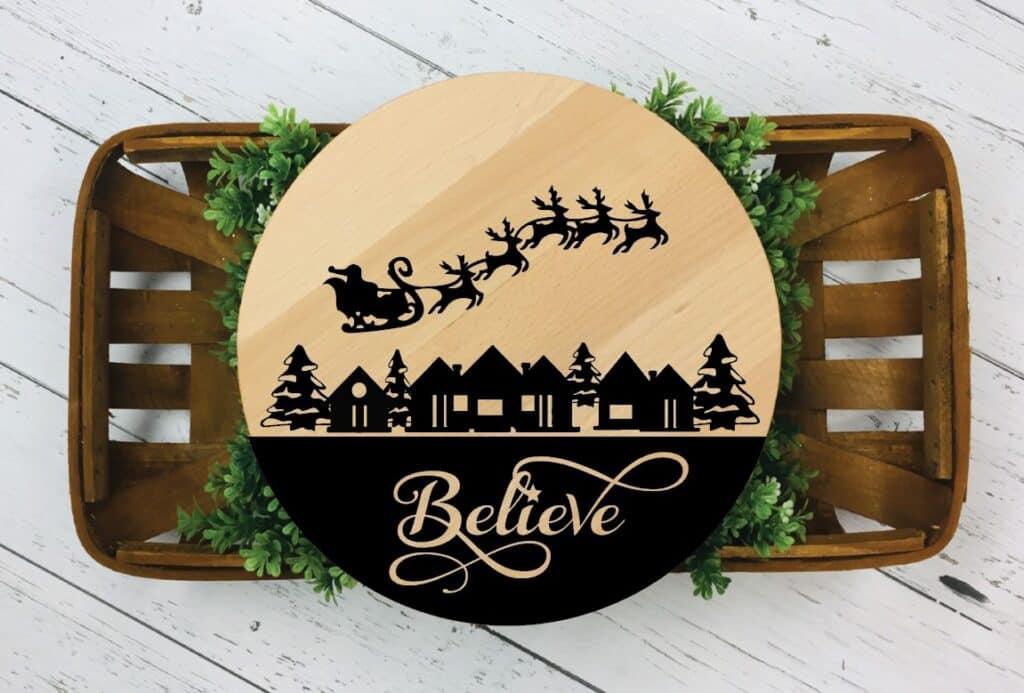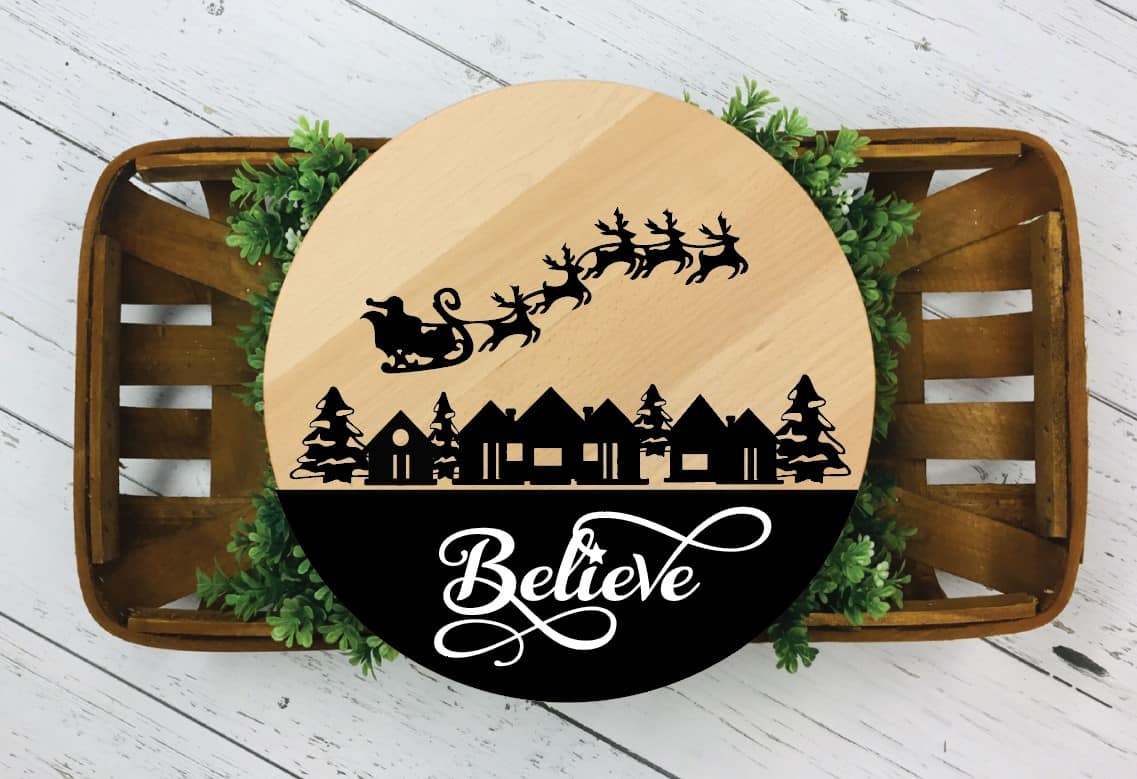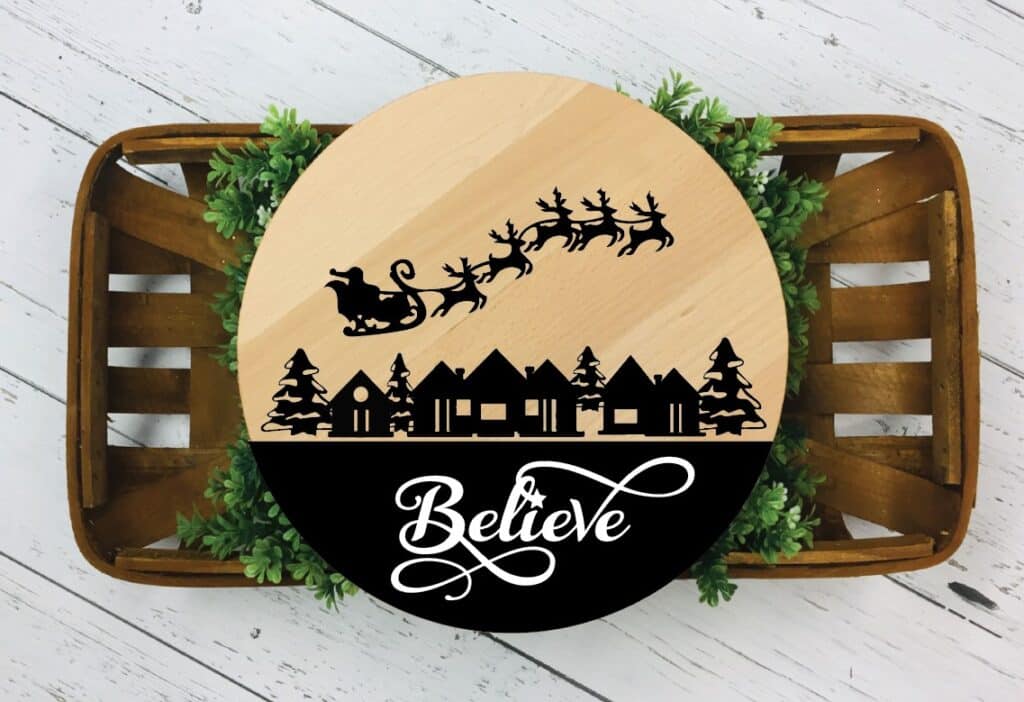 Santa Sleigh Round Wooden Sign
These round signs have become so popular and I love how the natural wood really compliments the design. My favorite is the black line across with the wood showing through the letters, but I also love the white vinyl on top too! Find the Free SVG and instructions here.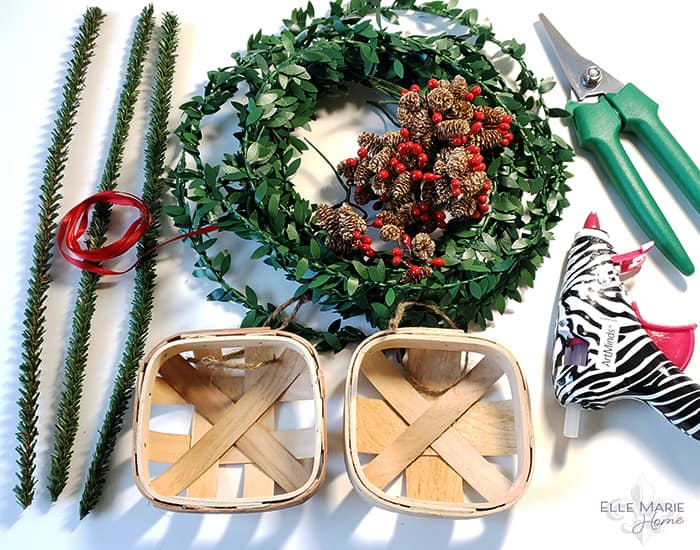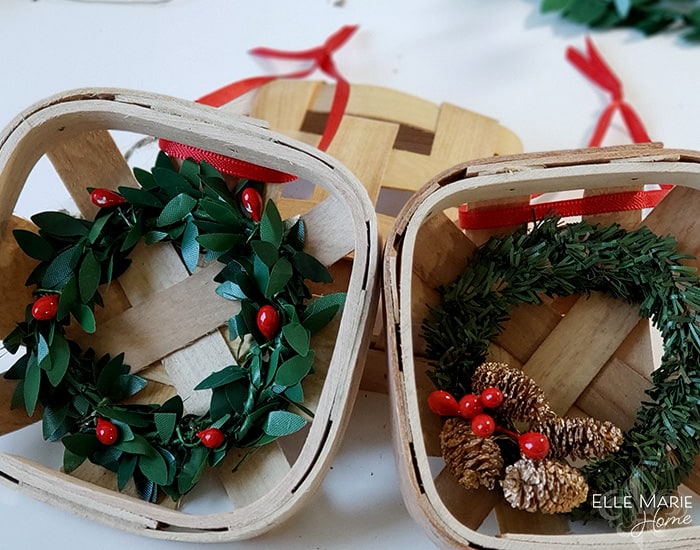 Tobacco Basket Christmas Wreaths
I know these say Ornaments but I thing they are so cute with the wreaths inside and the little tobacco baskets are unavailable at the time I'm posting this. BUT, what I did was I purchased a large tobacco basket and put a large green wreath inside it. Then I hung an ornament from the wreath so it dangled in the middle and added lights! It turned out really cute. Being in North Carolina, it is appropriate for the area! There are many baskets you can use but here is one on Amazon that will work.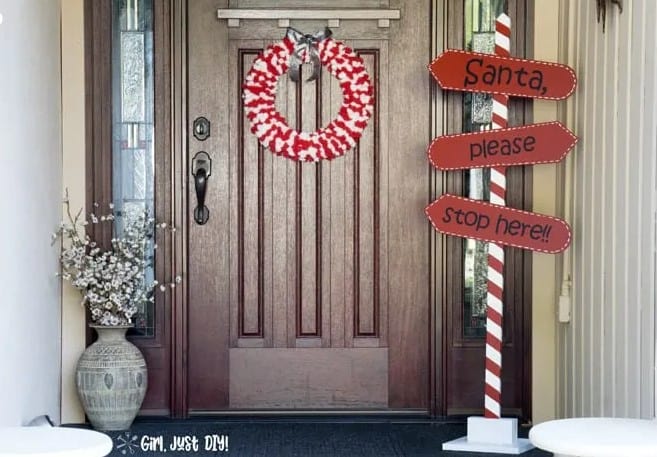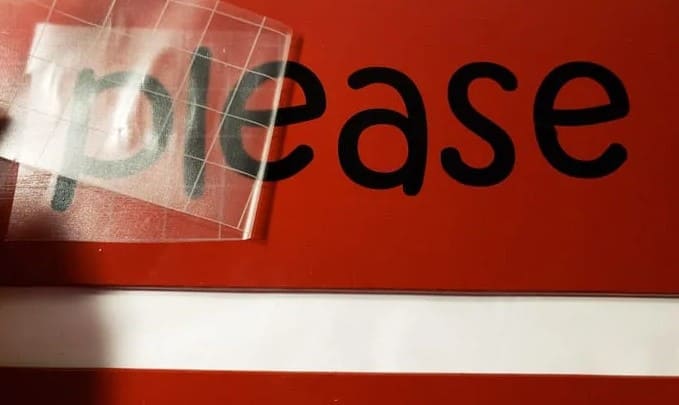 Santa Stop Here Sign
This sign is so cute and inviting at the front door! Santa for sure will want to stop. The kids will get a kick out of it too. Get out your hammer and nails for this DIY. Toni at GirlJustDIY.com does an excellent job giving you instructions to make this sign from start to finish. You can check out her post here.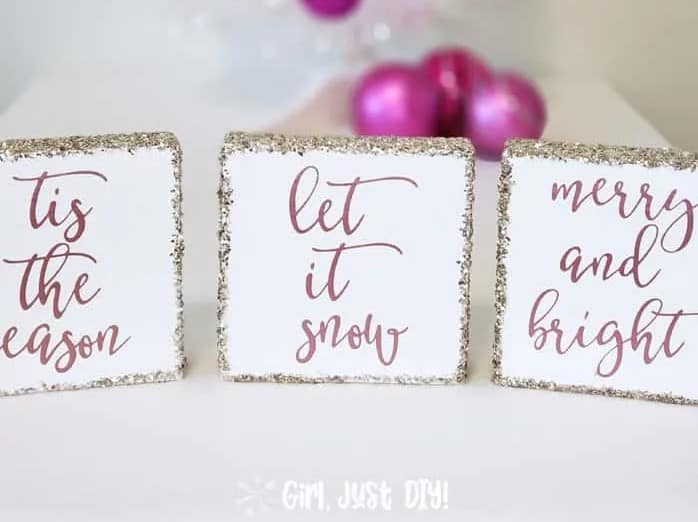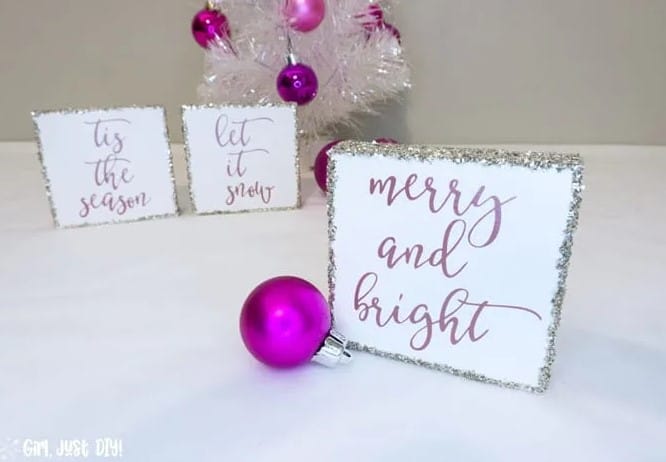 Small Christmas Wood Signs
Toni does the little projects too! Check out these easy to make painted glitter wooden signs. You can put these anywhere! I'm going to make some for my bathroom. Follow her very easy instructions here.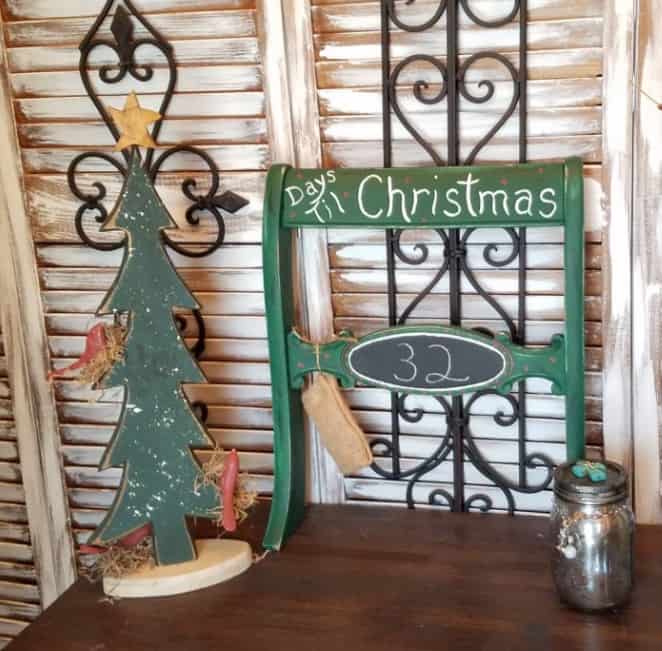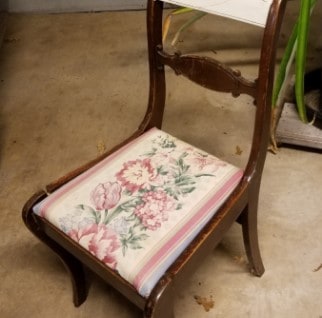 Days 'Til Christmas Sign
Kids love a good countdown to Christmas. I have two that you can make! One is an upcycle and one is using a bit of vinyl, a cookie tray and some cotton balls!
This cute upcycle from an old chair is brought to you by Linda at MixedKreations.com. She was clever with this one right? Get her full instructions here.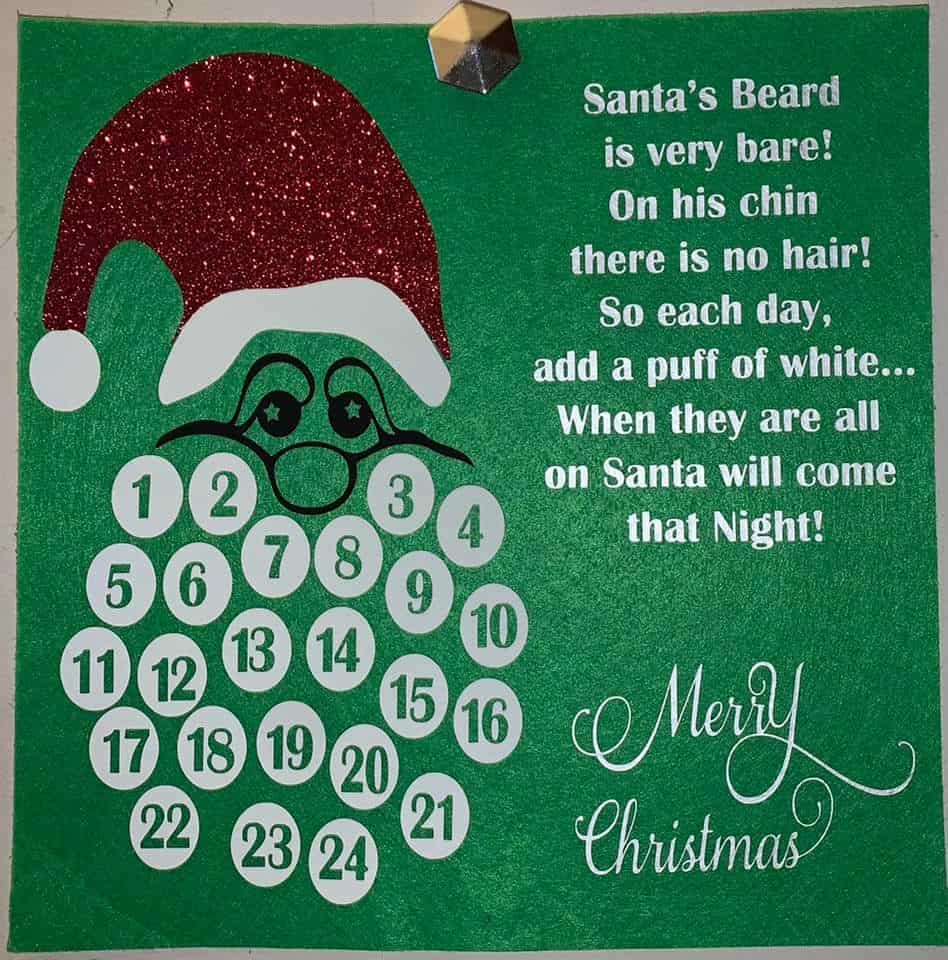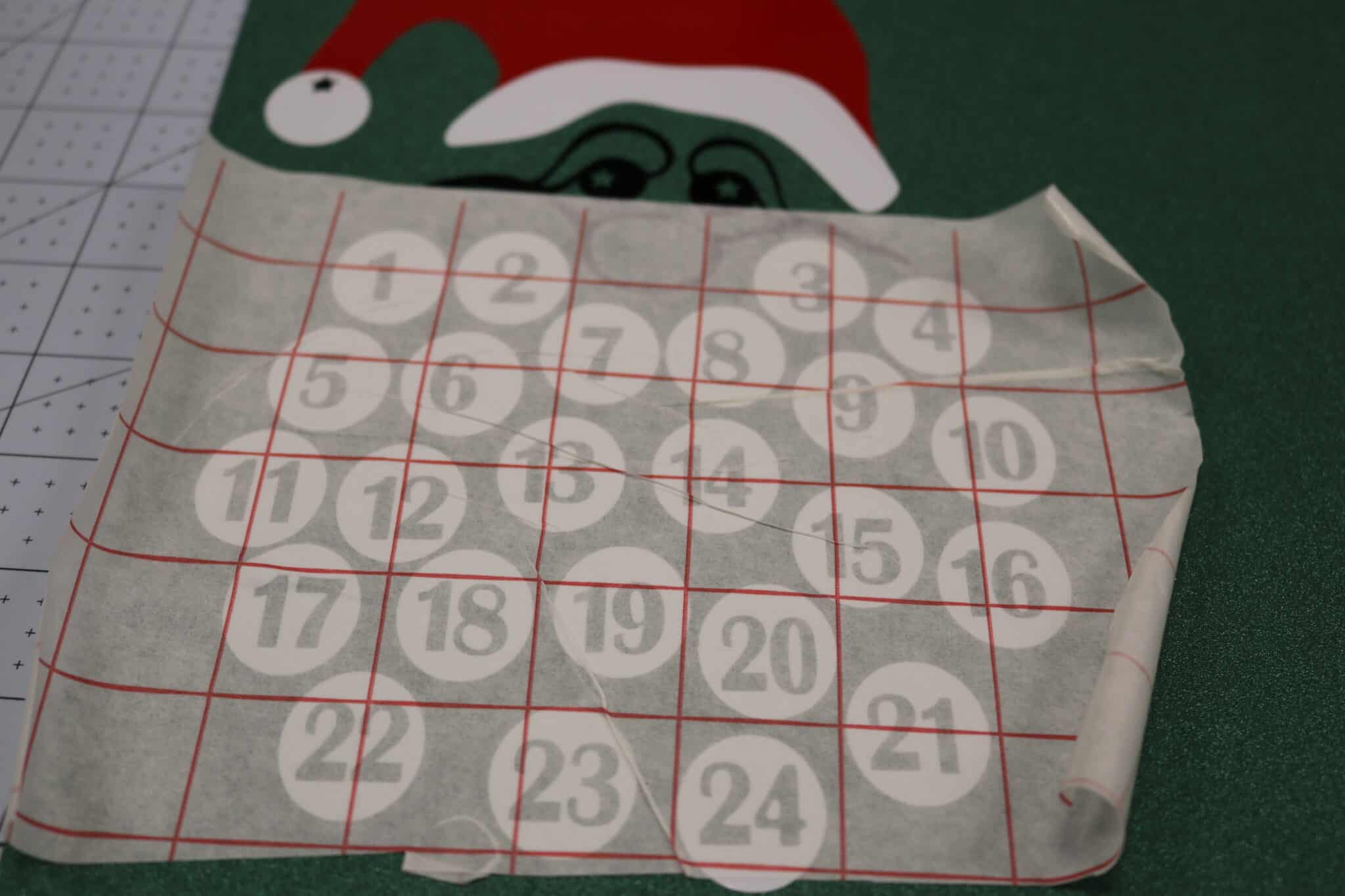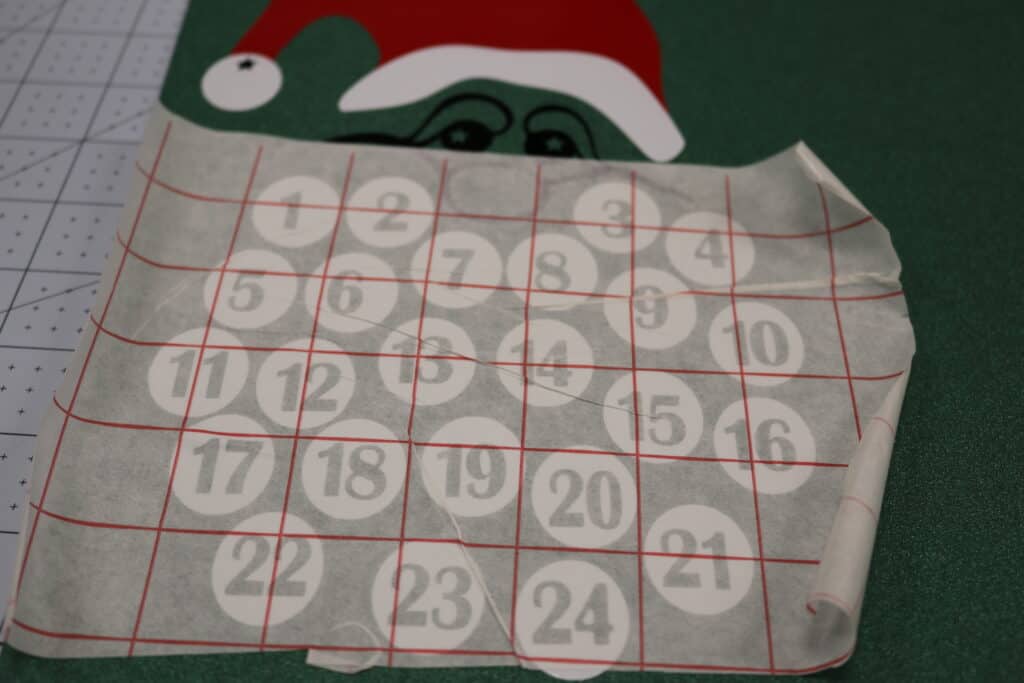 Santa's Beard Christmas Countdown
This was such a huge hit last year, we are showing it again now. This Santa countdown is easy to make and we show you how here at Craftroomtime.com. We used a bit of vinyl to make this cute countdown. Use it on a metal cookie tray or on felt with cotton for his beard! Get full instructions and the Free SVG here.
Handmade Gifts for Giving
I love when someone takes the time to give me a handmade gift. One year for Christmas we each made handmade gifts for each other. It was fun trying to figure out what we could make, then make it secretly and so fun to watch the presents being opened. Here are some fun gifts you may want to make for gifts.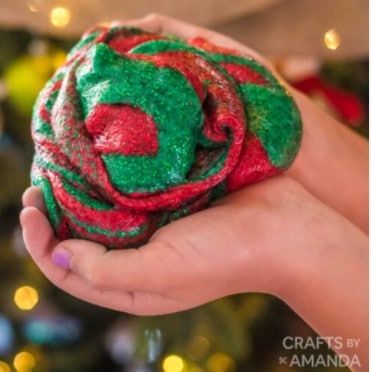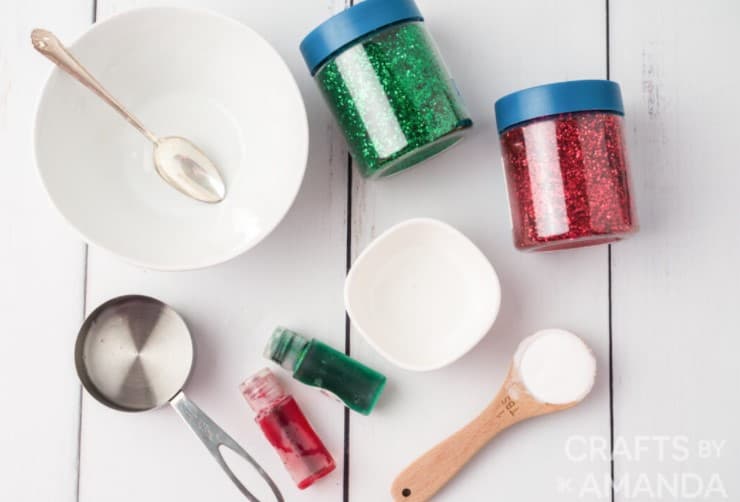 Christmas Slime
Kids love slime! It has that satisfying feeling when it runs through your fingers I guess. Make them some slime for their stockings and you're sure to have a hit on your hands – well in your hands LOL! Amanda from CraftsByManda.com has 5 star review on this project. Get your hands on it here.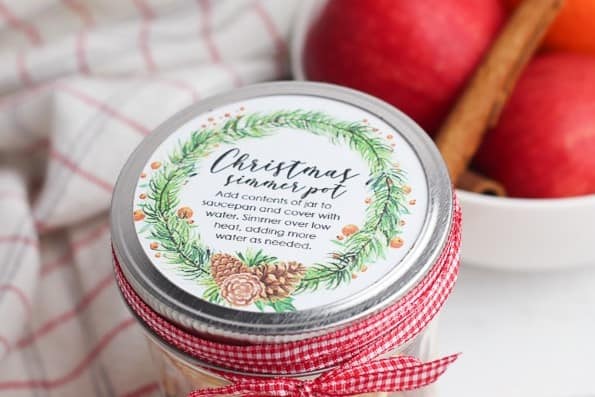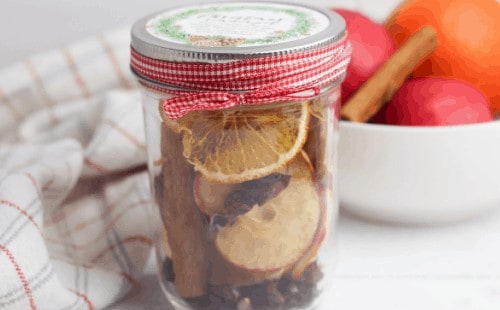 Stovetop Potpourri
Give the smells of Christmas with this easy to make Christmas Potpouri. 1 jar and 4 ingredients are all you need. Stormy over at MommyMadeThat.com has the perfect recipe and cute sticker to make for the top of the jar. Get the instructions here.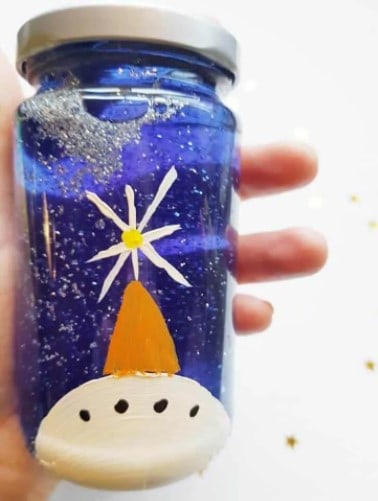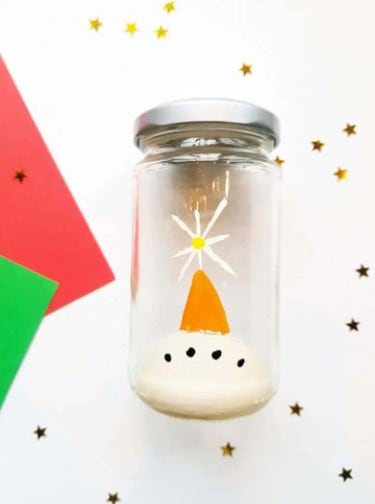 Calming Christmas Glitter Jar
This is such a creative idea to give to someone that loves snow globes. You can get really cute jars to put the ingredients in to give away. I have saved up some bottles like a violin, a teddy bear and other things that I know would be so cute to do this with! Susanne from LilTigers.com gives you the instructions here.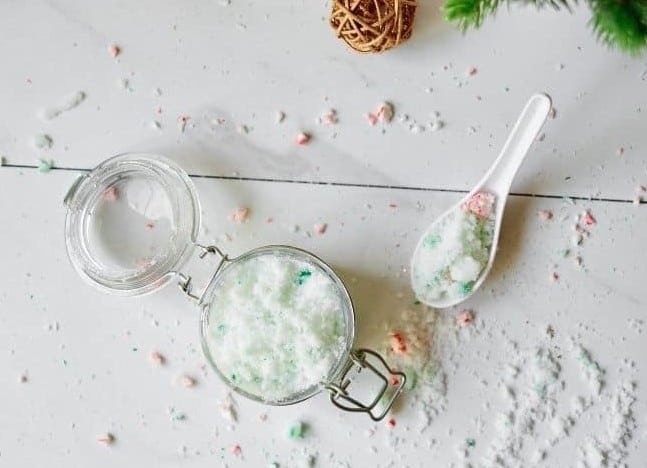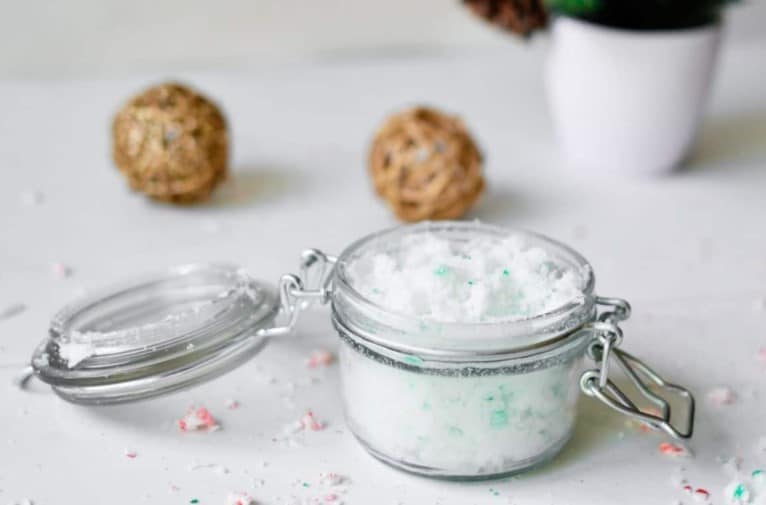 PEPPERMINT SUGAR SCRUB
Make your own sugar scrub gifts. This recipe includes essential oils and the purpose of a sugar scrub is to remove dead skin cells and encourage the healthy production of new ones. Annie from SavvyHoney.com shows you how to make your own sugar scrub here.
I did a little research because I wasn't sure about the benefits of a sugar scrub. Here is what I found:
"Sugar granules are rounder and less abrasive than salt, making them a gentler exfoliant. A natural source of glycolic acid (an AHA), sugar breaks down layers of dead skin and smooths the skin's surface. It also speeds up rehydration, keeping skin conditioned and moisturized. For this reason, sugar scrubs are a fantastic pick for dry and dehydrated types." source: https://eminenceorganics.com/ca/blog/2019/07/16/how-use-body-scrub-benefits-step-step-guide
---
We hope you enjoyed the 27 Crafts to Make for Christmas in July! Let us know in the comments below!
Join our list to get the Free PDF of all these craft photos and links to instructions so you can refer to it anytime!
Need Some Christmas Files? Check out DesignBundles.net Christmas in July Bundle!