I just love Valentines Day because it's a day of showing love for one another. It's one of those feel good holidays that really only requires a simple acknowledgement to those we care about. I remember as a kid, picking out each valentine from the box that seem to fit the other kid I was giving it to. Oh yes, and that special one for the teacher! Those were the days. This Valentine Door Hanger reminds me of the candy hearts. It's easy to make too!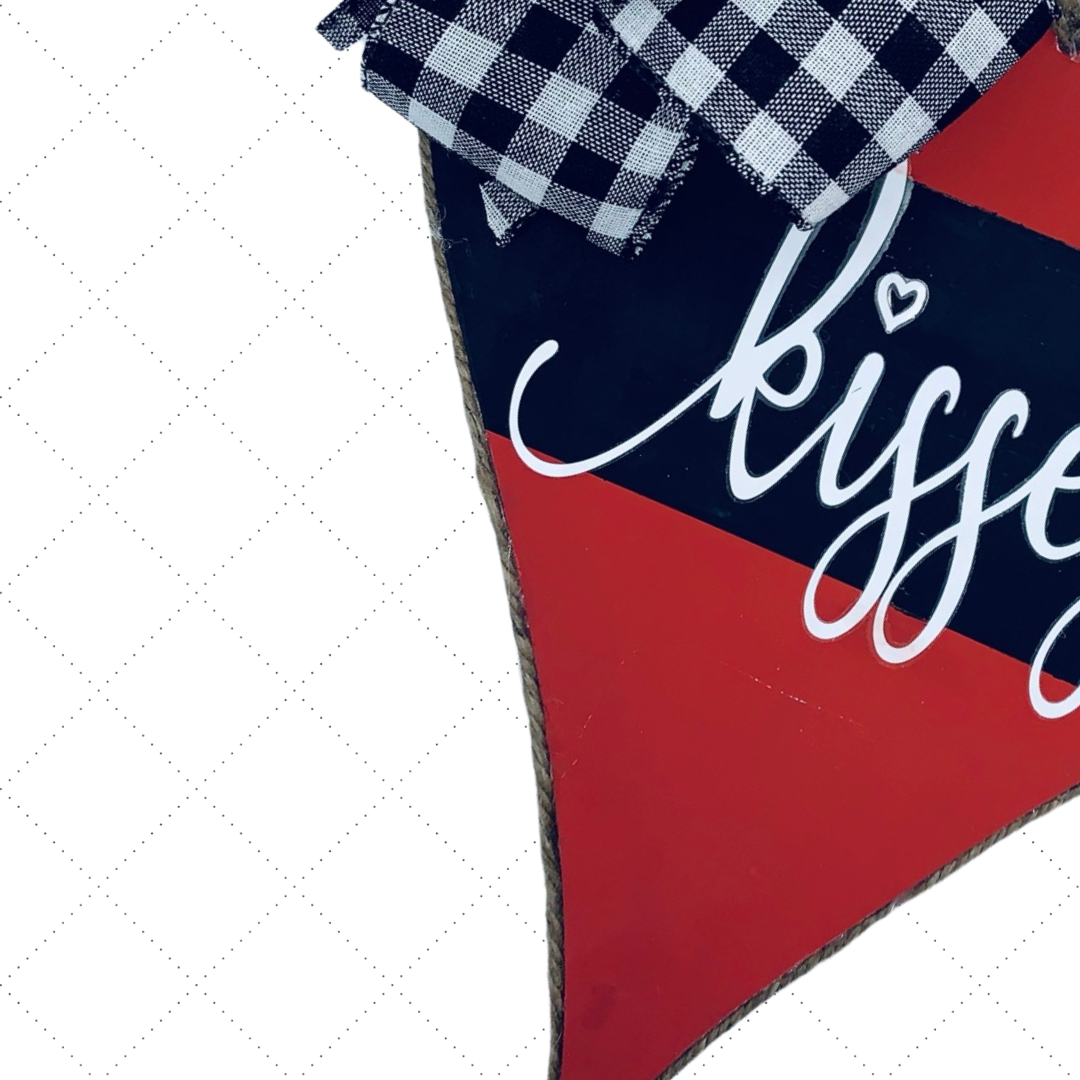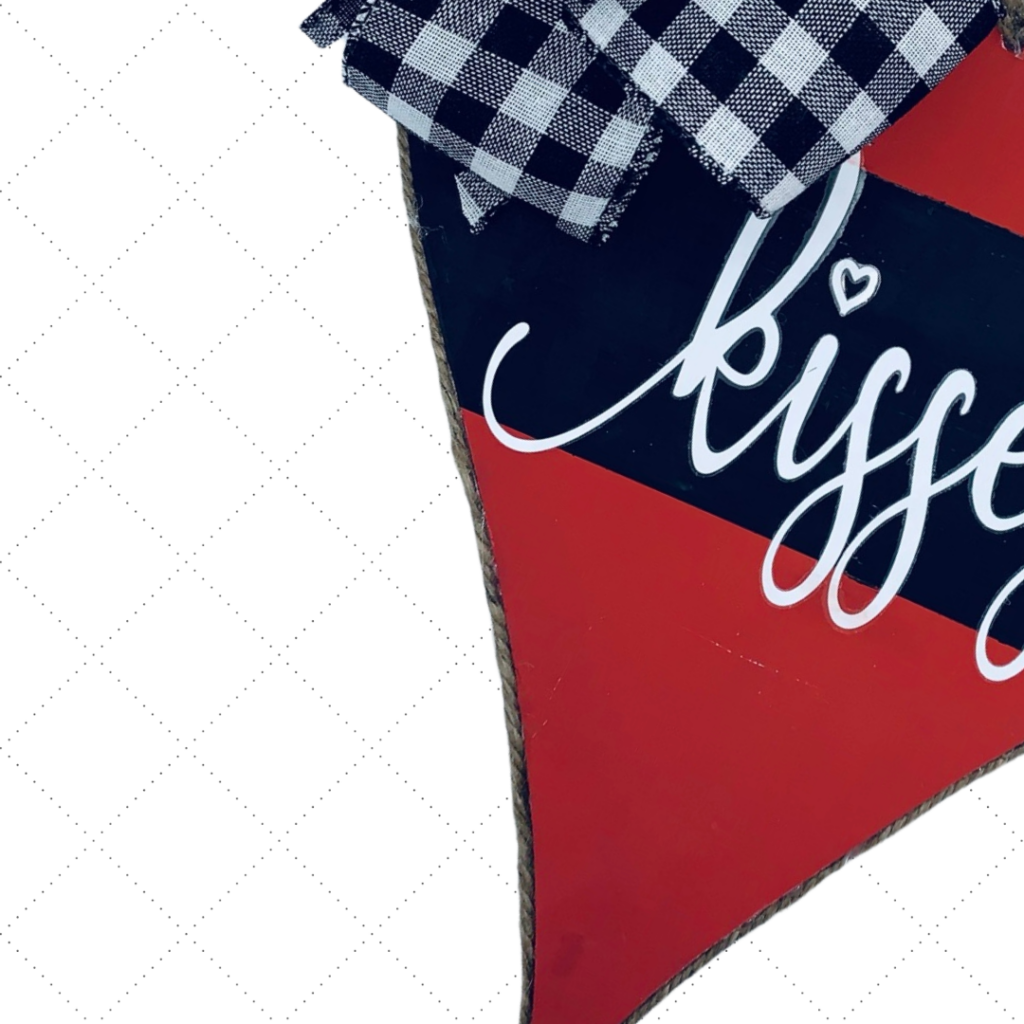 Today I share with you a Valentine you can display on your door to welcome all your Valentines! This wooden heart is easy to make and is so versatile with all the options. You can choose anyone one of the Free SVG sayings and you can even put a different one on each side. I'll show you how to make the bow and have it available for both sides!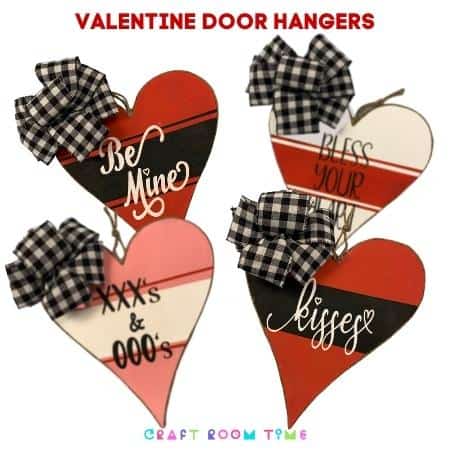 Want the Free SVG? Right after all the instructions you can sign up to get the free SVG or if you are already a member, then get it in the library for personal use or the shop for commercial use!
This post may contain affiliate links and we may earn compensation when you click on the links at no additional cost to you. For additional information, please see my full disclosure policy.
Supply List for Valentine Door Hanger
Wood Heart
Paint (Red, White & Black)
Painter's Tape
Buffalo Plaid Ribbon
Heat Transfer Vinyl
Parchment Paper
Jute
Wire
Glue Gun
Jump right in and see how to make this cute Valentine Door Hanger…
Instructions for Design Space and Cutting: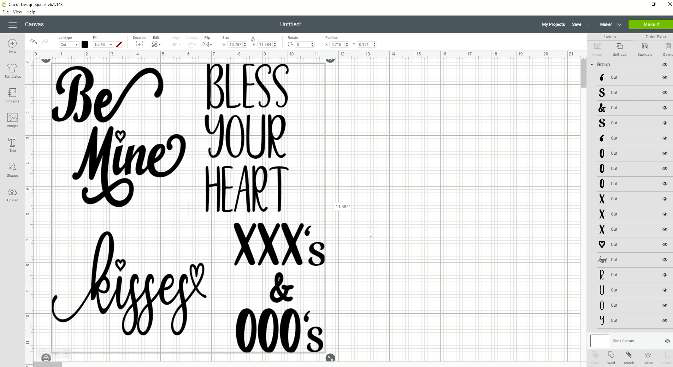 In the file, there's four different designs for you to choose from.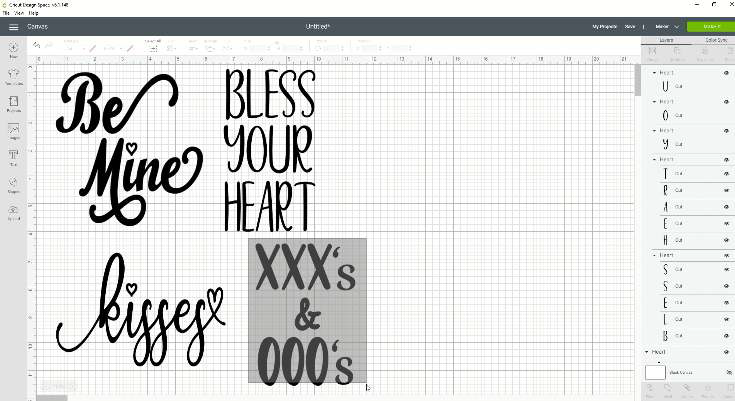 Choose which one you want. So, frst of all, I'm going to select each one and I'm going to attach so that this will become one complete object. You can see now it's all attached over to the side in grey.
Draw a box around it and click on attach. Let's do the Be Mine. Hide the other objects by clicking on the eyeballs over to the right. It's just hiding it so that you're only cutting one at a time, or you
can cut all four of them on a 12×12 vinyl sheet so that you'll have them all. Or you can do one by one. Then you'll just click make it.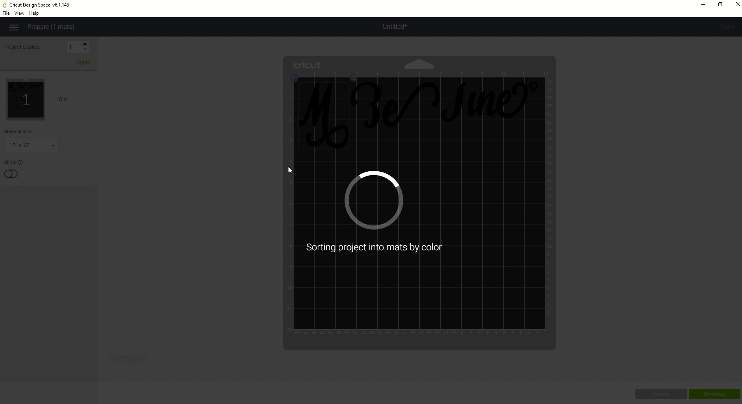 Then you'll just go ahead and continue.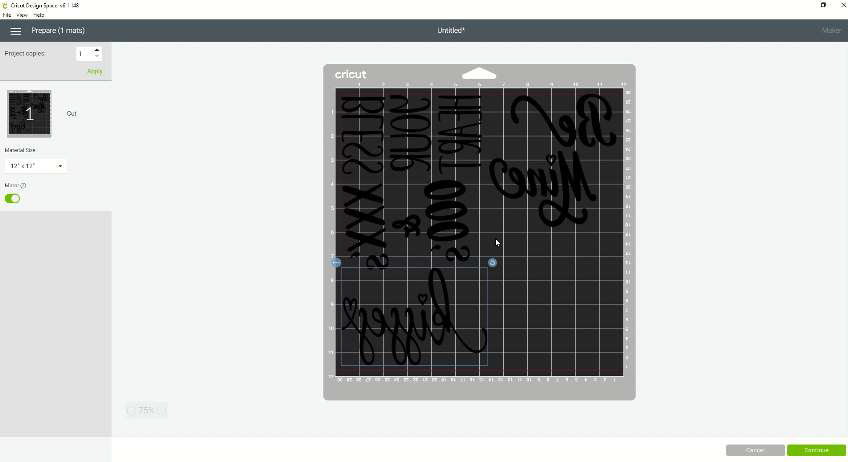 Be sure to Mirror your image.
The program sorts it however it wants to, but you can move these things around, you can also rotate them to see if you can get more use of your vinyl. You want to give yourself room enough room between objects to cut them out.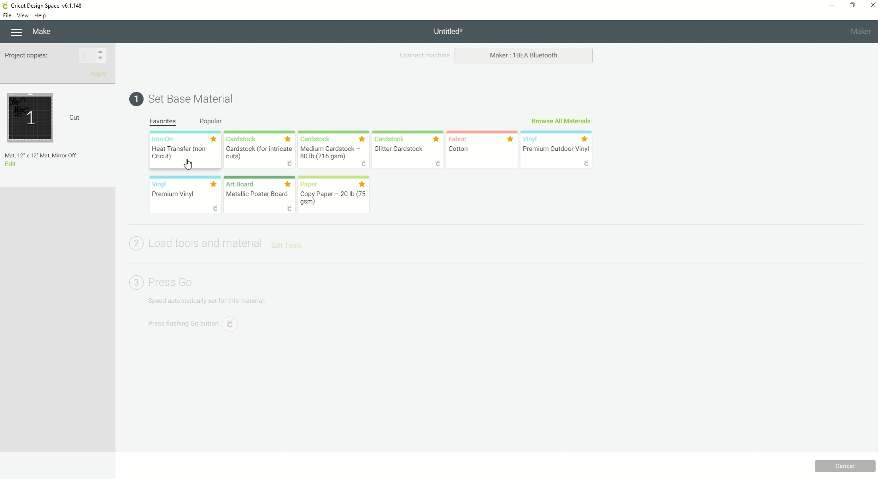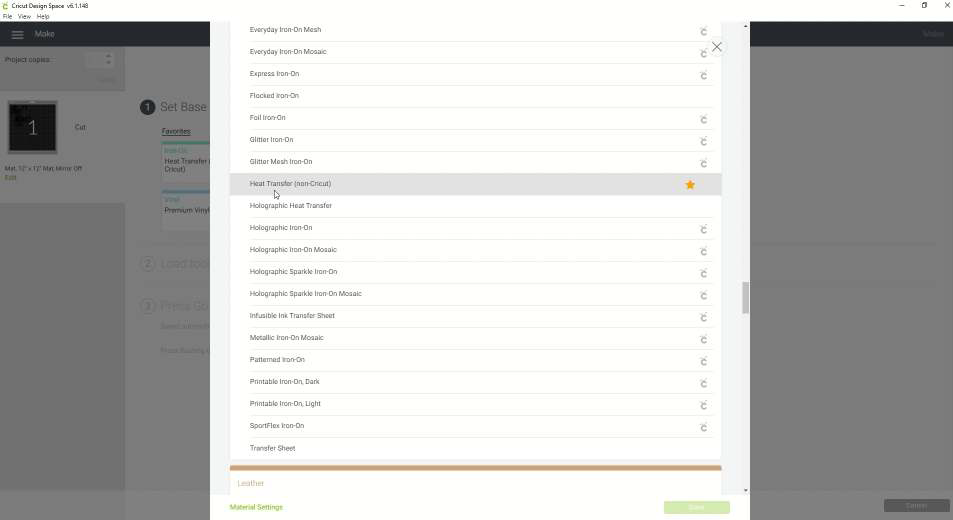 For this, we're going to select the heat transfer for non cricket.
If it's not one of your favorites, go ahead and browse all materials. Then scroll down to look for the iron on. Then just look for the non cricket heat transfer vinyl and select it. To add it to your favorites, just click on that little star. That adds it to your favorites.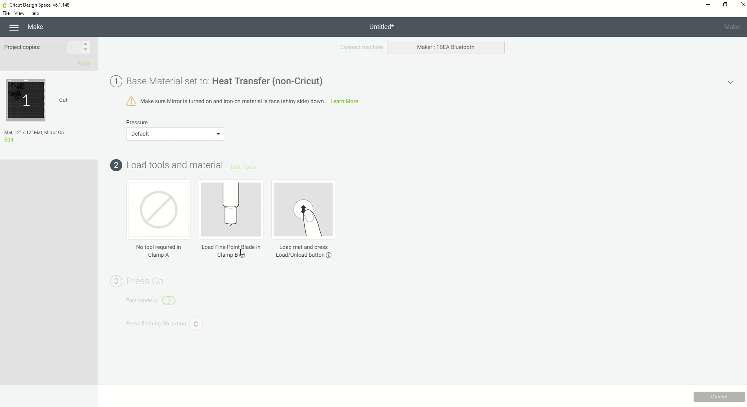 If you forgot to mirror the mat, done. it's reminding you that you need to mirror this. It's a good thing that it does tell you. If you forgot, go to the mat and click edit to select mirror. That makes it appear backwards. So when you cut it, it's going to cut backwards. And then when you lay it down on your heart, it will be forwards.
Use fine point blade and the normal default pressure. Then just load your machine and cut your vinyl. If you find that there's something that is not attached, then you can click on the mat and click edit to mirror and save and cut.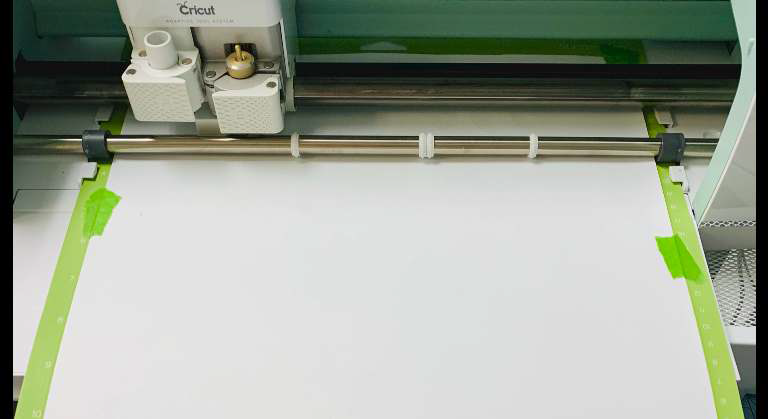 If your mat has lost it's stick, a good tip is to put painter's tape along the sides of the vinyl to hold it in place on your mat. Also use the brayer to hold it down on the mat, which means rub it down on the mat before you start cutting.
I do this quite often with, glitter stock or my vinyls. I just don't like to 􀁽nd out that it's going to slip on me after you print.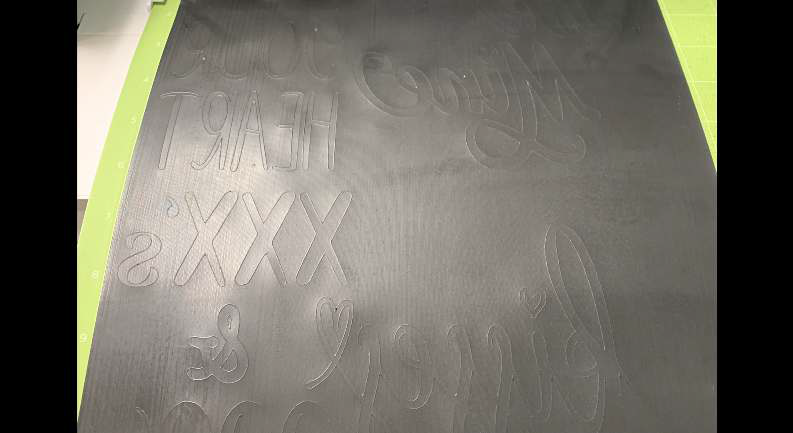 You lay the vinyl down so you are cutting on the non shiny side. The shiny side is the transfer side. That is the transfer tape that you'll take off. So you want to make sure that you're cutting on the non shiny side. You can see there's little lines or ridges on that side so you can usually tell on the back that that is the shiny side, or you can try on the corner to lift it up a little bit, just to make sure you're, cutting on the right side of the vinyl.
The shiny side is the part that you'll apply the heat to on the wood. When you get to that point, you'll want to cut around these designs to cut out the one that you're going to apply to your heart
Instructions for Assembly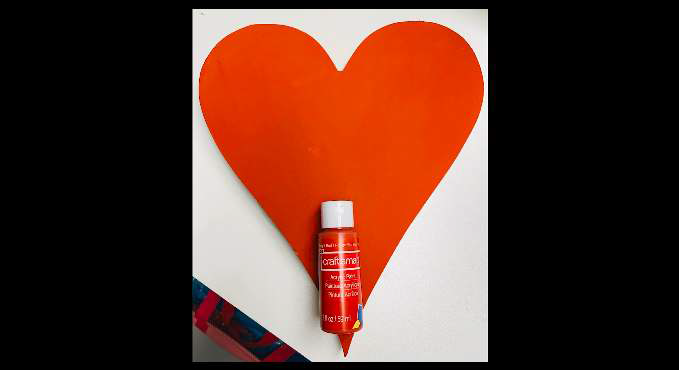 Paint the wood cutout and cover the heart with the red. It's going to take more than one coat.
Be sure that everything is completely dry before you put the heat transfer vinyl on it. if it's not dry, it will blister. Make sure that it's completely dry. I gave mine two days before I applied my vinyl to it .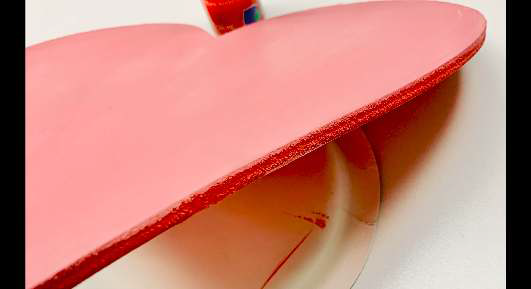 Paint the sides as well. I covered my edges with twine with a hot glue gun around the edges, but if you don't want to use the twine, then you can just paint the edge.
Since there are two sides, you can get fancy and use painter's tape to draw off some, lines in your heart to make it a little more interesting, just make sure that you use your finnger to really, adhere the edge where you're going
to be painting so that the paint doesn't get underneath.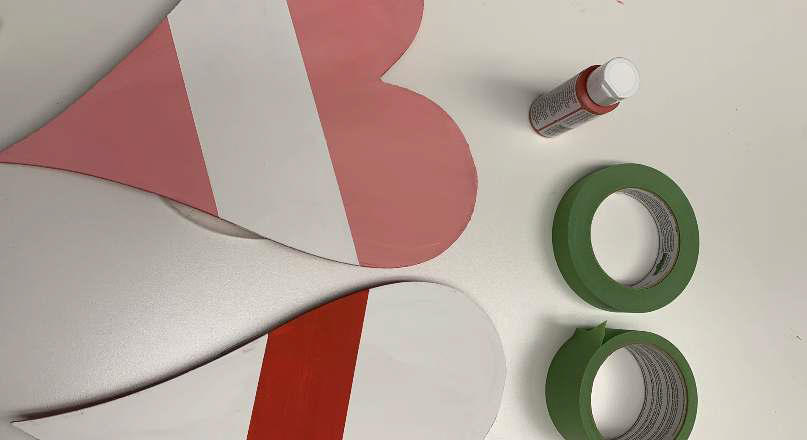 I use a little paper plate under the heart turned upside down to lift it off the table. I just 􀁽nd that easier to paint. So I'm not, getting paint on my table everywhere.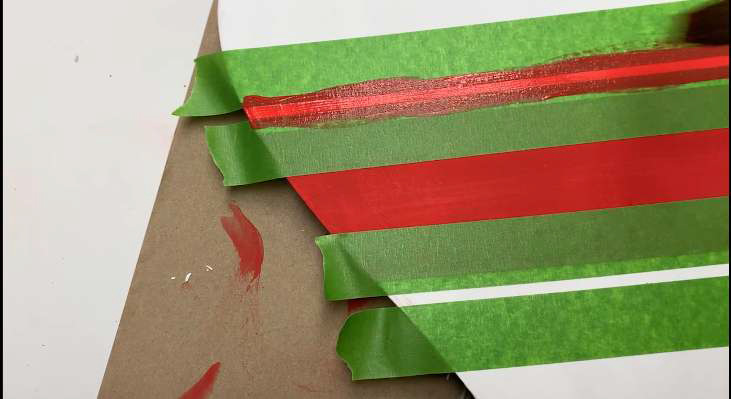 Once you've done an easy solid colored one, then you can do the stripes and then use a different colored vinyl to, to apply to this. You don't have to use heat transfer vinyl.
You can use regular vinyl. It'll stick to it just 􀁽ne. you can also use it as a stencil and then, paint the words instead when you're applying your vinyl just remember to leave enough room for your bow up in the corner, don't go too far up. You can also cover your heart with Mod Podge or a Polyacrylic so it will last longer over the years. I recommend you do that before you attach the bow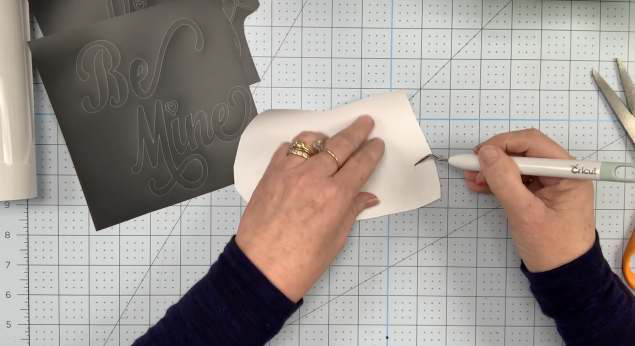 Now to weed your vinyl. The shiny side is the side that's going to go up. and then the other side is the side that you weed . I like to use the cricket tool with the little point on the on the end. I think it makes it really easy to do this. It easily picks up the vinyl that isn't going to be on the project. In order to adhere the HTV to the wood you'll need a very hot iron, or I suggest the easy press from Cricut.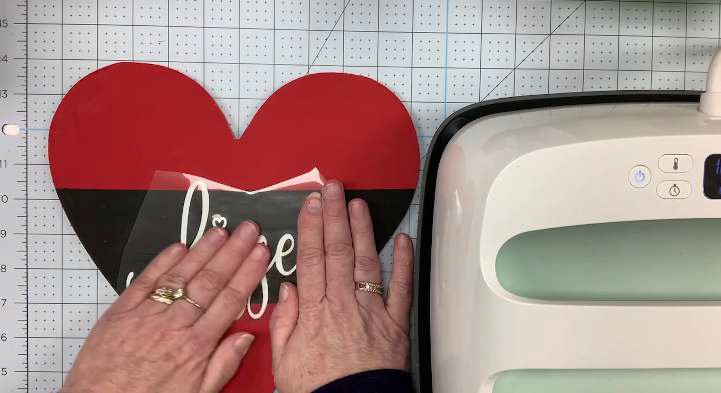 Now to apply the saying on to the heart. You can decide where you want to put your, vinyl.
Set your Easy press for 330 for 30 seconds. Then once the easy press is at the temperature, it will alert you. Use parchment paper (or a brown paper bag) to cover the whole heart. If you don't do this, you will ruin your heart.
The parchment paper I used is just regular old Reynolds kitchen parchment paper, and cover the heart, put it down the whole thing. When you press it, apply a little bit of pressure. Do not move the iron. Very carefully, check to make sure that it is it adhered by lifting up a small corner. If it is not adhered, let it cool down and then apply heat again.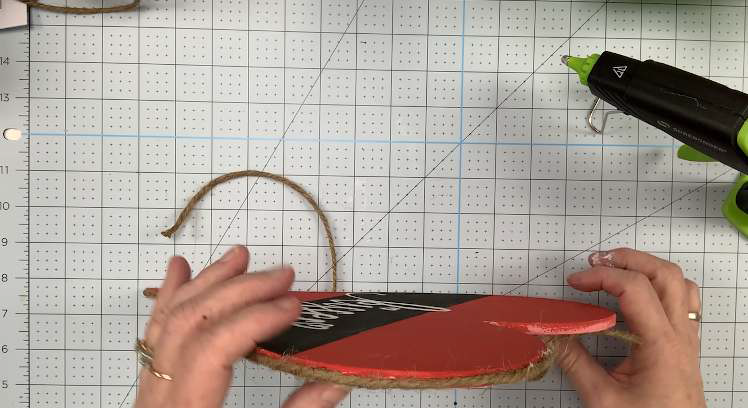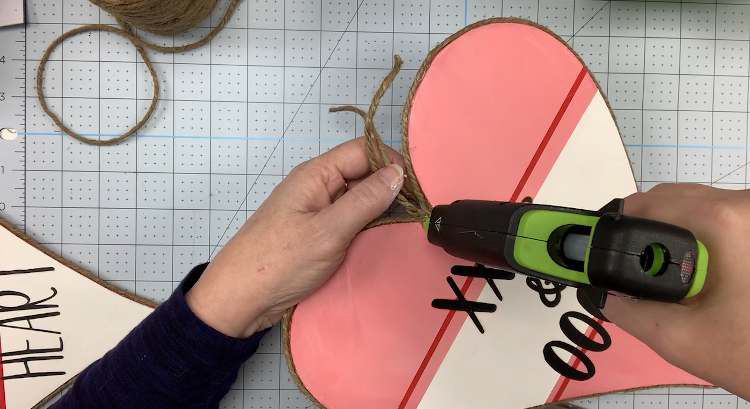 Apply the jute around the edges with a glue gun and be sure to leave enough at the top to make a hanger.
Instructions for Bow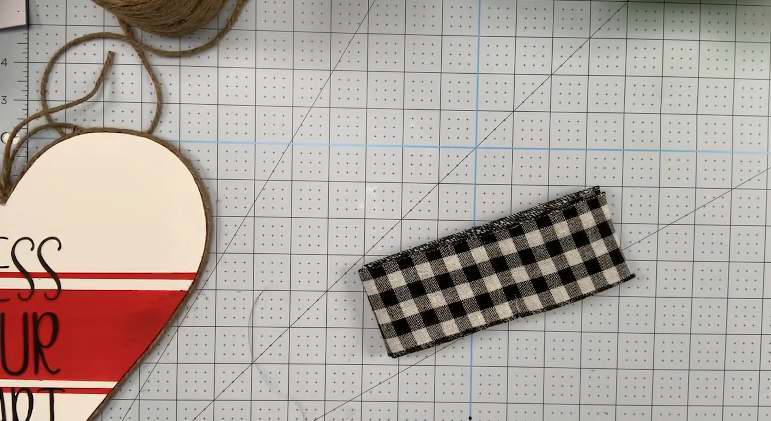 Now to make the bow. Use approximately 2 yards to make the bow. If you want a larger bow use 3 yards. Fold the ribbon at four to six inches and fold it all on top of each other. there should be six or eight layers.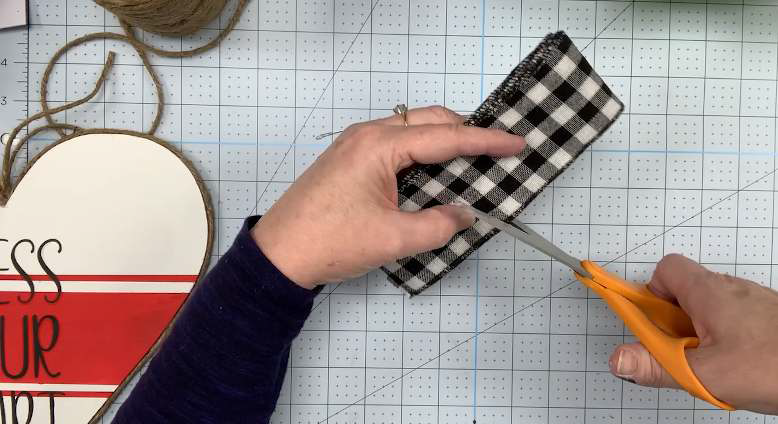 Fold your layers in half and 􀁽nd out where the middle is. Take your scissors and cut up at a little at a slight angle to about a third of the way through. Turn it over on the other side and cut it at another angle towards the other cut . Leave about 1/4 inch. You want to make sure that you're not cutting all the way through.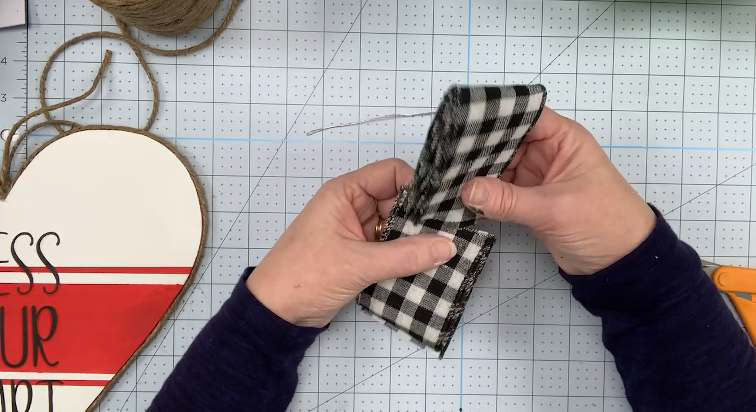 Then you're going to take your piece of wire and you're going to wrap it around, bring it to the other side and tighten that up.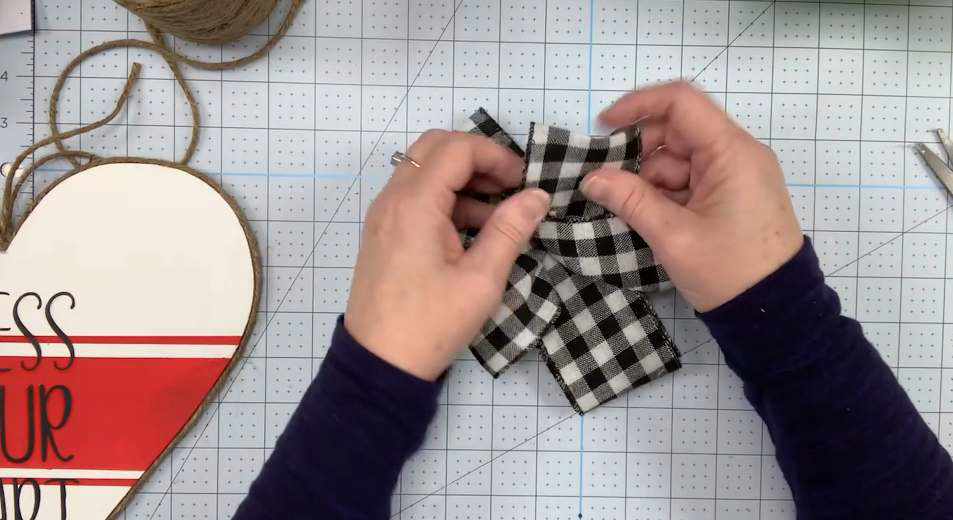 Then all you do is you start to unfold and 􀁾uff up your layers and bring them off to the side. Play with this until you get the shapes that you want.
Do this on both sides. Once you have all your loops , you're going to work with them and you can twist them and move them around.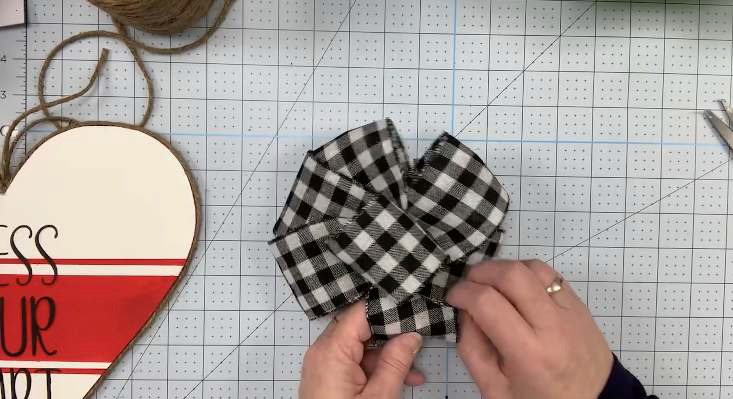 Then with smallest loop, bring it to the middle, squish it down, run it around. And then that becomes your center piece. So it's just, just continually working with this until you get it, the shape that you want it until
everything's nice and puffy.
Now it's a matter of deciding where you want your boat to go. You can have it right at the very top off to the side. Can have it hiding your, the hanger now. do you remember that We do have the other side as well. So, you may want to, or just have one side of the heart completed the way you like it.
If you have two sides, you can use the painters tape to adhere the bow for a temporary solution so you can remove it and use the other side as well. Or you can glue the bow down to the wood.
More Valentines to make: