I have a thing for tiny things for sure. For whatever reason I like to collect them when I see them regardless of what it is sometimes LOL. Over time I have picked up old tiny bottles I have found and kept them until now! See how I upcycled tiny old bottles.
I was given inspiration when I saw the cutest little bottle that hit my heart because I just love the Wizard of Oz. It has silver glitter in it and a tag on it that says "Pieces of the Tin Man" with a cute little heart charm around the neck of the bottle. Then my sister gave me on that has a tiny dandelion seed in it and a charm that says "Make a Wish".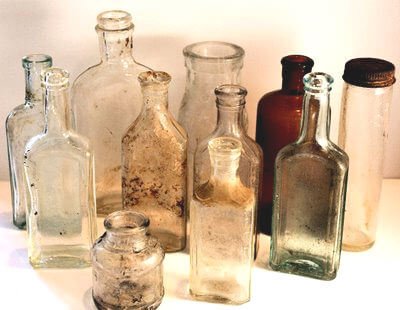 That was it. I had to create some myself. I drug out all my old tiny bottles and my fringe, laces, clock parts, buttons and charms. Anything as tiny as I could find to embelish them with. Even corks for the tops.
Here are the results and what I used for each Upcycled Tiny Old Bottles: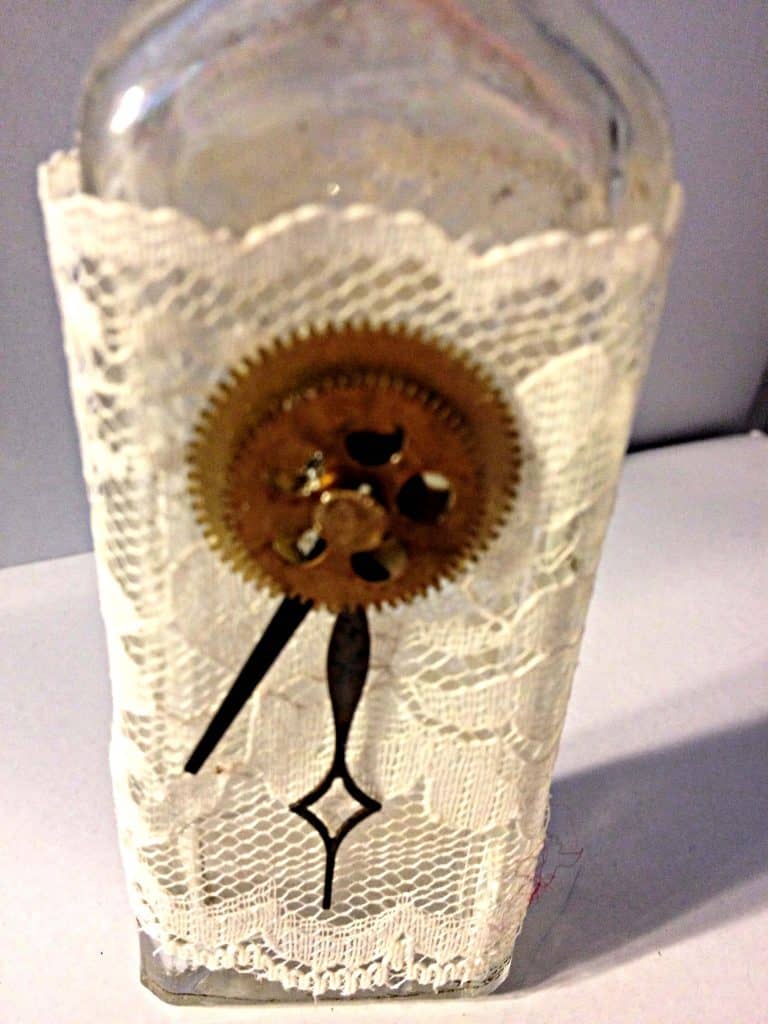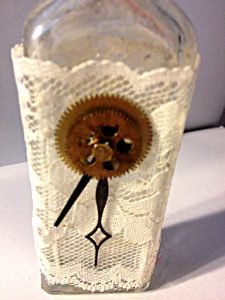 I wrapped this bottle with a piece of lace and glued it in the back. You could sew it as well but I'm more of a get it done kinda crafter. I added some clock parts that had when I purchased a bunch of old travel clocks and watches that did not work and really weren't worth anything. I glued those as you can see and added a pretty old rhinestone flower I had. I call this one Time in a Bottle like the song!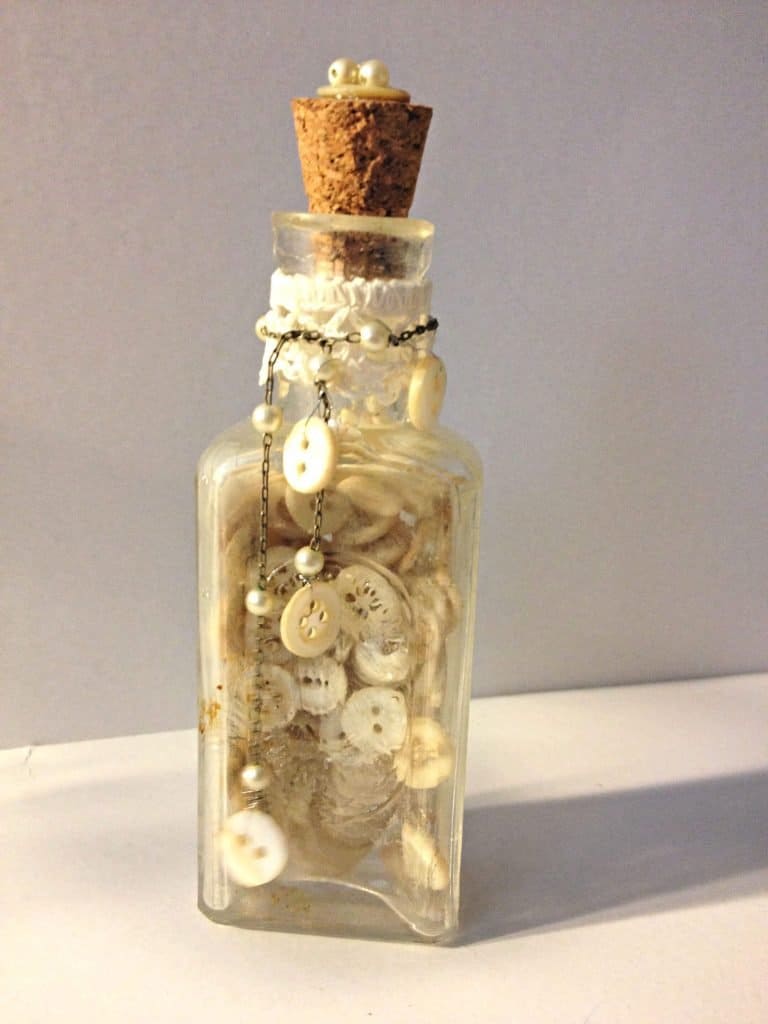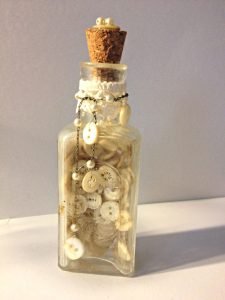 I had a bunch of tiny old fashioned buttons and they fit nicely in this little jar. A tiny piece of lace around the neck and a string with a few buttons tied to it and it was done! This is my favorite one. My mom taught me to sew and she had some dresses with these tiny buttons so it melts my heart! I call this one Tiny Buttons. A play on the Tiny Bubble song!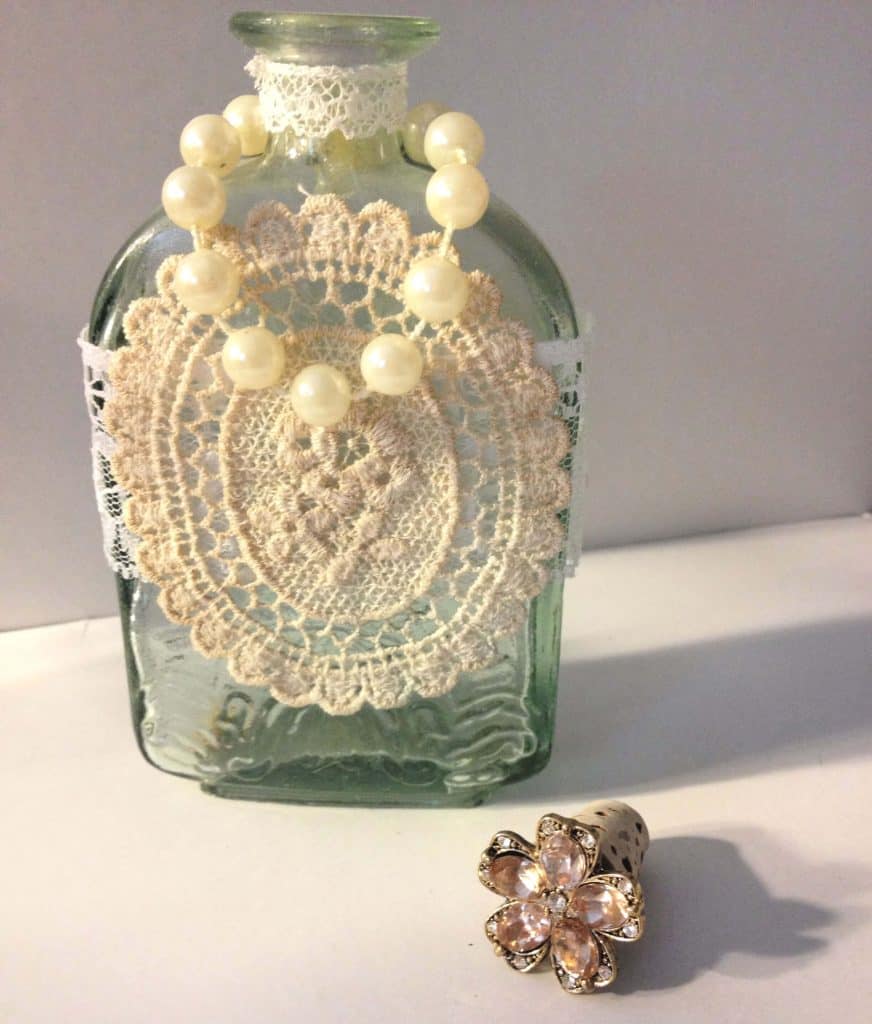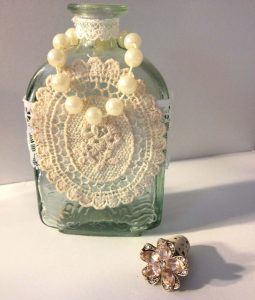 This one is a tiny bottle with rhinestone flower glued to the top of the cork. A piece of white lace goes around the bottle and I had a little tiny doily that I glued to the front. A tiny piece of lace around the neck and a string of old pearls makes this look like a Night on the Town.
Here are some pretty lace appliques: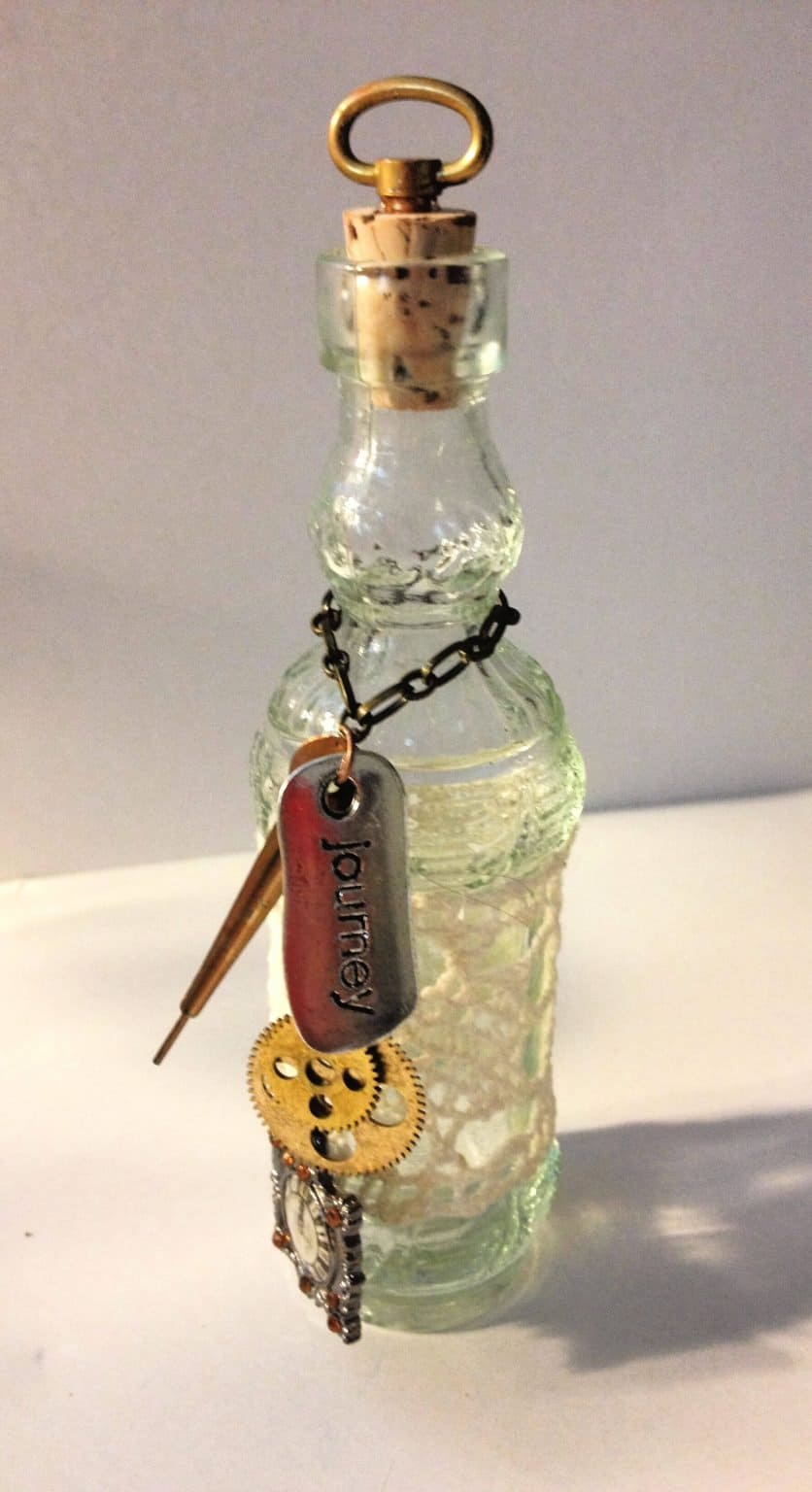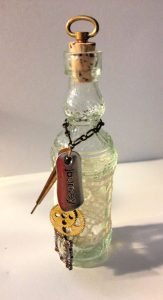 For this little treasure, I added a hook to the top of the cork, lace around the body and a chain with watch parts and a charm that says Journey. Appropriately named Time to Travel. I plan to get some sand and tiny shells on my next adventure to fill it with.
This is a really great package of charms available to use: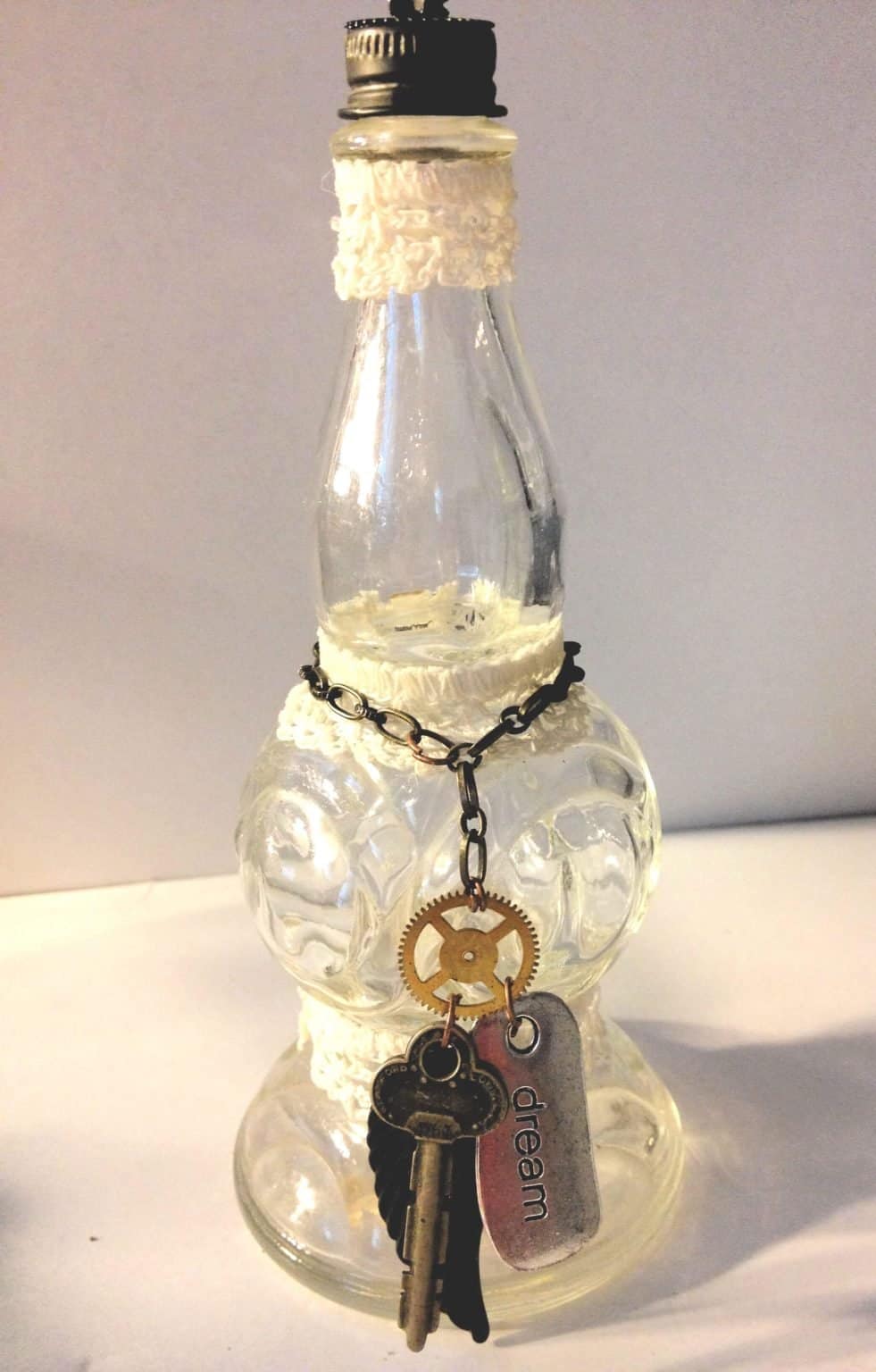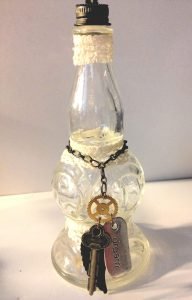 I am a big lover of anything with Dream on it. So I created this tiny bottle with Laces around the top, middle and bottom. I added a watch part to a chain and then added a key, a wing and the charm that says Dream to it. Just a reminder to dream and not take life so seriously!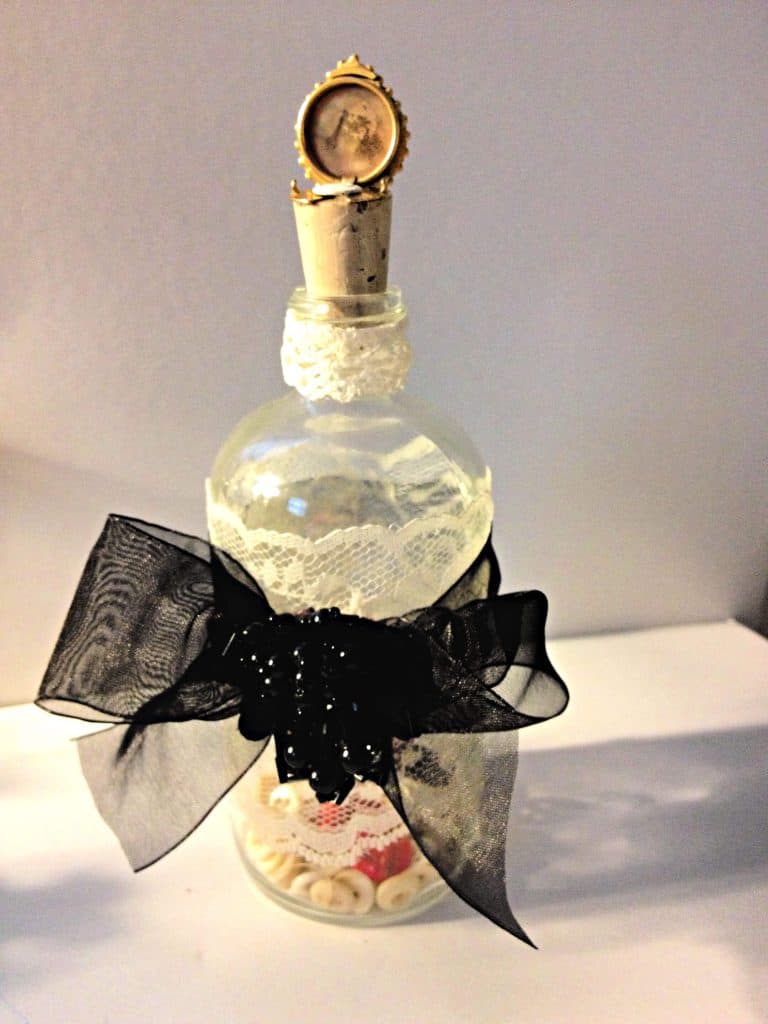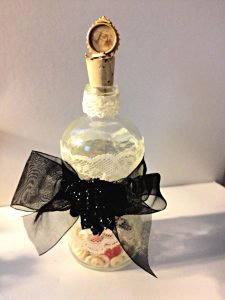 Another little bottle that I filled with some fun little buttons. You can see the red one at the bottom. I used a locket I had and glued it to the top of the cork, added lace and a big black bow. I used an old beaded earring I had to garnish the bow. It is my little Valentine bottle.
Here are chiffon ribbons to use: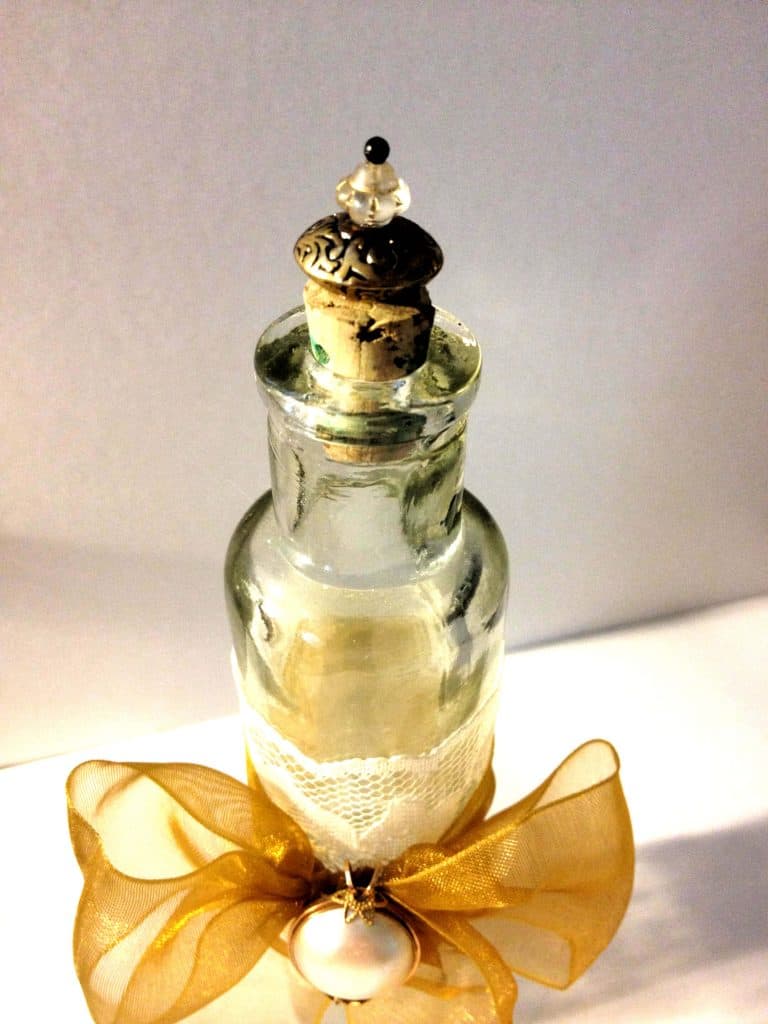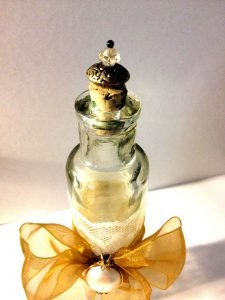 This is my New Year's bottle. I added lace around the body, tied a gold bow and garnished with a pearl earring. On top is an old stick pin I had. I think she turned out elegant enough for a New Years ball!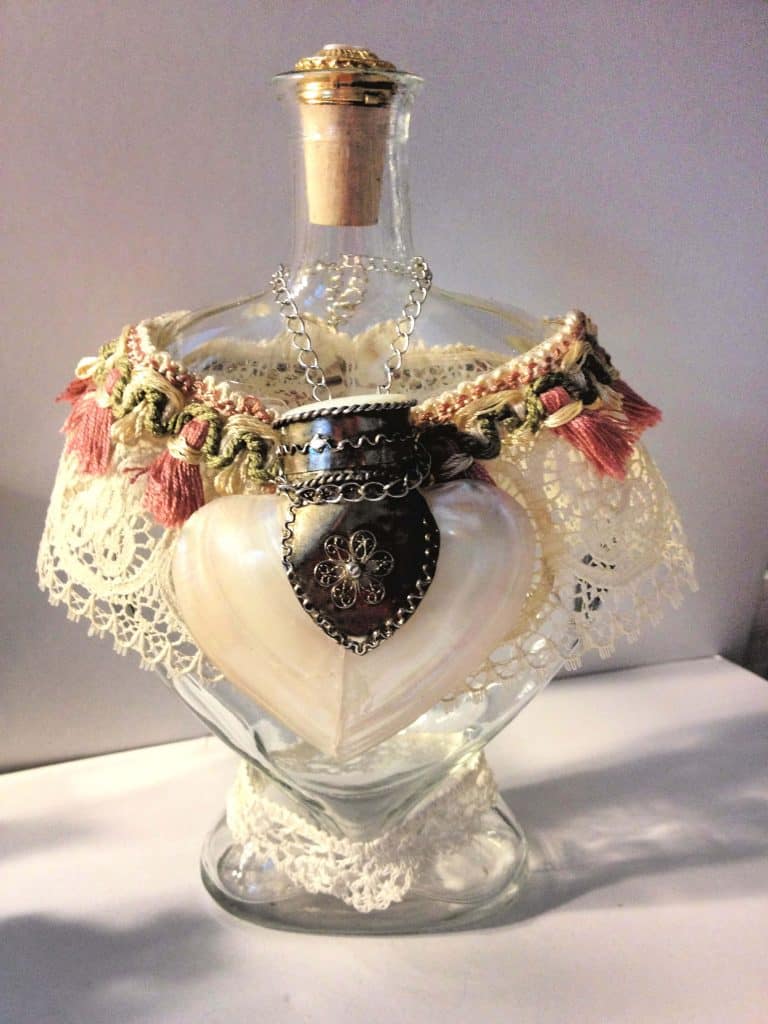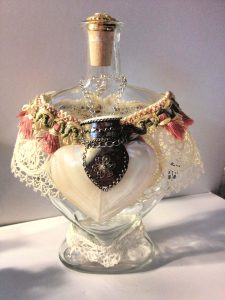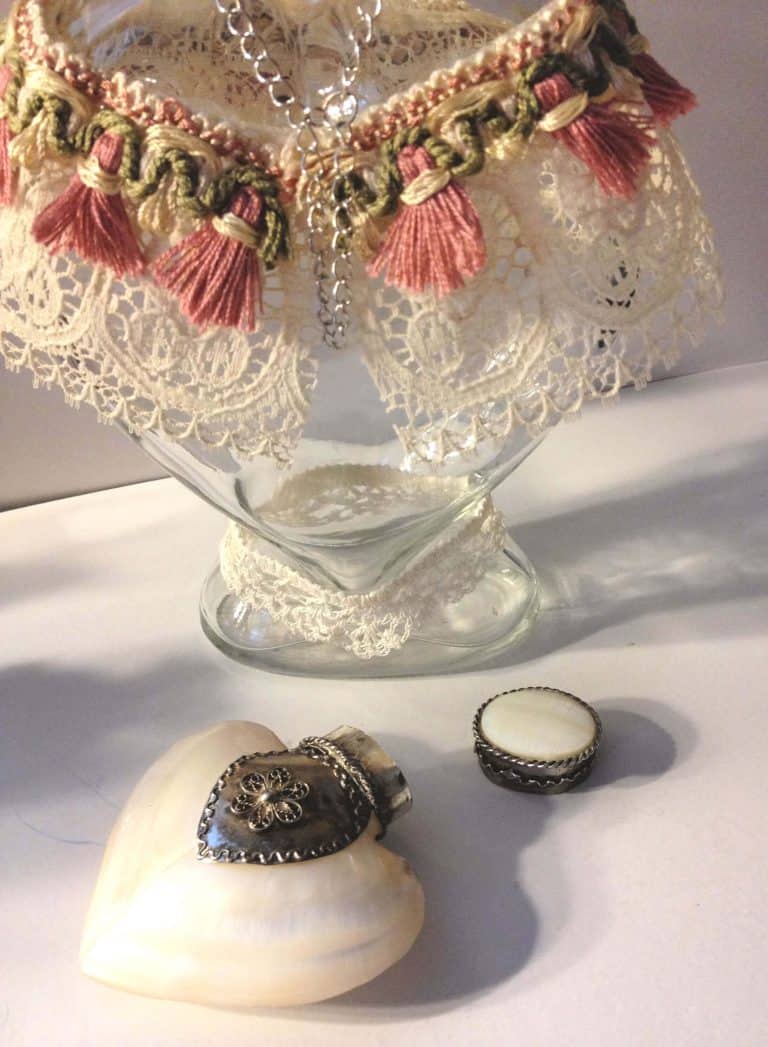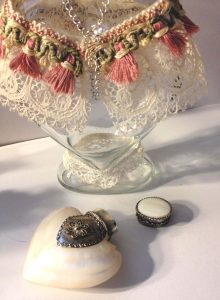 My heart bottle was a bit challenging because of the shape. What I did with her was to drape a piece of lace with some fringe and make it look like she is wearing a cape. The bottom has a little lace around it and around her neck I added a tiny shell bottle I had picked up along my travels. there is a pretty old button glued to the cork as well. She is magnificent don't you think?
Aren't they fun? I hope I inspired you to find some fun things to do with tiny old bottles. I think they make great gifts of sentiment and with the perfect card written to go along with them, they would be cherished forever!
Which one is your favorite?
Like Upcycling? Check out this cute vintage suitcase makeover!
Pin it for later inspiration: