With the holidays and Christmas fast approaching, this list of gift ideas to make with the Cricut just might come in handy or give you some gift ideas you can make all year long! Get the print out of the Ultimate Guide of Gift Ideas to Make with Cricut for free! See the bottom of this post to get yours.
Do you find yourself staring at the calendar just thinking "What can I give someone that will be a hit?" Not only that but you may be out of time and need something quick. Having a list of things you can easily look at to see if you can get it done in time will certainly help. Maybe even inspire you to make things ahead of time!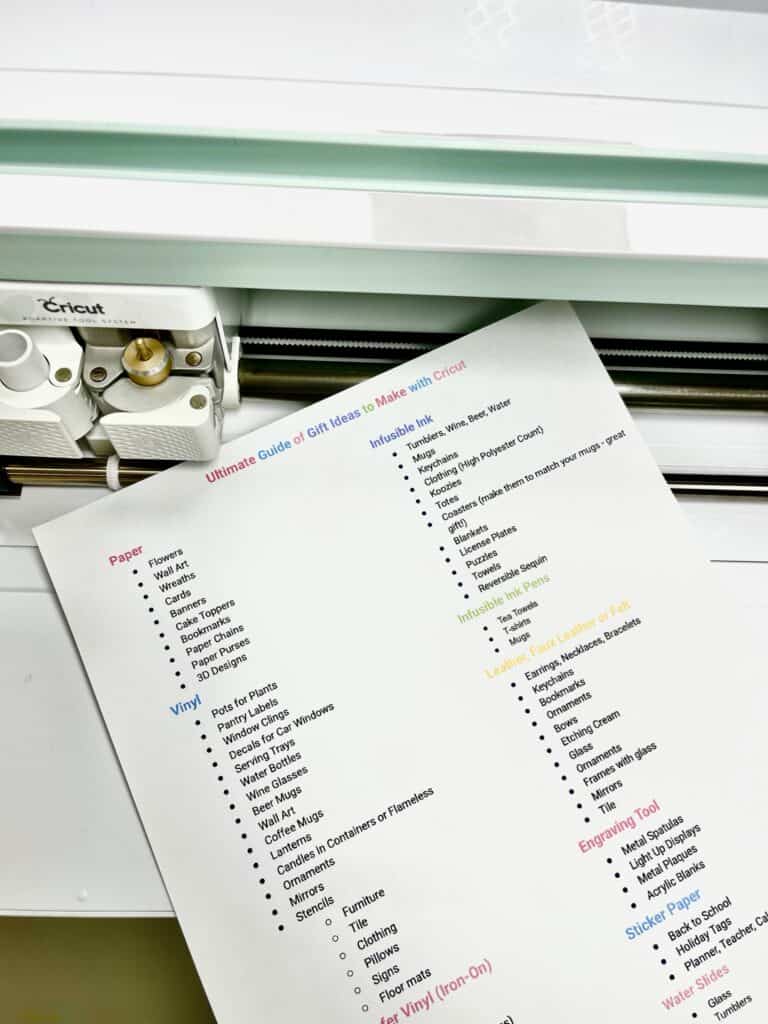 This post may contain affiliate links and we may earn compensation when you click on the links at no additional cost to you. For additional information, please see my full disclosure policy.
Knowing all the things you can make with your Cricut and with the supplies you have on hand or can easily get from Cricut Shop or Amazon will definitely make this a lot easier and that's what this list is intended for. Not only a list of great ideas, but a list you can refer to and see what you want to learn to make as well.
If you need SVGs for your projects, I'd recommend being a Cricut Access member. Being a member gives you access to most designs AND fonts inside of Design Space without any additional charges. You can mix and match, take a few and combine, do all the types of projects like 3D, print and cut, etc. You also get a discount on all your Cricut purchases and are eligible to purchase the Mystery Boxes that come with a Cutie! Check out the options here: Cricut Access
Let's start out by listing the type of material you may have on hand or were wanting to try followed by a list of things you can make on the Cricut with them. Click on any photo to get more information on how to do these projects with your Cricut!
Use the table of contents any time to jump right to the spot you want to see! Bookmark this post and you can come back to it anytime. Pin it on your Pinterest Board and you'll always have it for a reference!
---

Paper
There are so many things you can make with paper that it truly blows my mind. The different types of paper also open up so many possibilities too.
Sources for my favorite papers are: Cricut Papers and Recollections by Michaels
Flowers
Cutting and rolling paper flowers is quite easy even for a beginner. Design Space has may different kinds of flowers to make that it will keep you busy for awhile. Now making flowers takes time so this is definitely not a quick gift idea but most definitely one of the prettiest!
Take a look at the things you can make with rolled flowers: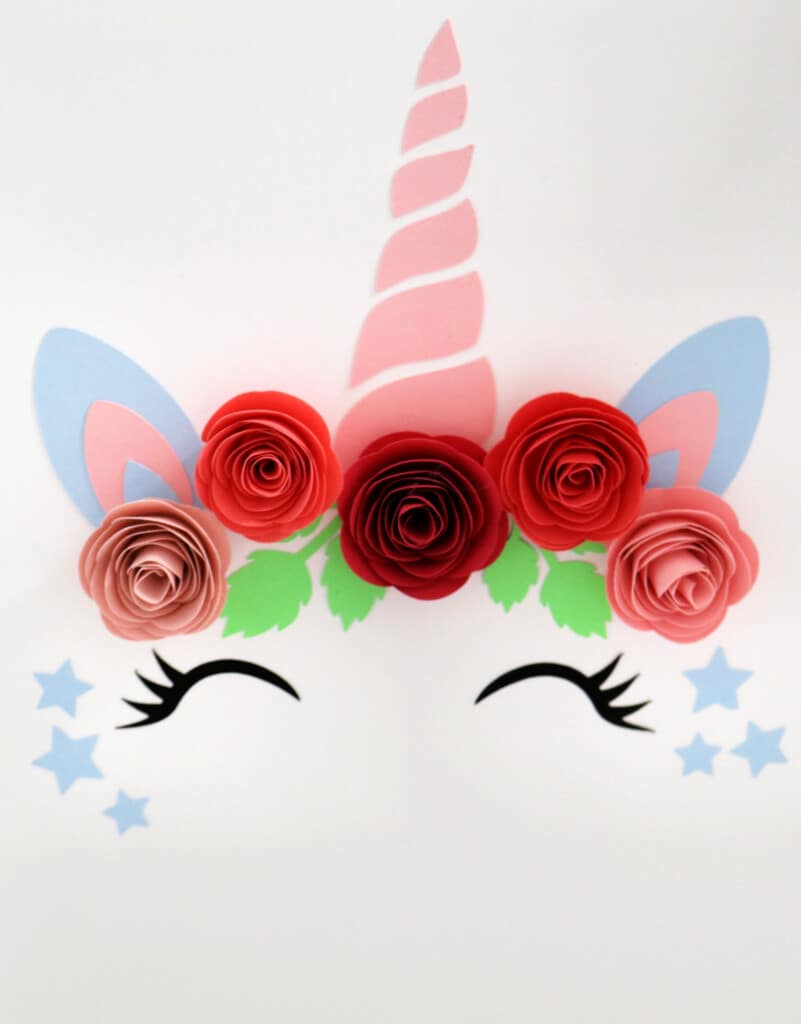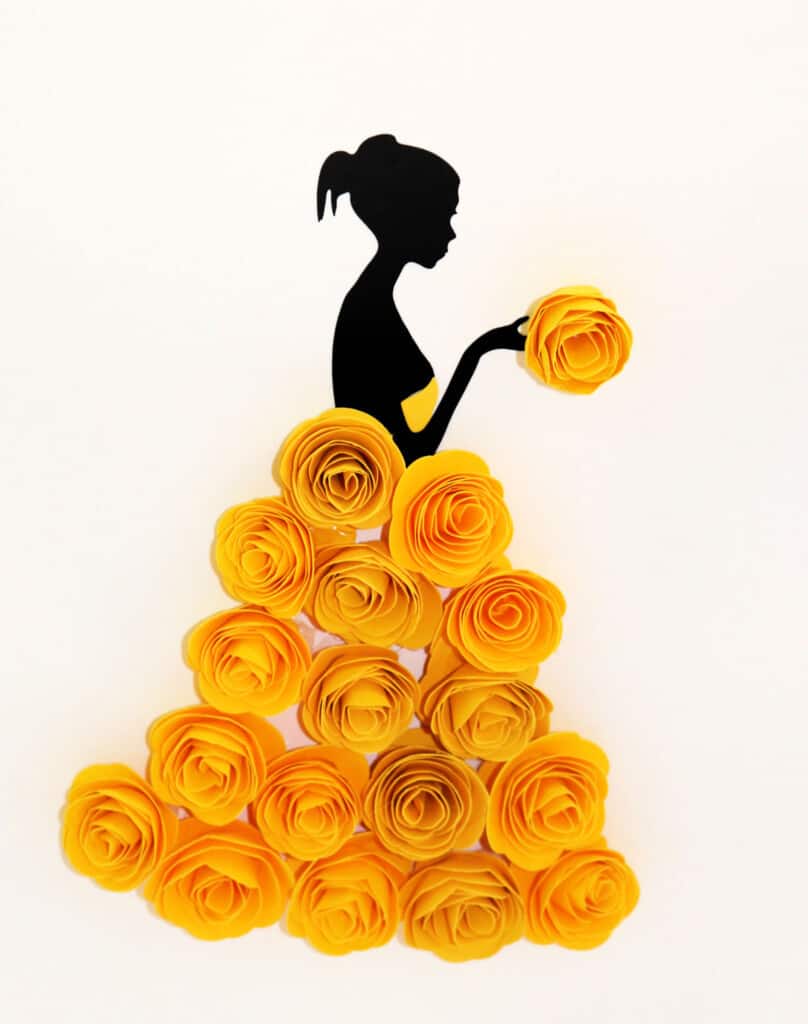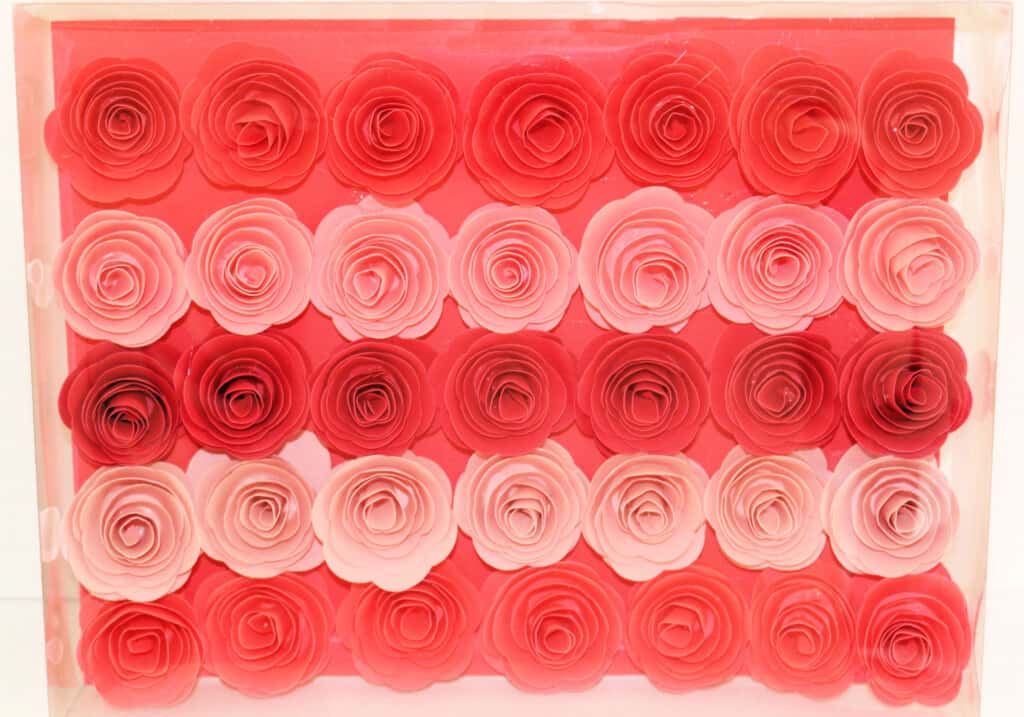 Making Flowers is easy once you get the hang of it. You can check out my video to see if this is something you would like to try! How to Make Rolled Flowers
For even more intricate, larger, or more detailed flowers, I highly recommend Abbi Kirsten's Flower Packages. You can make so many things like flowers for vases, flowers for a nursery wall, or a photo backdrop and more!
Click on Images to learn more!
Wall Art
Right along with using flowers in your wall art, you can also make 3D images like birds, Monograms, animals, sports, Mandalas, Christmas trees, pumpkins, and so many things you can imagine. Click on Images to go to post with Free SVGs.
Wreaths
Use those pretty flowers and make a wreath for inside your home. Wreaths are so pretty on your cupboard doors or the backs of chairs for the holidays and since they are smaller in size, they don't take much to make. Add a paper design like a gnome, elf, bell, dragonfly, bee or anything you can think of in the center. Click on Images to see more.
Cards
Everyone loves getting cards but not too many people buy them anymore. Why not make your own? So many options with the Cricut and many options in Design Space too! Pop-up cards are very popular and you can even personalize them! Just about any design you can think of can go on a card and your sentiment printed on an insert will give your card that extra special touch! Click on photos to learn more.
Banners
Make a special occasion banner to hang. Everyone loves their names up in lights, so make a banner with their name and occasion to highlight their special day or to show just how much you are thinking of them. Banners are easy to make and very customizable. Click on photos to learn more.
Cake Toppers
Don't forget the cake! Make a cute topper that says it all. Don't stop with just the cake, you can add toppers to straws, cupcakes, platters, and more! Click on photos to learn more.
Bookmarks
Have a book reader in the family or a friend? Make them a few bookmarks with some pretty paper and cutouts that will mark their pages and be a reminder of just how much they mean to you every time they open their book to read! Click on photos to learn more.
Paper Chains
What child doesn't love a paper chain? Make a long chain for them to drape around their headboard or mirror. Use that fancy colorful paper you've been wanting to use but didn't know what to make with it. Add some spirals with some of that shiny foil and drape it on a holiday tree. Click on photos to learn more.
Paper Purses
So many cute options to make! They actually open and close and can hold a small gift or gift card. Click on photos to learn more.
3D Designs
Almost everything you can imagine can be made 3D and has! Carousels, hot air balloons, trains, trucks, dinosaurs, gnomes, turkeys, trees, pumpkins, and so much more. Click on photos to learn more.
---
Vinyl
A lot of people purchase the Circut and even the Silhouette to use vinyl. It is very popular and there are so many options for the vinyl I could go on and on! You can personalize, label or stick a saying to most anything! Giving the vinyl itself so the recipient can put it on something they want is also a great idea!
My favorite resources for vinyl are: Cricut Vinyls, Amazon Vinyls, Expression Vinyls, 143 Vinyls, My Vinyl Direct
Pots for Plants
For this type of project, I recommend using Oracle 651 or Permanent Vinyl.
Click on any photo to get more information on how to do these projects with your Cricut!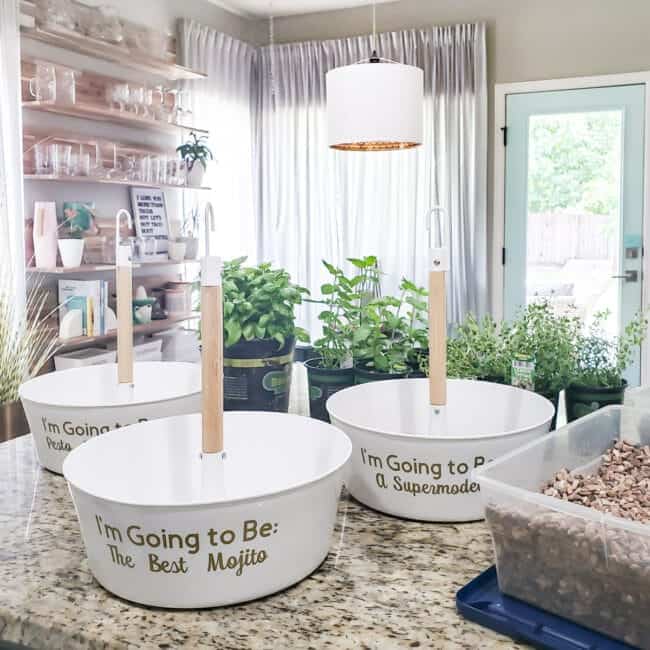 Pantry Labels
You can use many things for pantry labels. Permanent Vinyl, Removable Vinyl, Sticker Sheets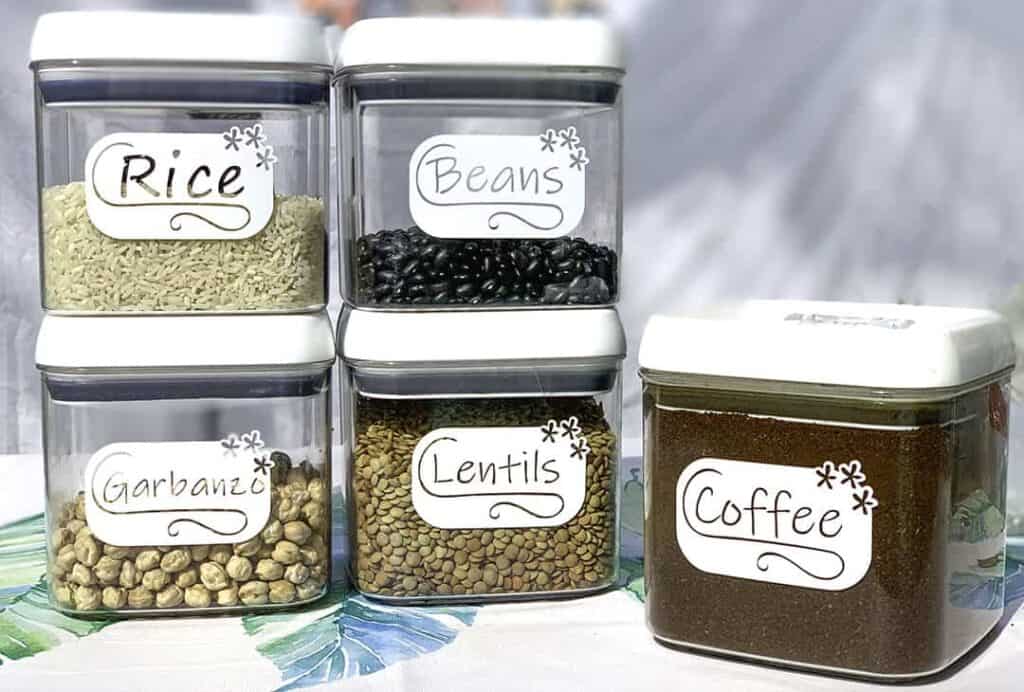 Window Clings
Use Cricut's window cling vinyl for the best results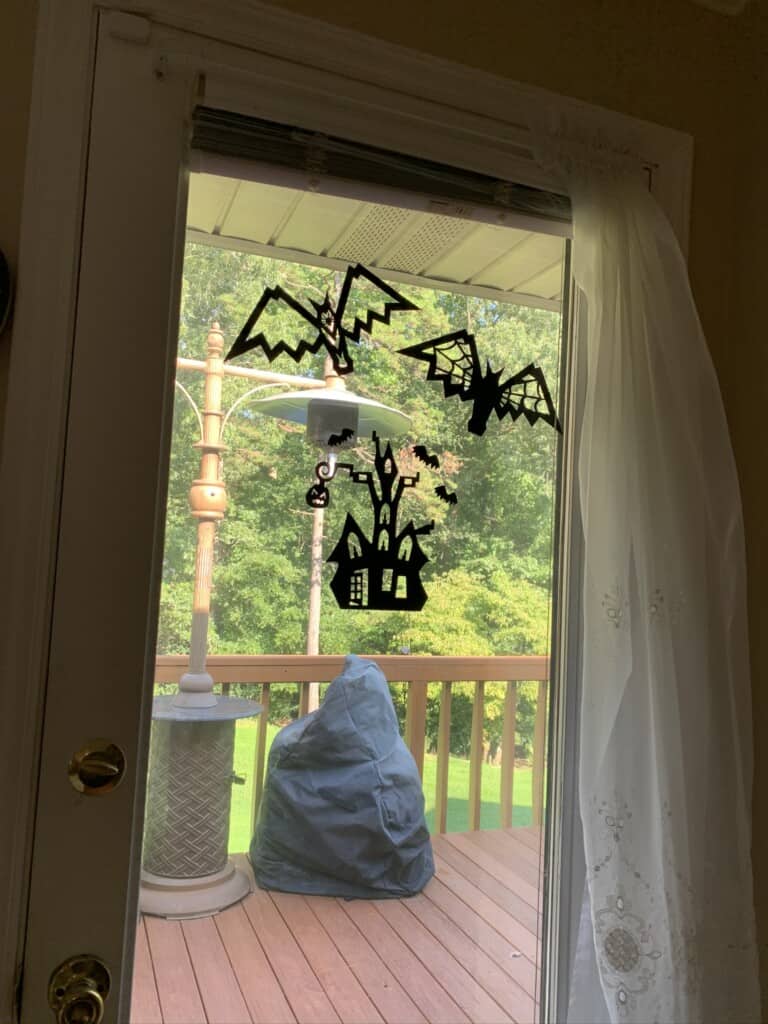 Decals for Car Windows
I recommend Oracle 651 or Permanent Vinyl for this project.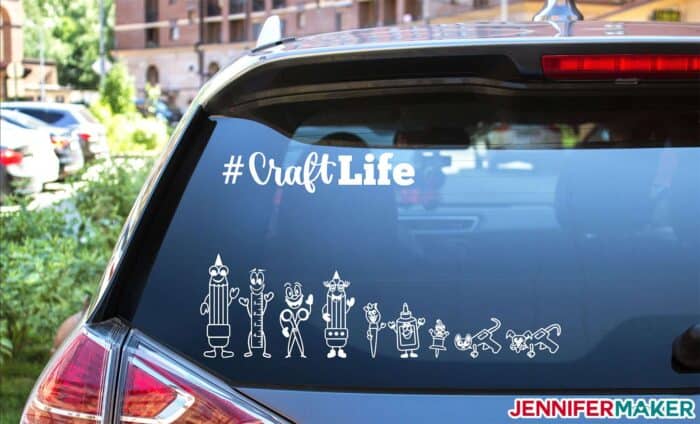 Serving Trays
I recommend Oracle 651 or Permanent Vinyl for this project.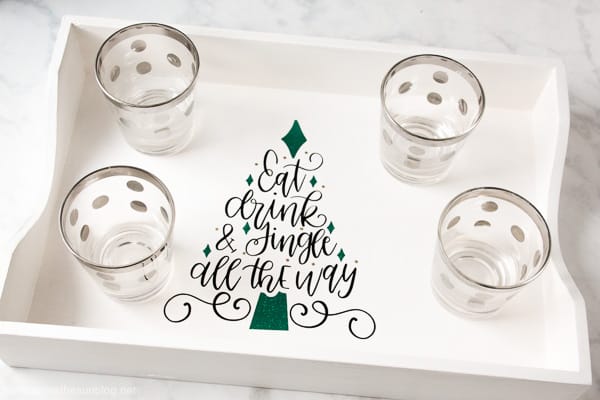 Water Bottles
I recommend Oracle 651 or Permanent Vinyl for this project.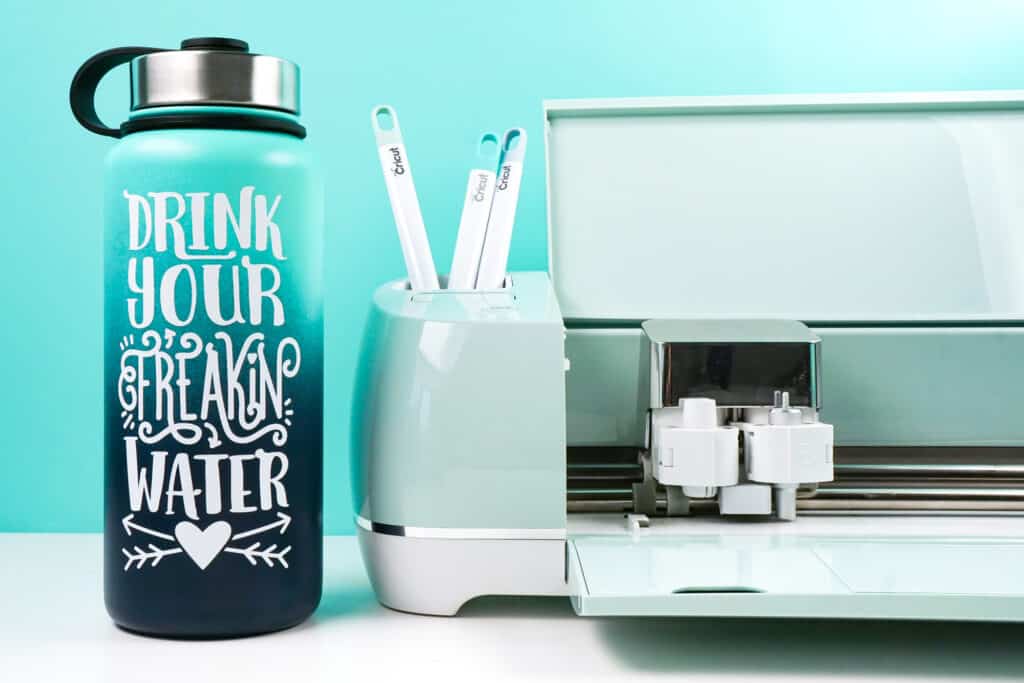 Wine Glasses
I recommend Oracle 651 or Permanent Vinyl for this project.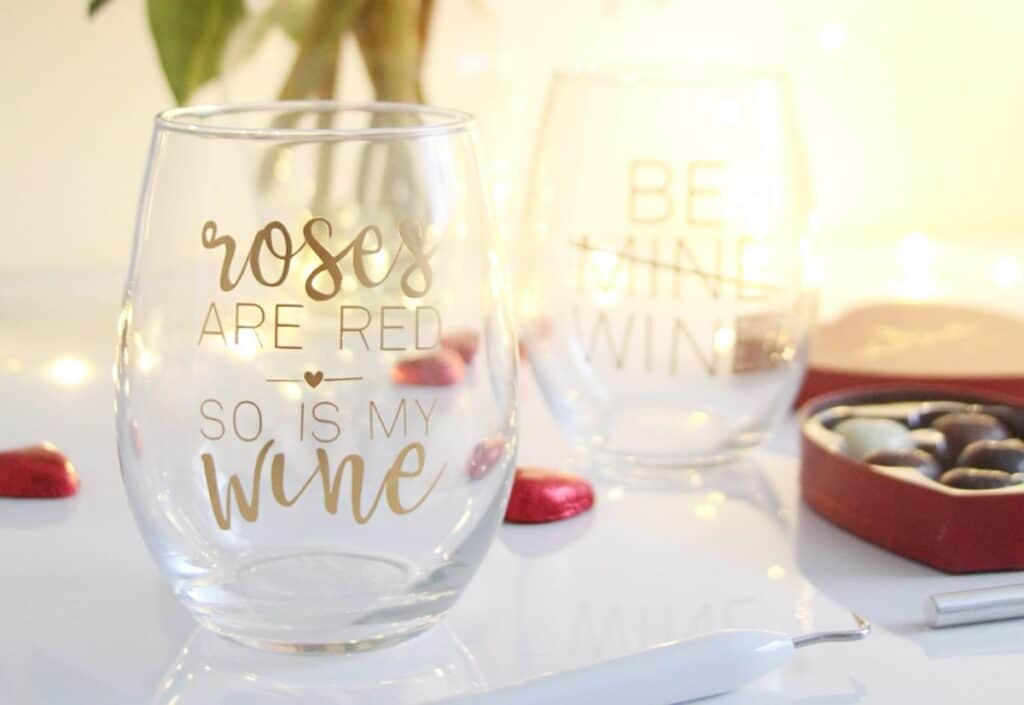 Beer Mugs
I recommend Oracle 651 or Permanent Vinyl for this project.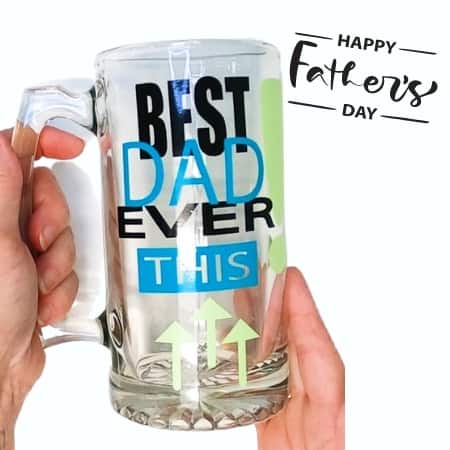 Wall Art
I recommend Removable Vinyl for the walls.
Coffee Mugs
I recommend Oracle 651 or Permanent Vinyl for this project. (or infusible ink with the Mug Press)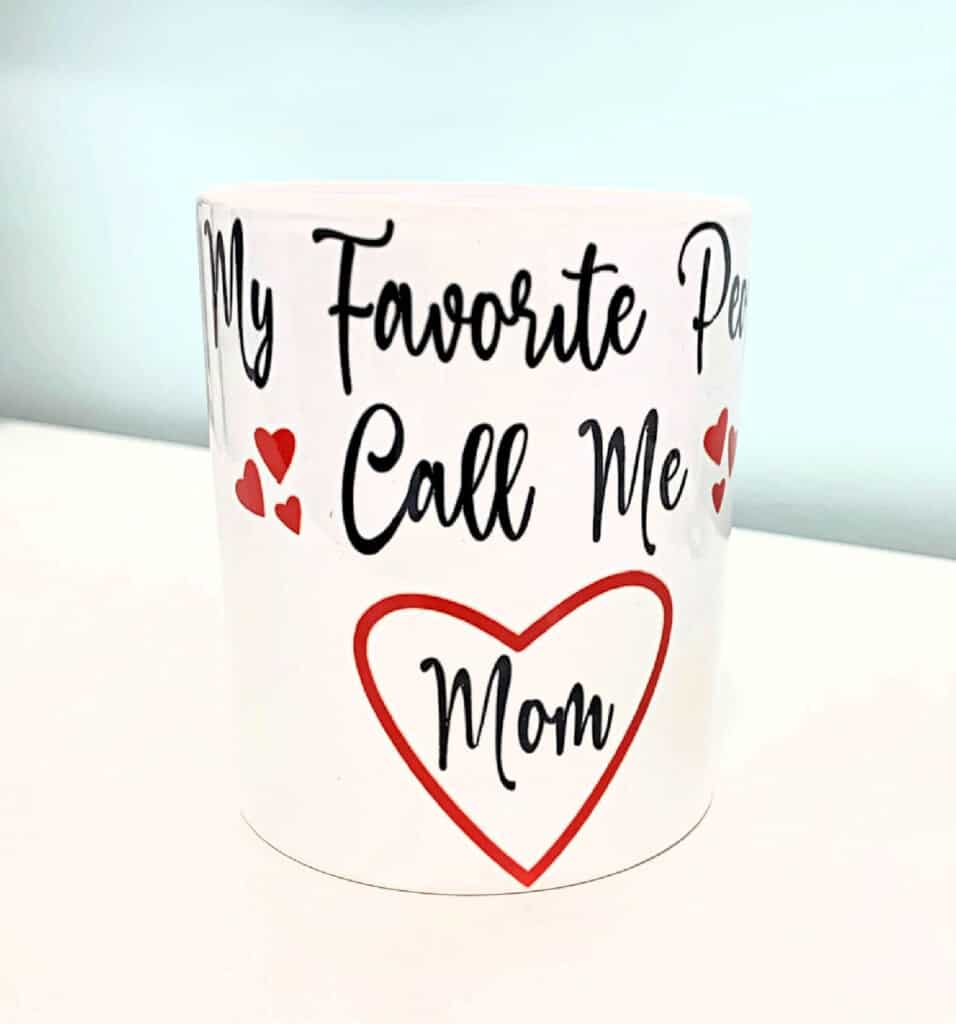 Lanterns
I recommend Oracle 651 or Permanent Vinyl for this project.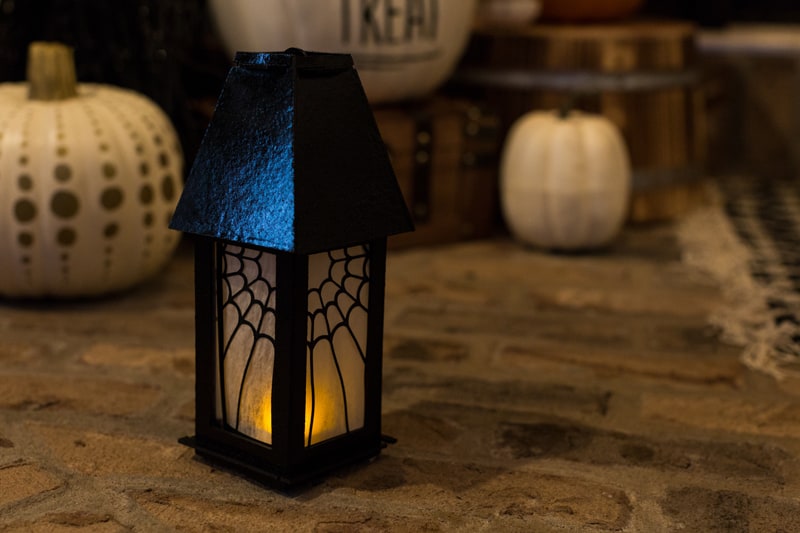 Candles in Containers or Flameless
I recommend Oracle 651 or Permanent Vinyl for this project.
Ornaments
I recommend Oracle 651 or Permanent Vinyl for this project.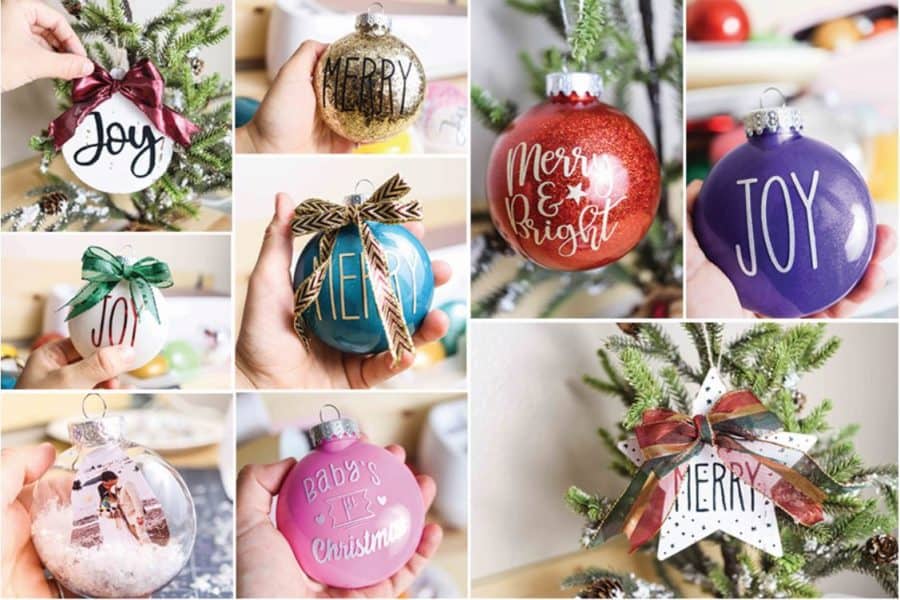 Mirrors
I recommend Oracle 651 or Removable Vinyl for this project.
---
Stencils
Adding Stencils to the list opens up a lot of other opportunities to use vinyl for. Here is a list of things you can easily cut from vinyl and use the cutout as a stencil OR apply the vinyl, then paint over it and peel the vinyl off! Either way you use the vinyl as a stencil, you will have a permanent painted or stained project that will last longer and have that designer look!
For all stencil projects I recommend Oracle 651 or or Permanent Vinyl.
Furniture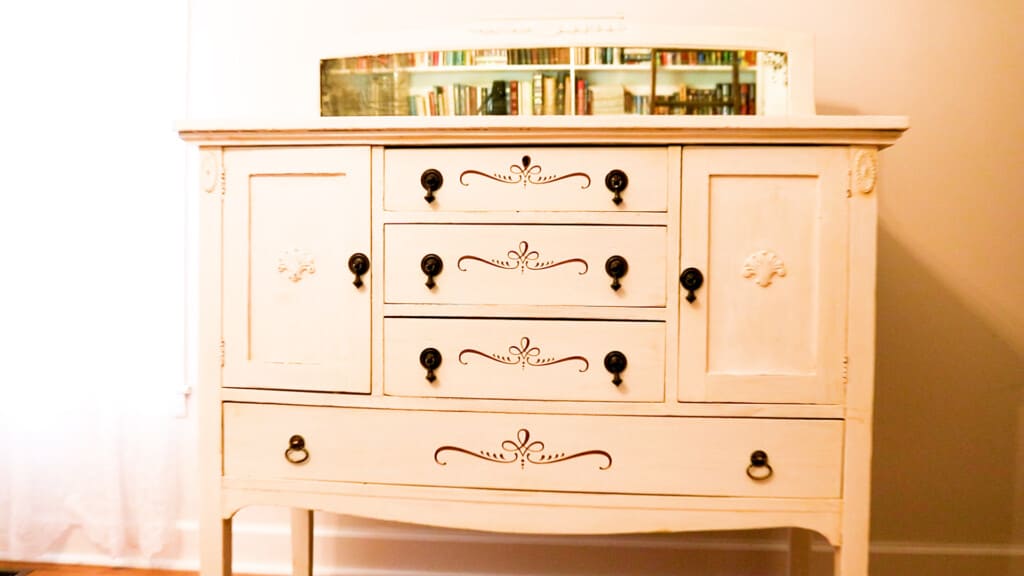 Tile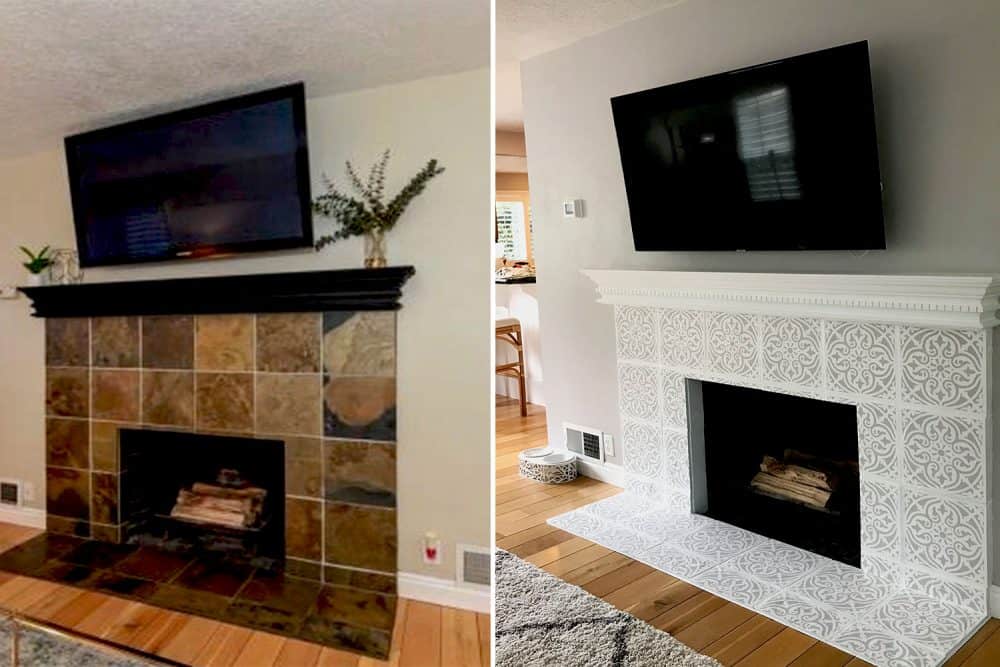 Clothing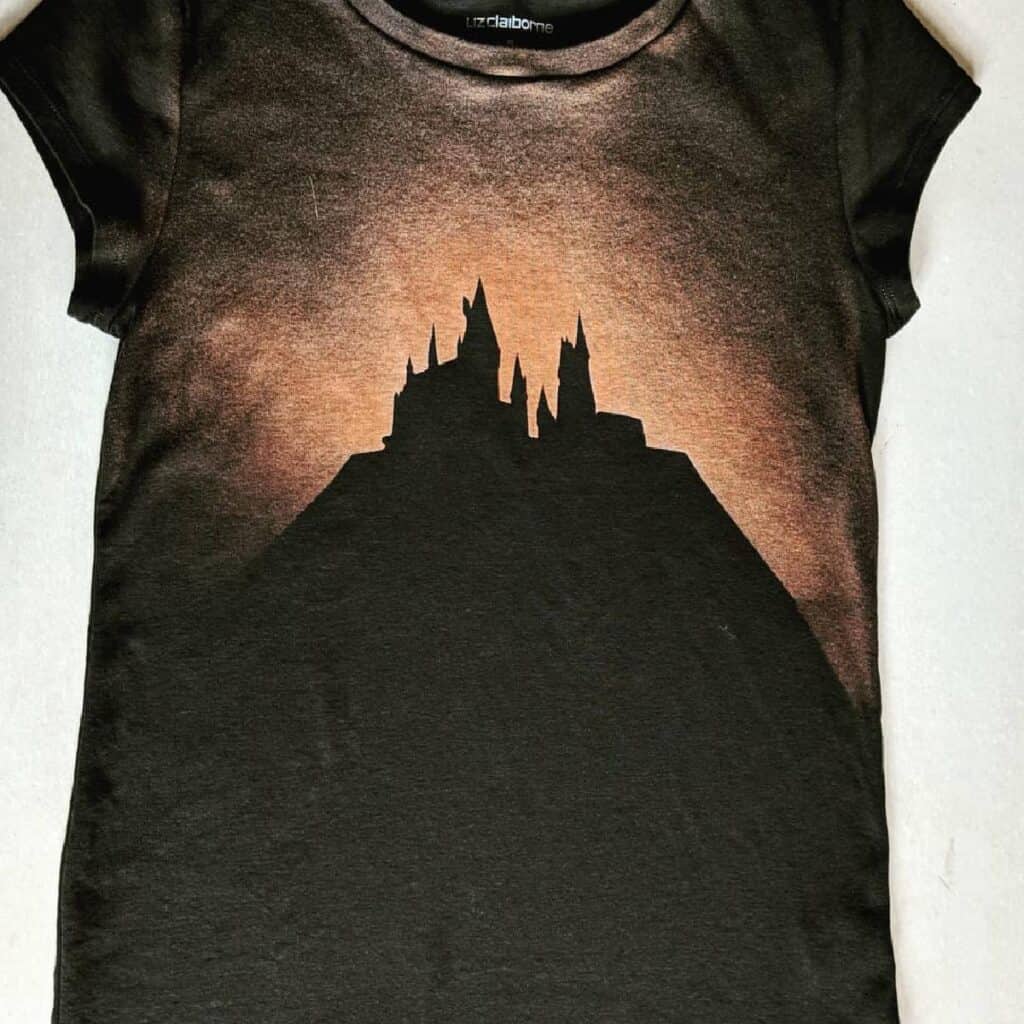 Pillows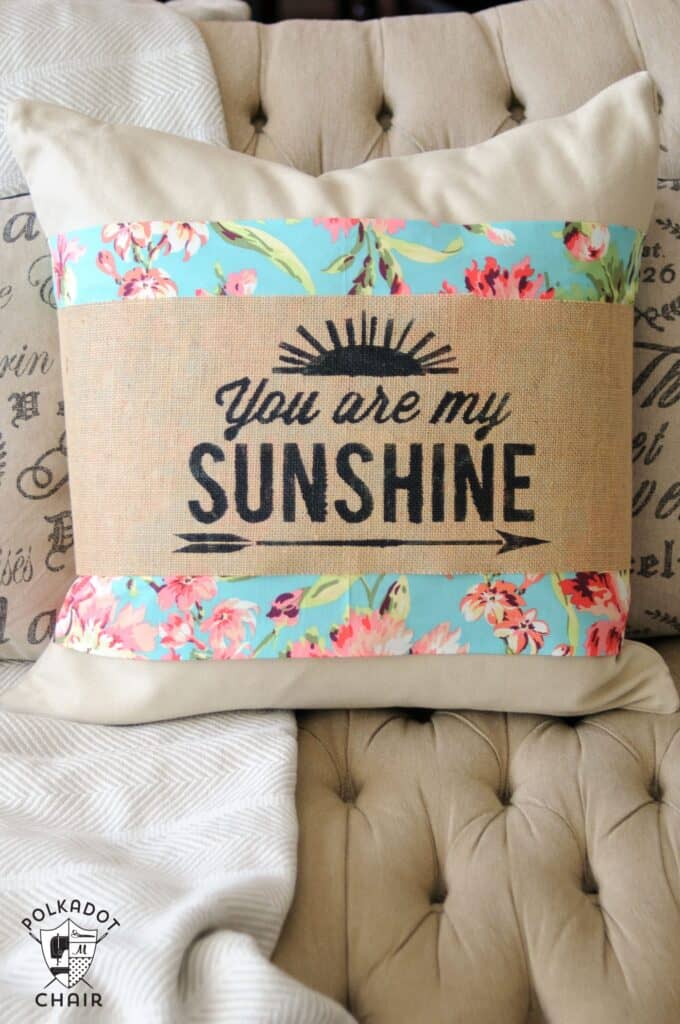 Signs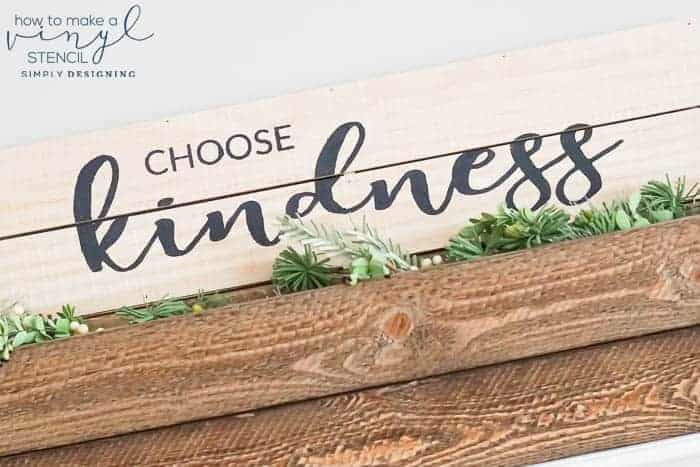 Floor mats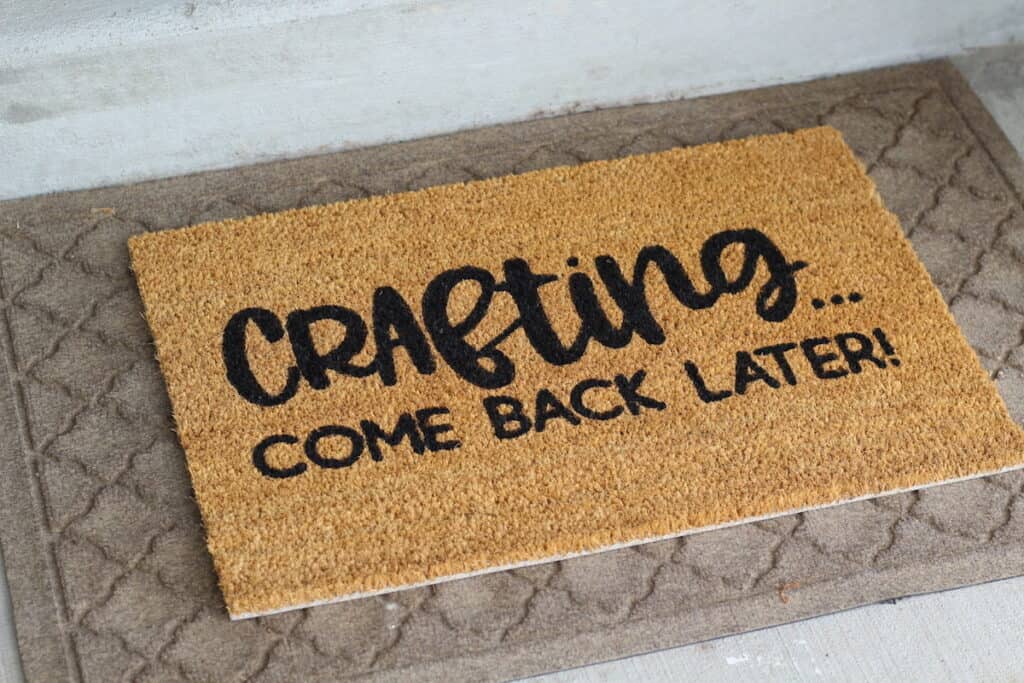 ---
Water Slides
Water slides are an alternative to using vinyl on things like tumblers and glass and other items if you want more graphic design or photos or pictures with more detail and color. Once you have your design picked out you print it out on the transfer paper, seal it, put it in water until it is ready to slide off the backing and onto your items. This project takes longer so is not recommended for a quick gift.
Waterslides are tricky for sure. I recommend using these two products for best results: Hayes Paper Co (use code CRT for 15% off at checkout!), and Krylon Crystal Clear Acrylic Spray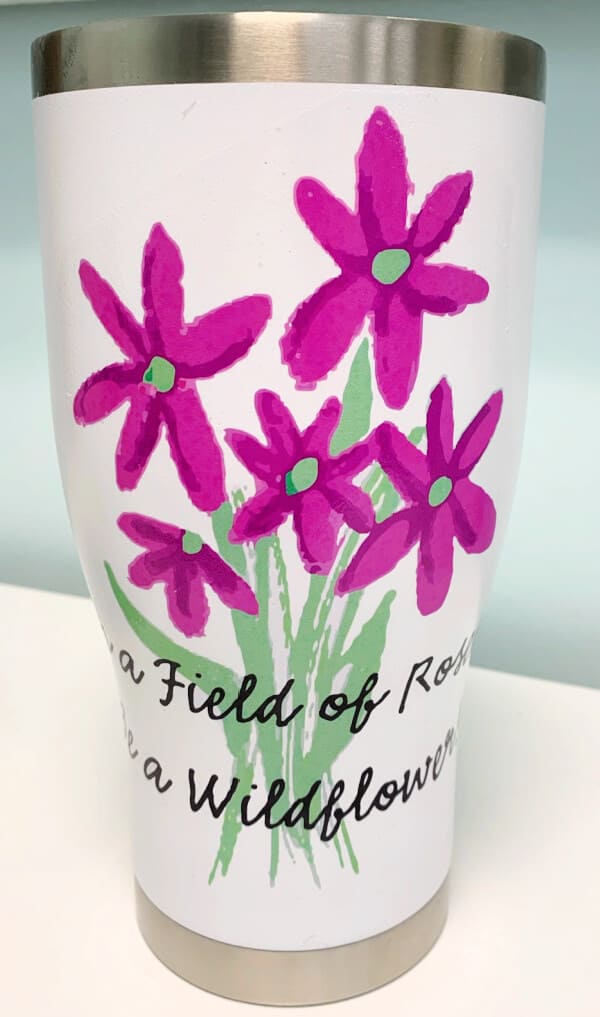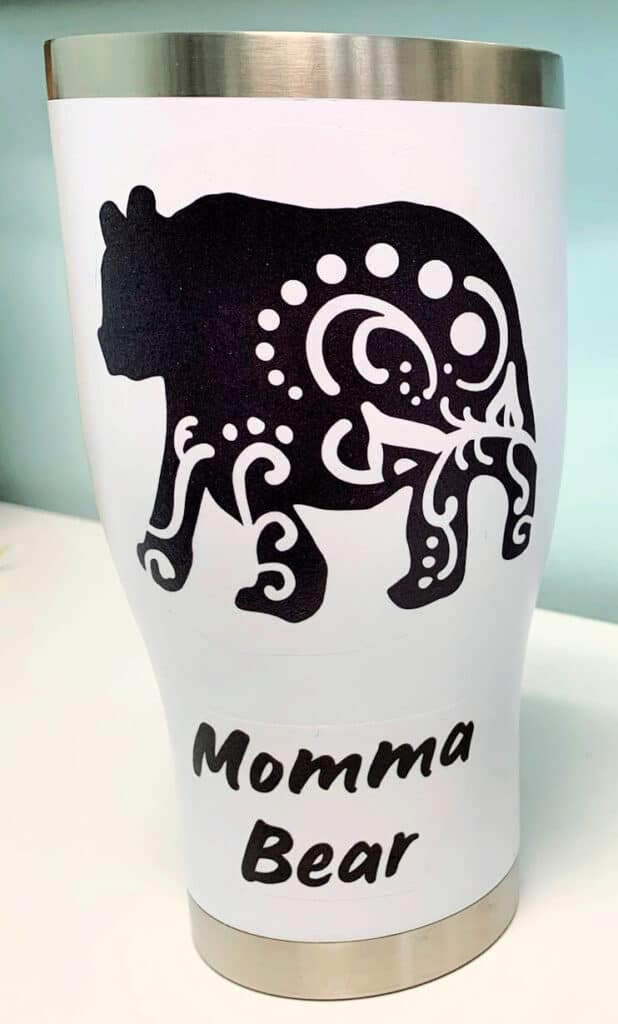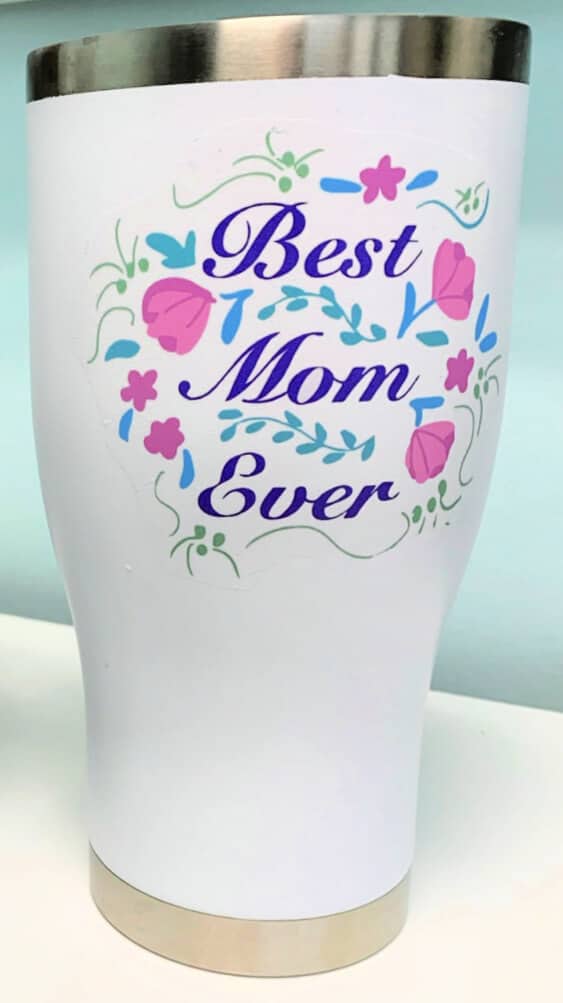 For a full video tutorial on how to use waterslides, check it out: Waterslide Tutorial
---
Heat Transfer Vinyl (Iron-On)
I've really gotten fond of using HTV for gift giving. Even beyond making T-Shirts for everyone and every occasion, I've started making things I never even thought of adding HTV to! These projects can be simple and fast or complex and take a bit longer. No matter what you make with HTV, it is sure to be a hit!
My favorite HTV is Amazon HTVRONT and I have used Circut's Iron On for different types of projects.
My favorite place to get Blanks to Iron on are: ApparelnBags,
Click on any photo to get more information.
T-Shirts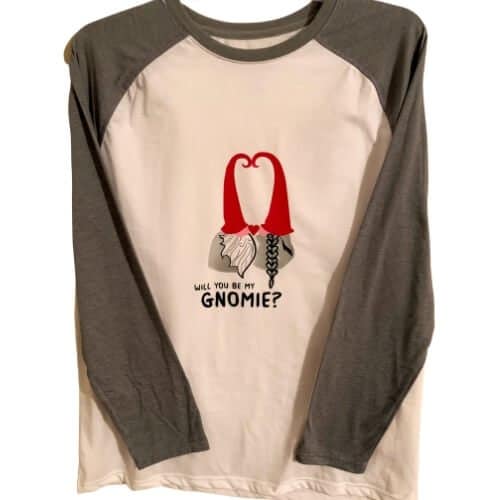 Towels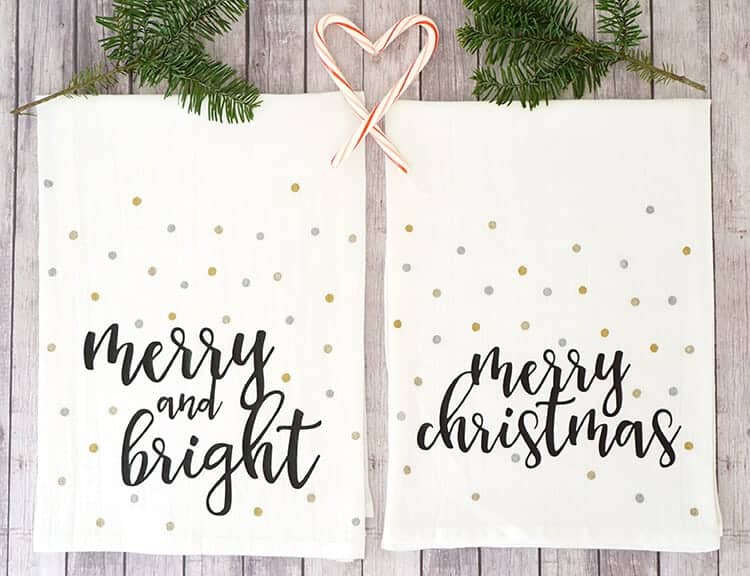 Canvas (and Reverse Canvas)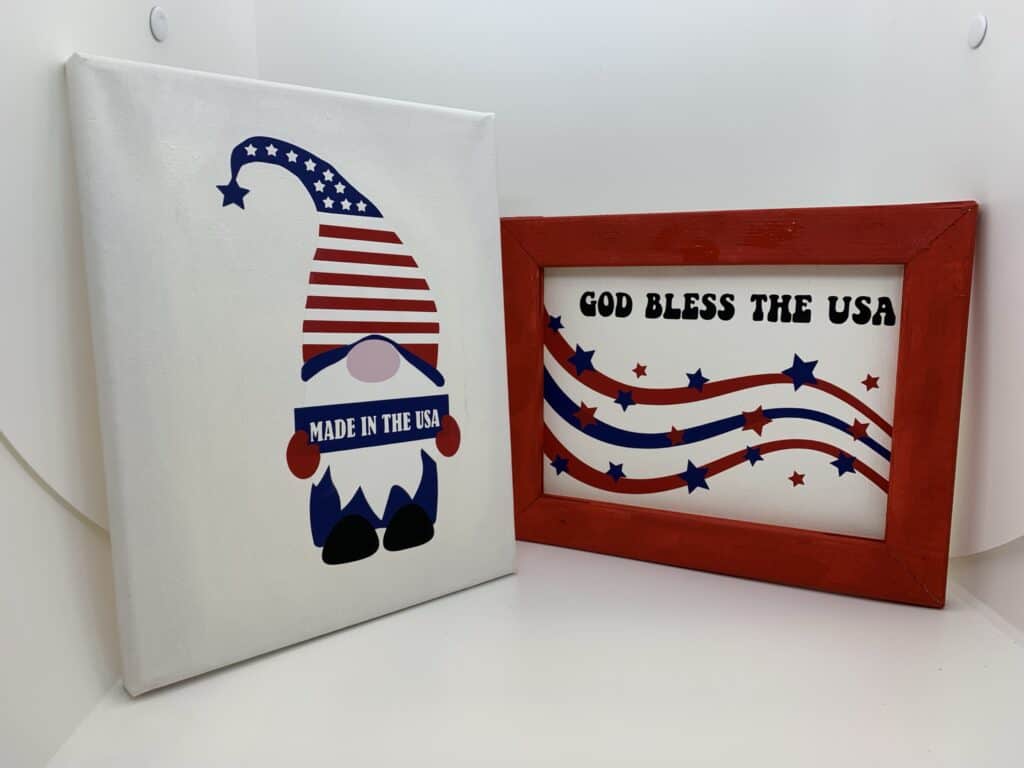 For full Video tutorial on how to iron on Canvas and Reverse Canvas check it out here: Iron On Canvas
Totes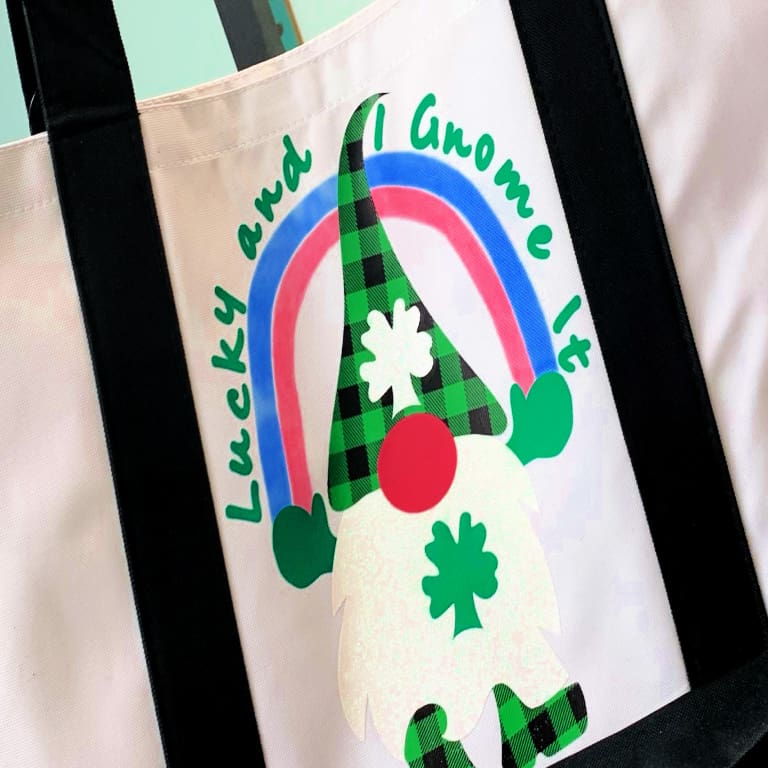 For full Video tutorial on how to iron on a tote bag, check it out here: Iron On Tote Bag
Pillows (Inside and Outside)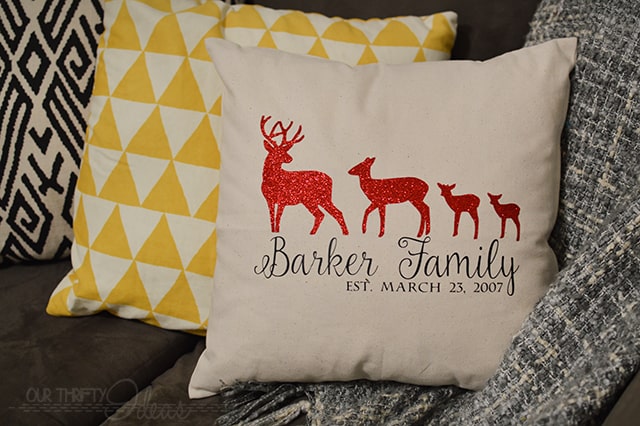 Hats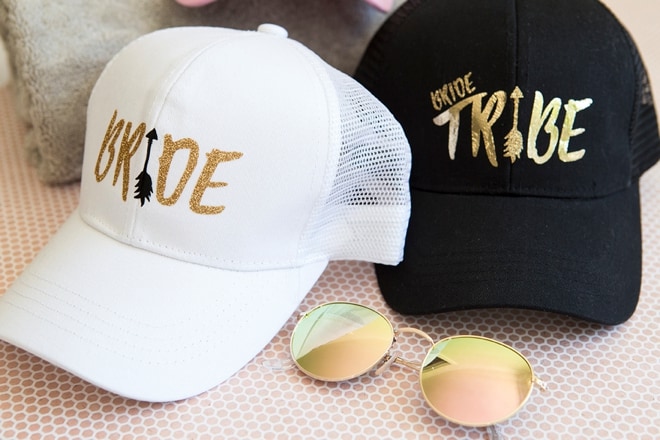 Purses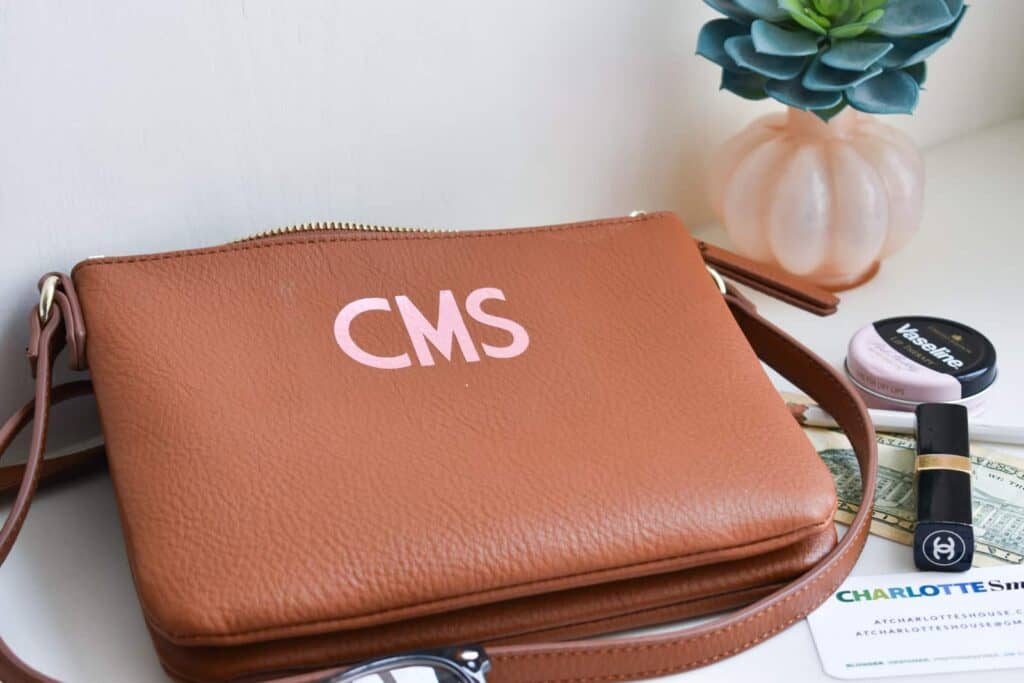 Ornaments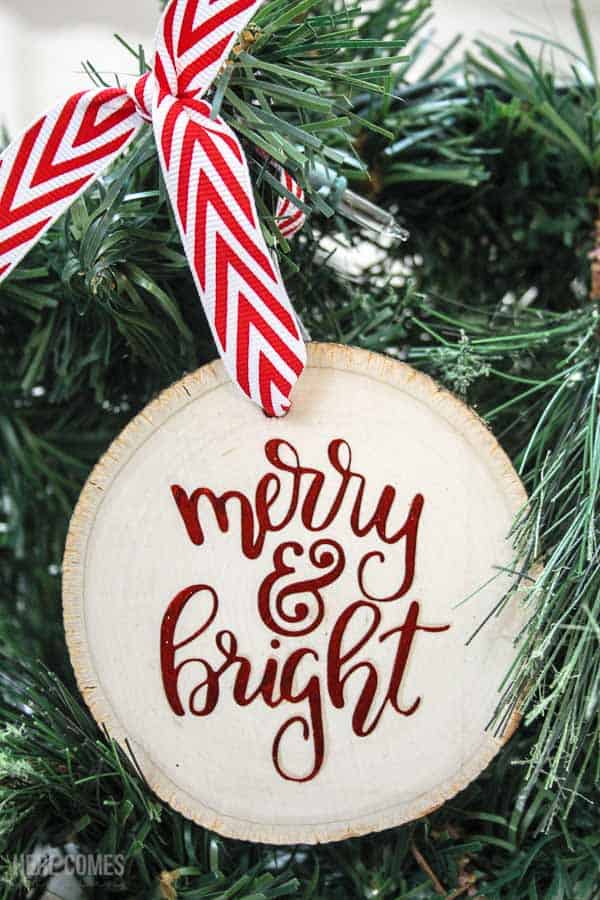 Corkboards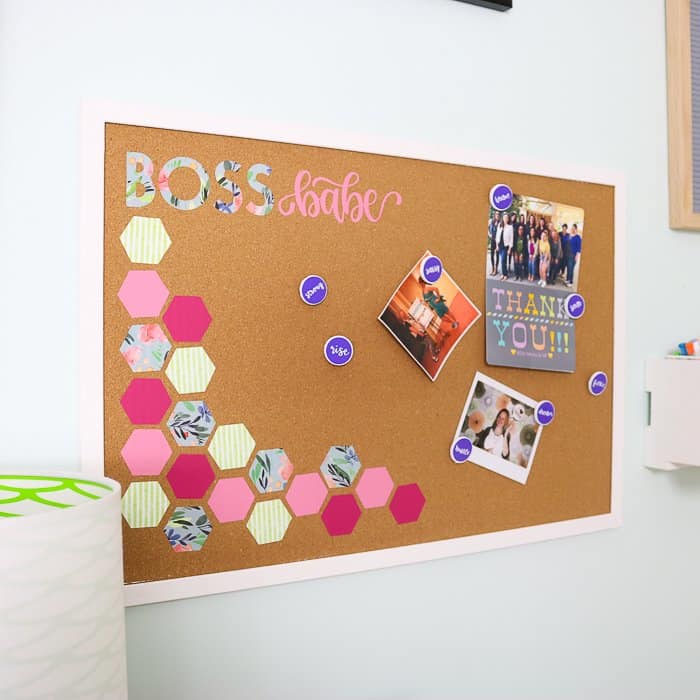 Signs
See how to apply HTV to wood for any kind of sign! Check it out here: How to apply HTV on Wood
Canvas Shoes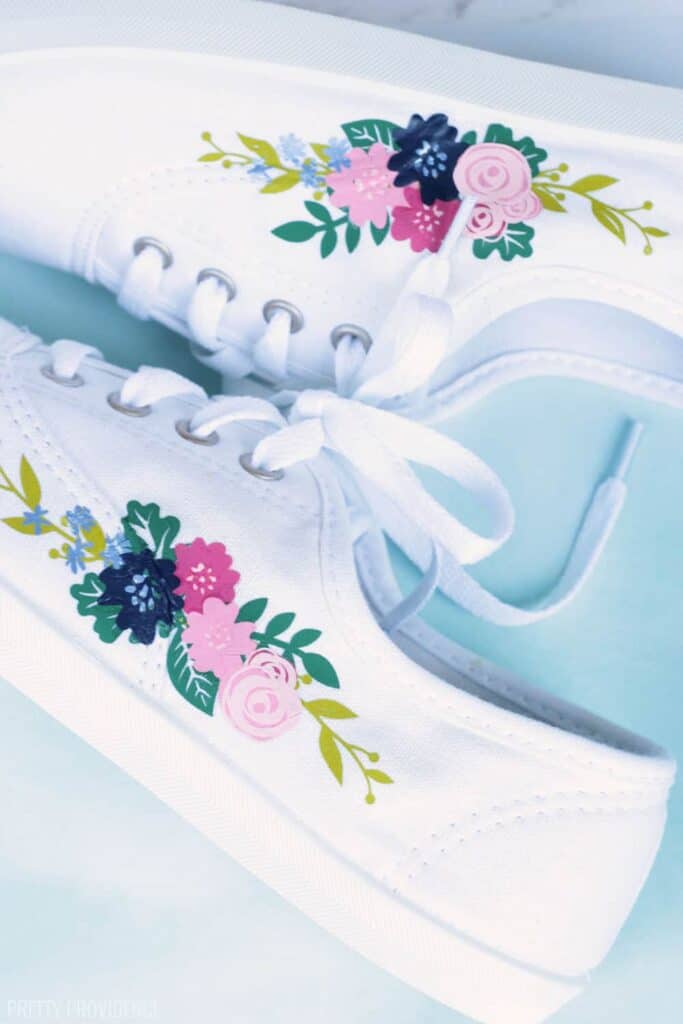 Stuffed Animals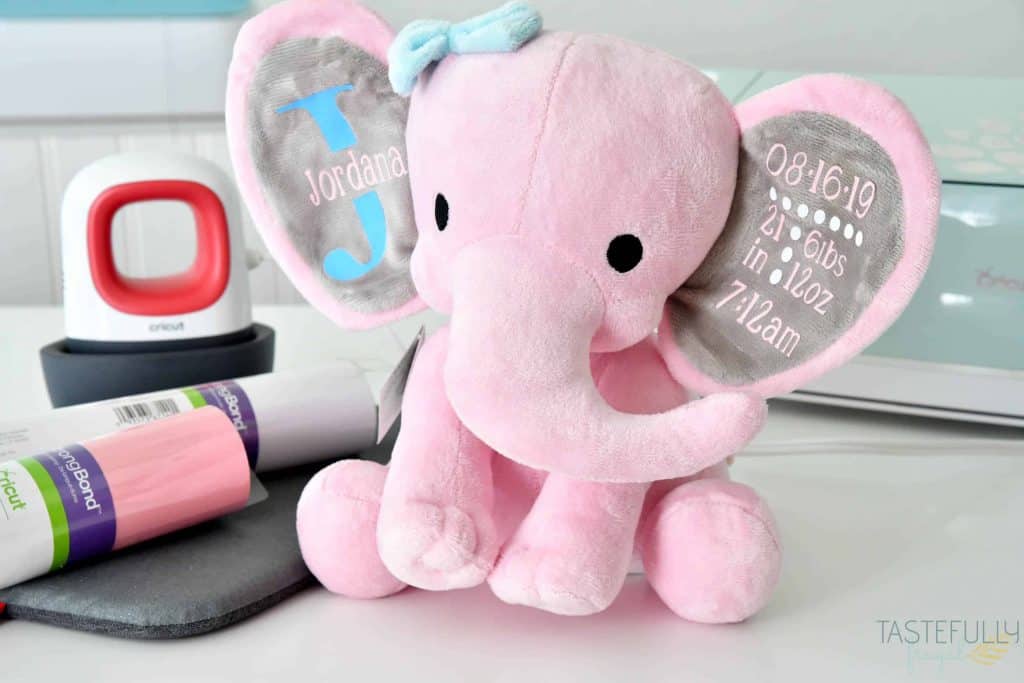 Socks (Stockings)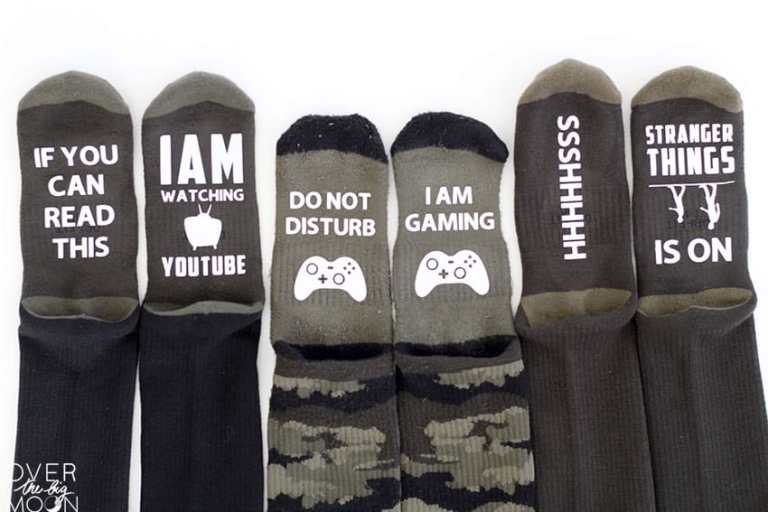 Pillow Cases, Sheets and Bed Covers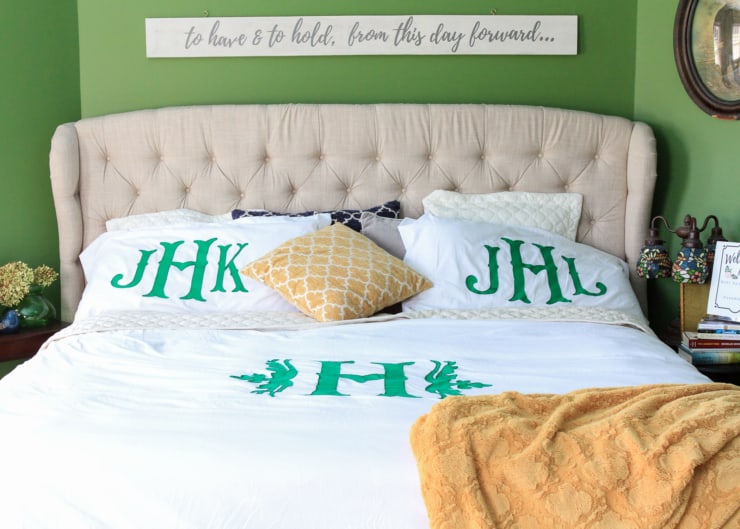 Table Runners, Napkins, Placemats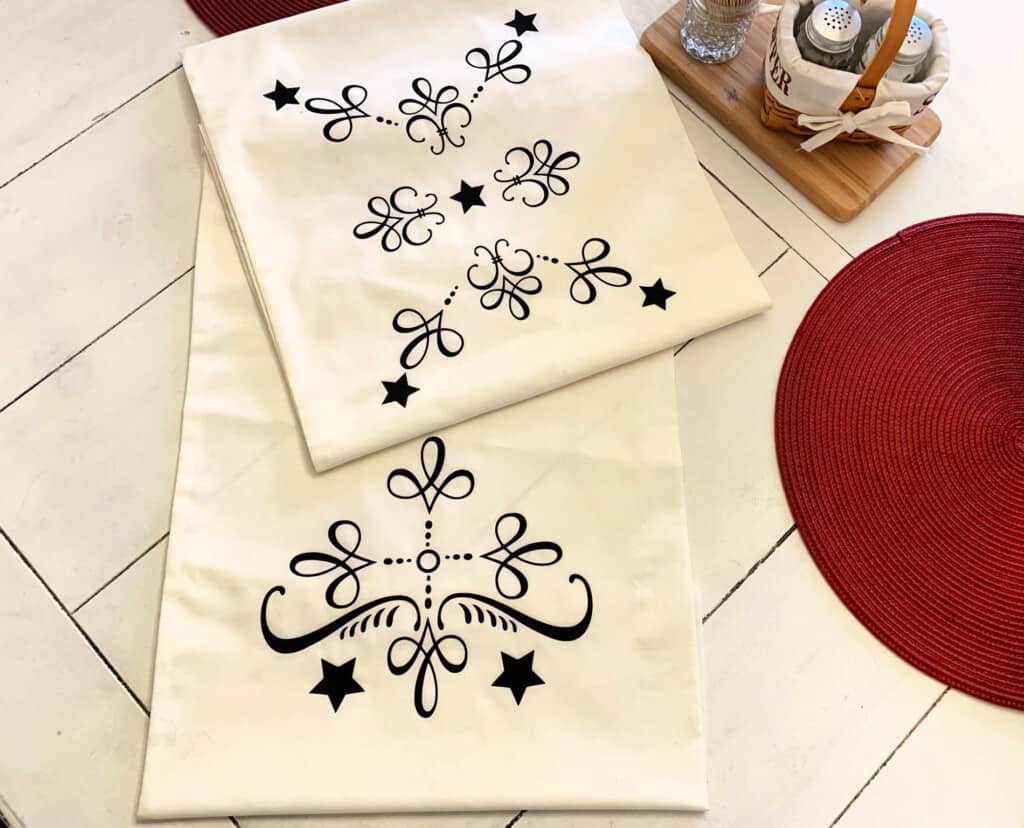 ---
Infusible Ink
You can use infusible ink on any sublimation product that is available. Sublimation products have a special coating on them that accepts the ink and makes it permanent, unlike HTV which can peel or crack or vinyl that can lift or fall off. There are so many blanks available I don't even think I can list them all but I'll try.
Here are my favorite places to buy Sublimation Blanks: Nashville Wraps (use Craftroomtime for a 10% discount at checkout), Amazon Sublimation Blanks, HeatPress Nation (also sells large Heat Presses)
For Mugs – you have got to get the Cricut Mug Press! You can do tumblers in it as well.
Tumblers, Wine, Beer, Water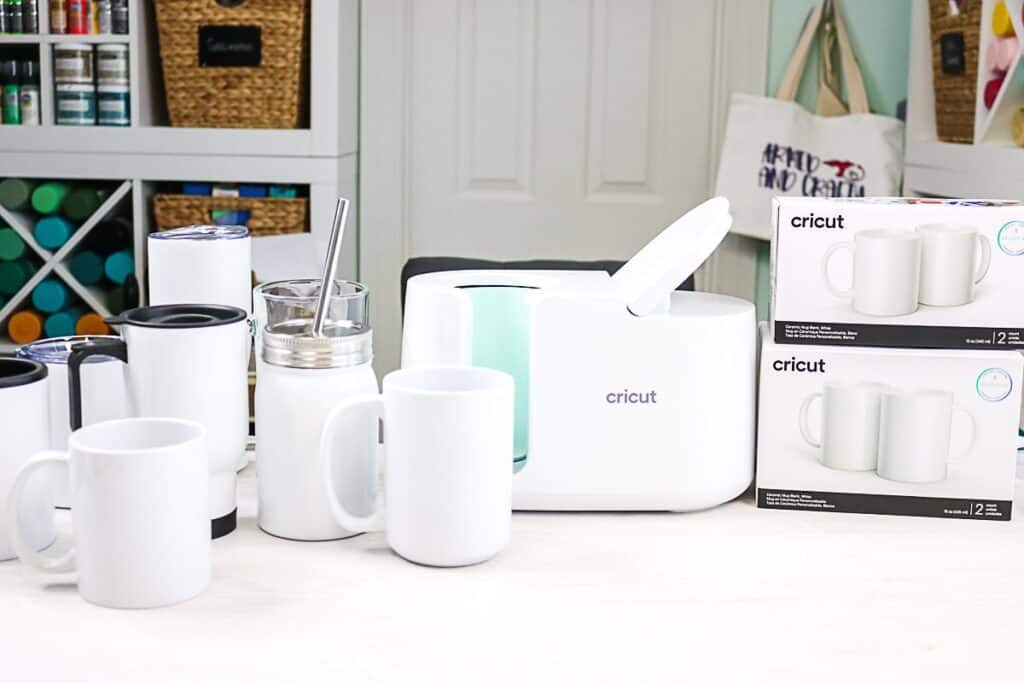 Mugs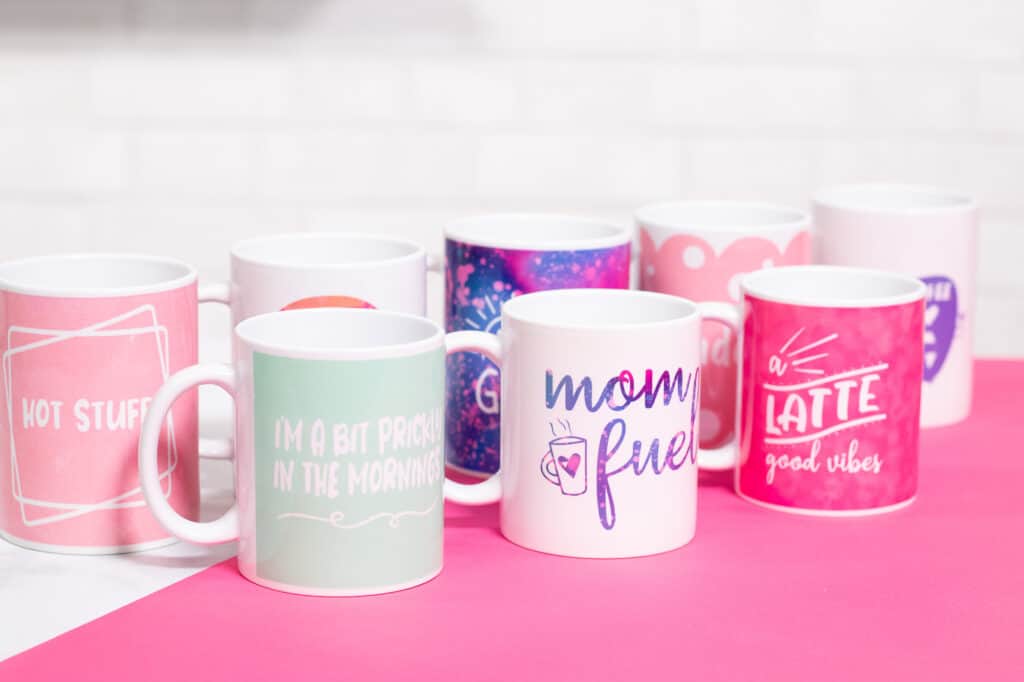 Keychains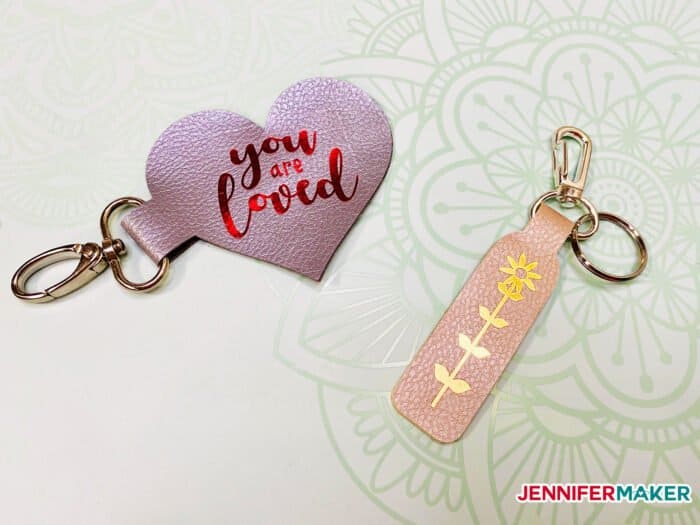 Clothing (High Polyester Count)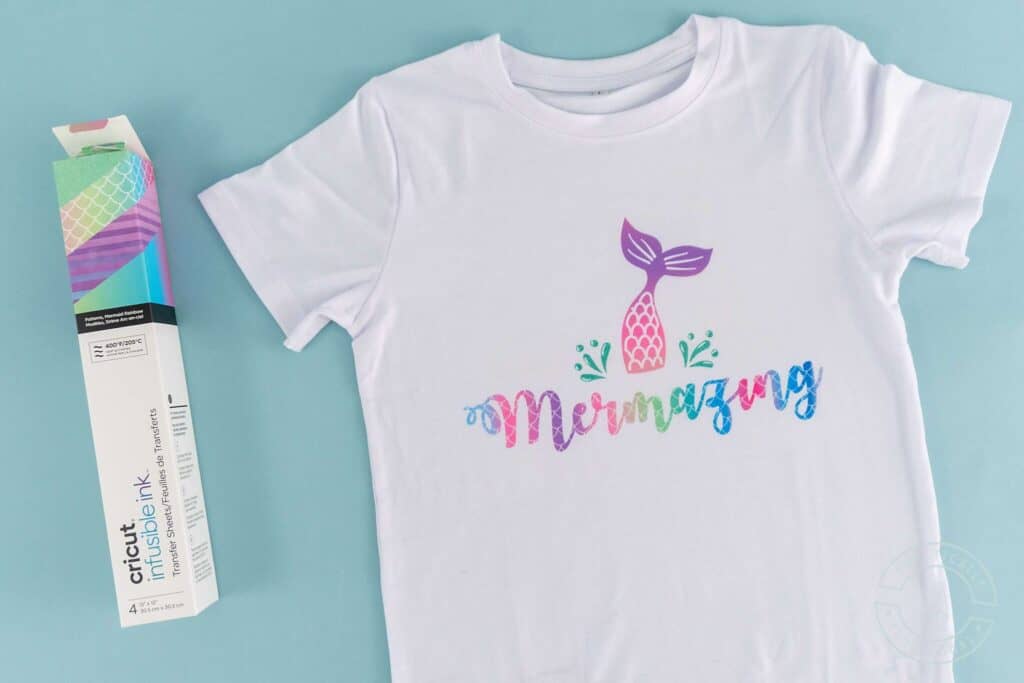 Koozies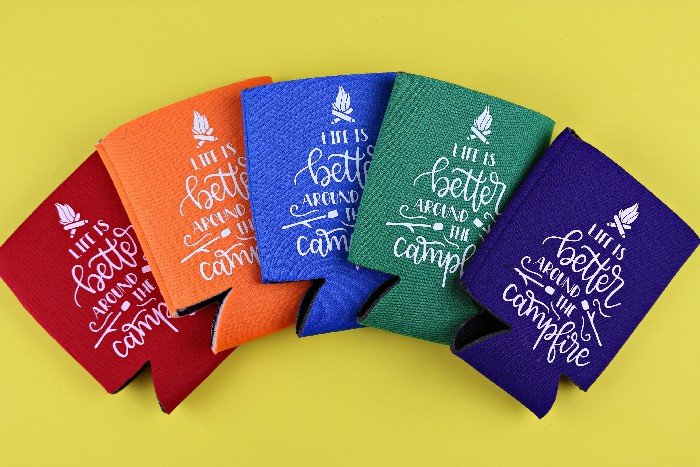 Totes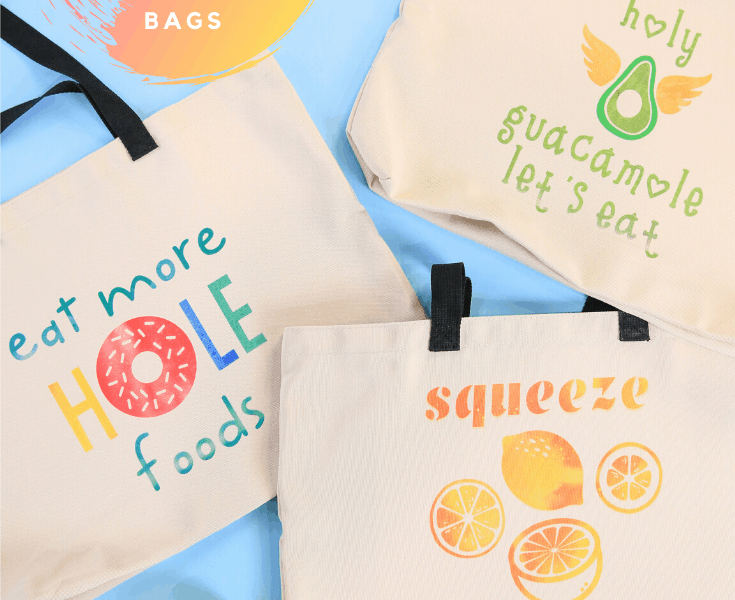 Coasters (make them to match your mugs – great gift!)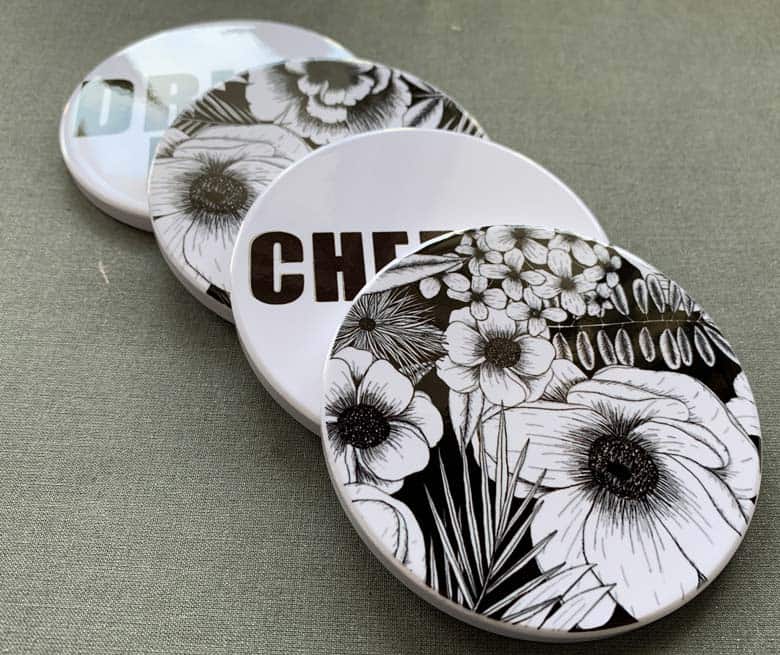 Blankets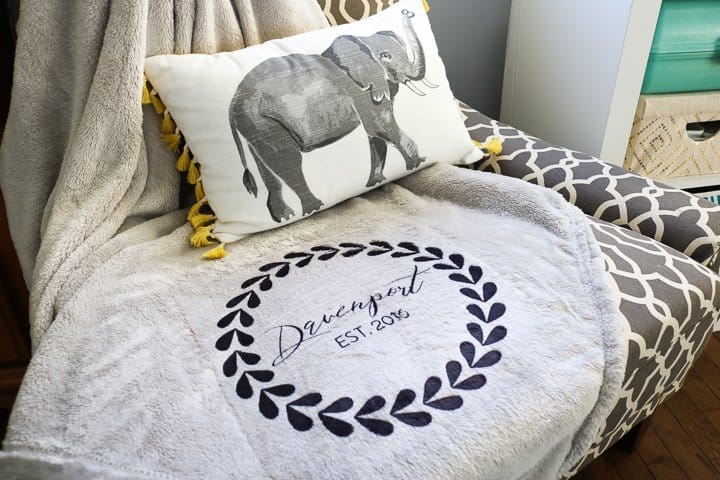 License Plates
Puzzles
Towels
Reversible Sequin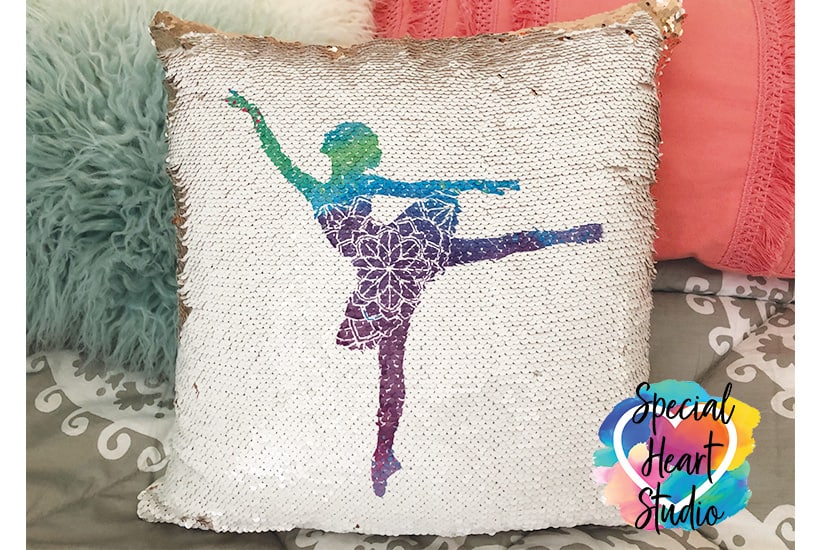 ---
Infusible Ink Pens
The Infusible Ink pens can be used on the same sublimation products as well a copy paper to transfer. One special gift that you can make is to have your children, grandchildren or other kiddos draw with the pens on paper and then iron them on high polyester count materials like T-Shirts, Tea Towels, etc.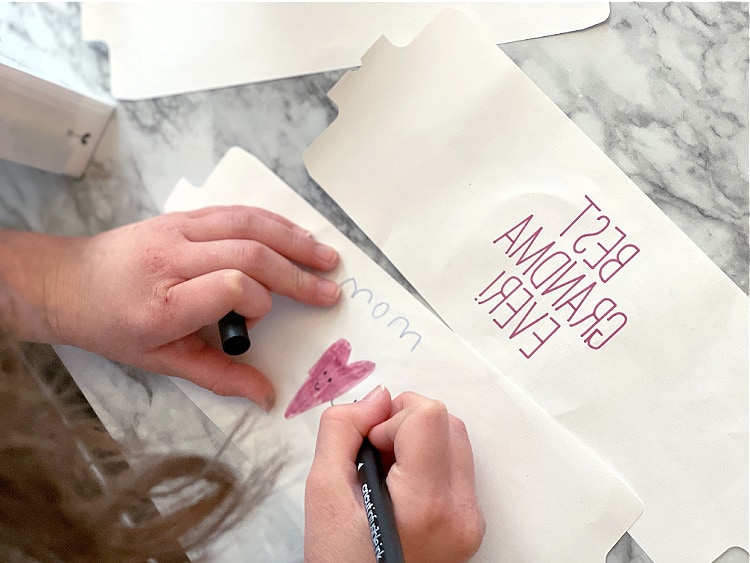 ---
Leather, Faux Leather or Felt
Giving the gift of leather is perfect for an organic look and feel. Felt can be used as well for a unique look especially for flower bows for little girl's hair! You can also use the foil transfer sheets to add a shimmer to the leather.
Cricut and Amazon have a great selection of Leather and Faux leather products to choose from.
Earrings, Necklaces, Bracelets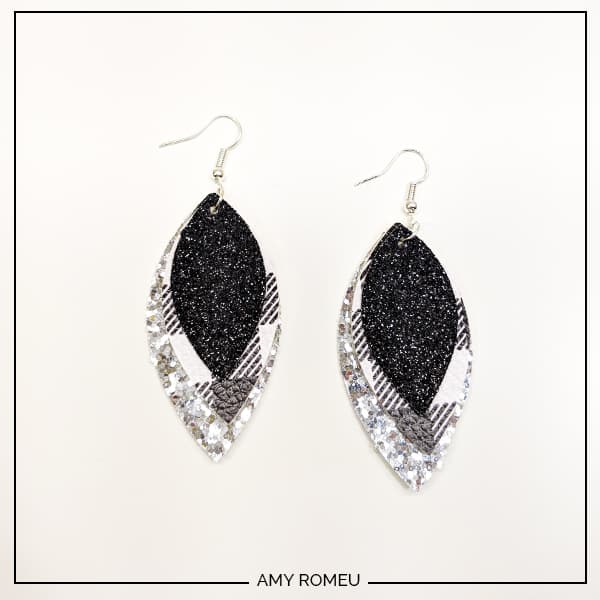 Keychains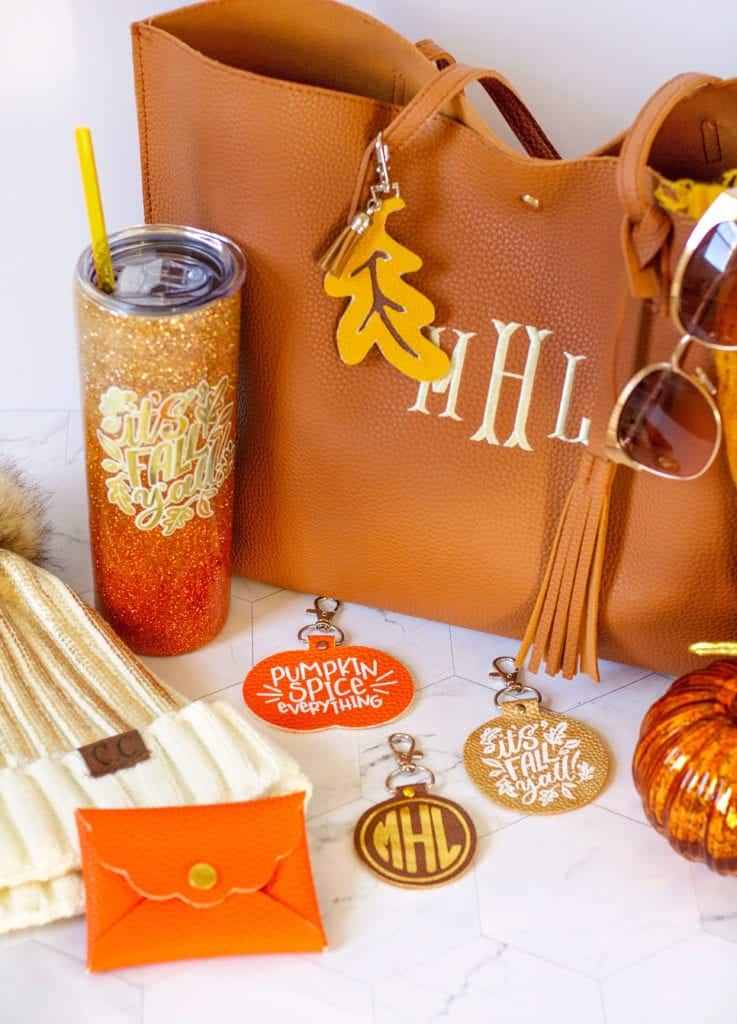 Bookmarks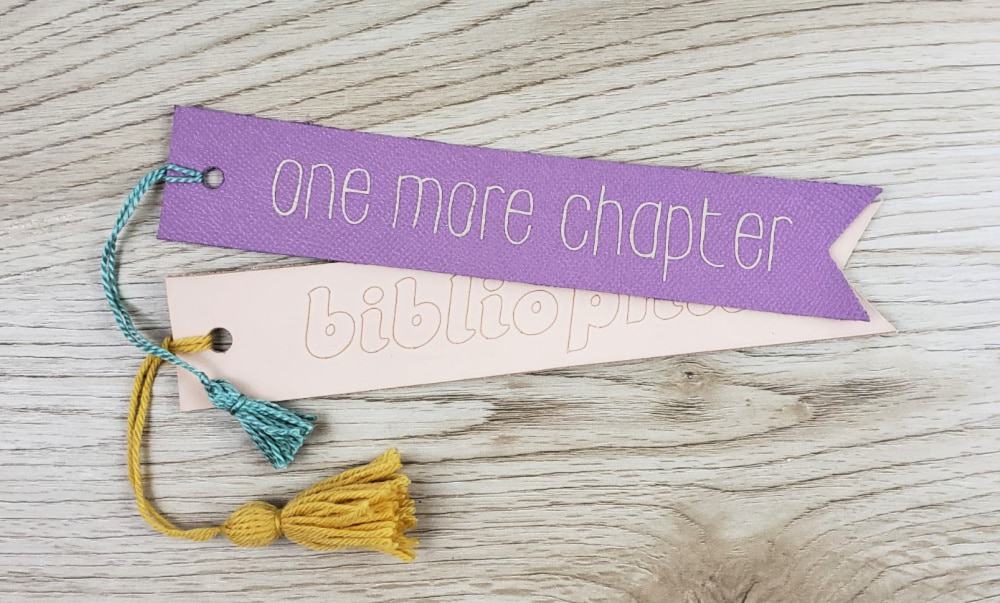 Ornaments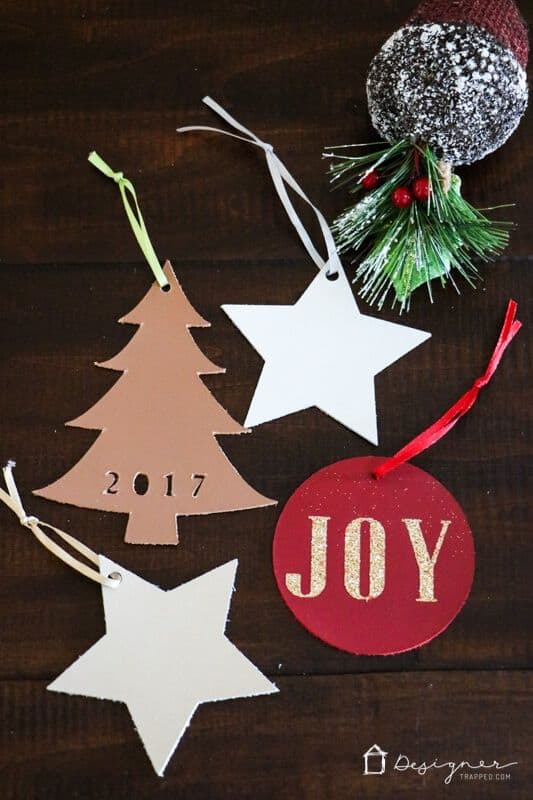 Bows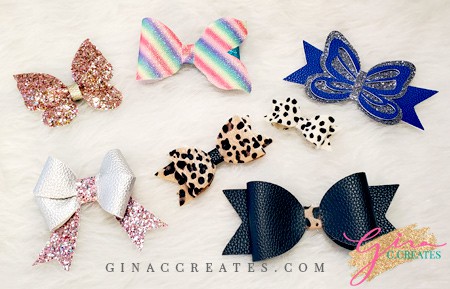 ---
Etching Cream
Using etching cream opens up a lot of personalization opportunities on glass. You can also purchase stain colors to rub on the etching so that it stands out.
I recommend Armour Etching Cream and Rub-n-Buff to add color to your etchings.
Glass
Ornaments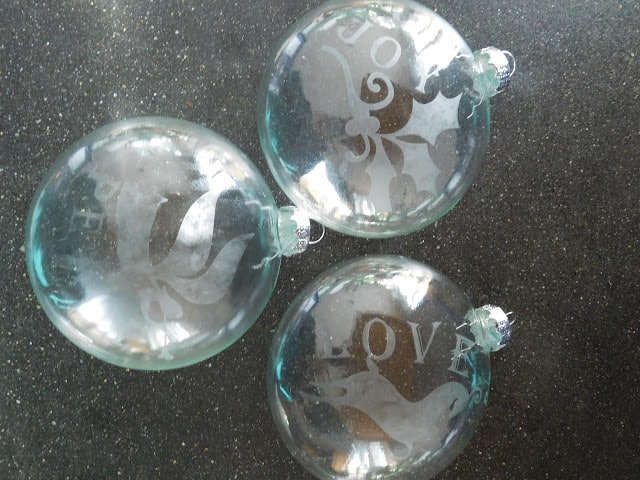 Frames with glass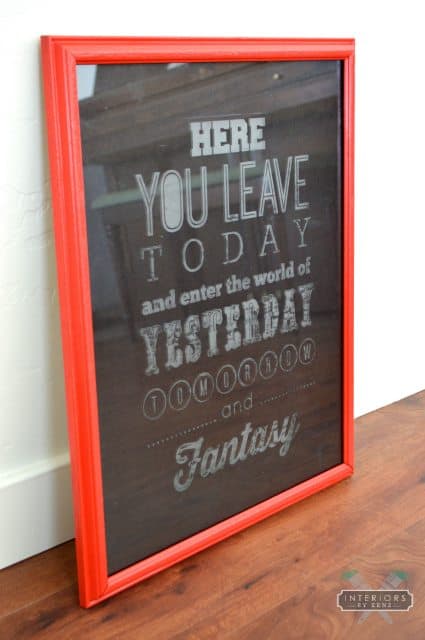 Mirrors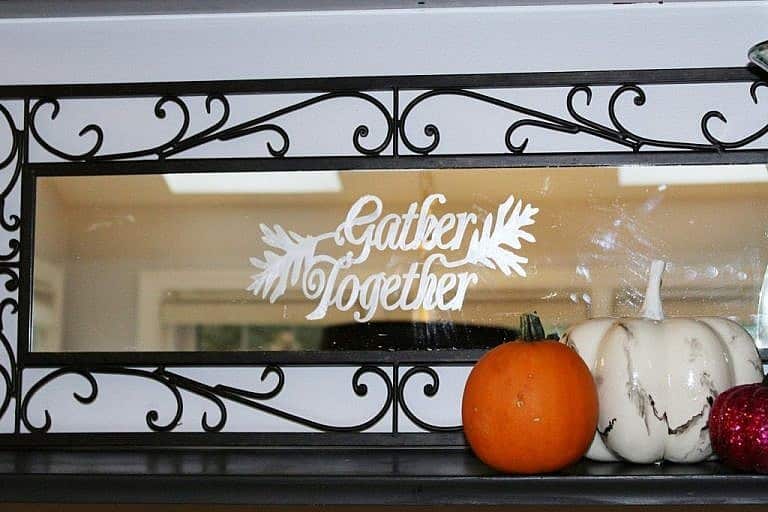 Tile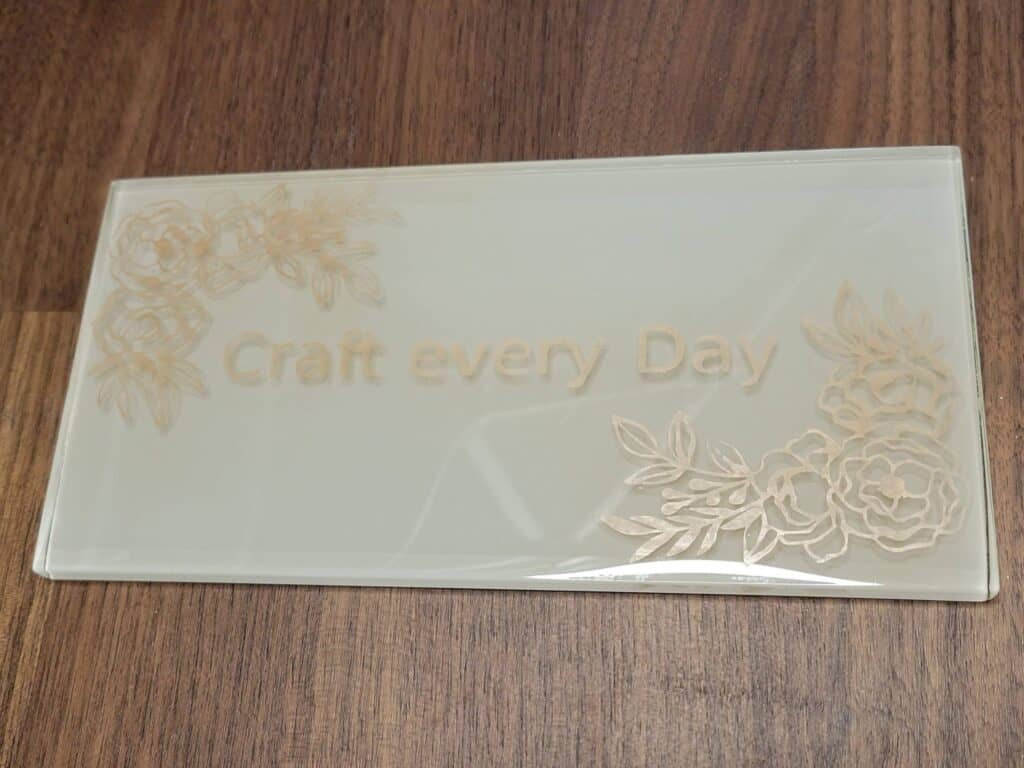 ---
Engraving Tool
With Cricut's engraving tool, you can personalize items or add sentiments to a few different materials that will fit inside the Cricut Maker.
Metal Spatulas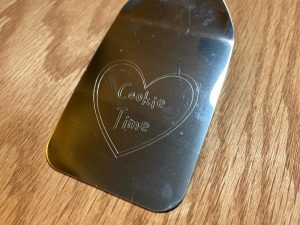 Light Up Displays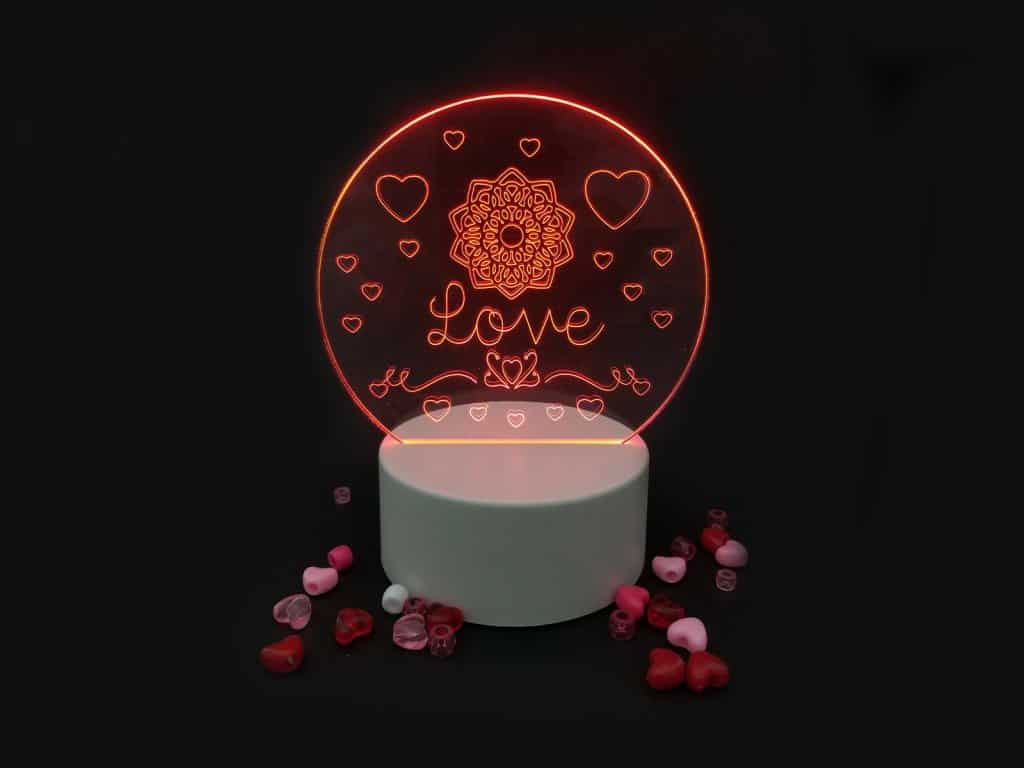 Metal Plaques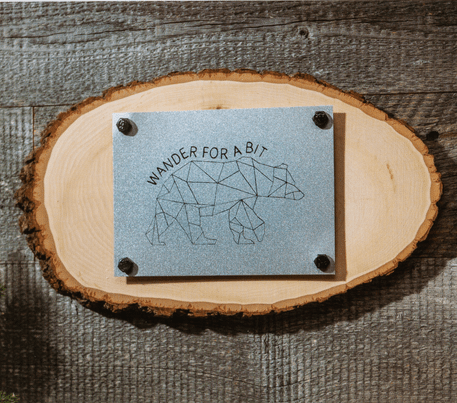 Acrylic Blanks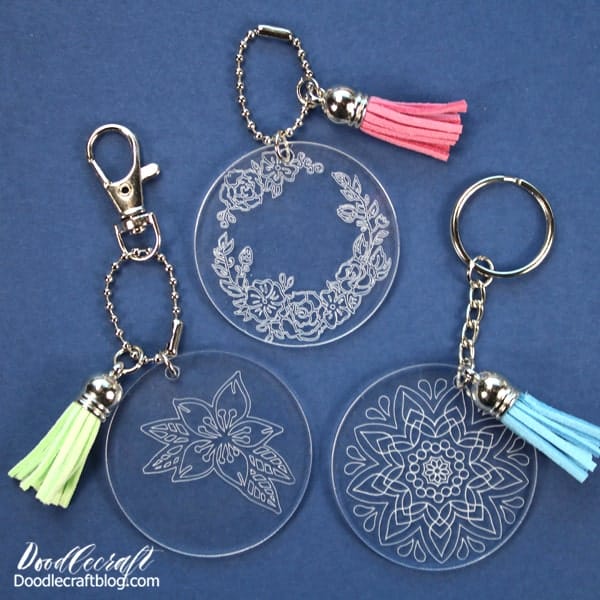 ---
Sticker Paper
Stickers are so much fun to make and give! Personalize a pretty monogram as a gift. Add stickers to your packaging, card or add to your gift. So many possibilities with Cricut's print and cut on White or Clear Sticker Paper is easy and fun!
Back to School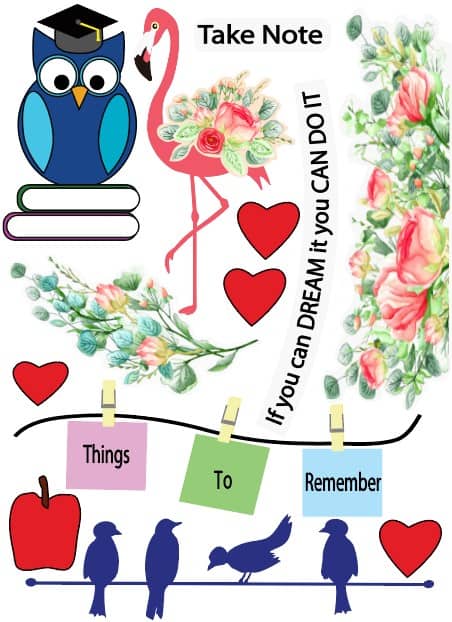 To see how to make and apply stickers, check out this video: Stickers with your Cricut
Holiday Tags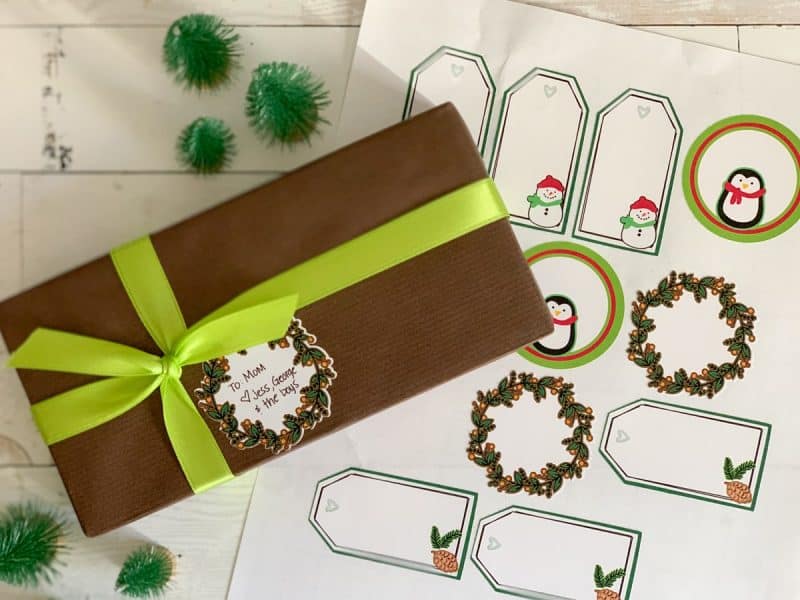 Planner, Teacher, Calendar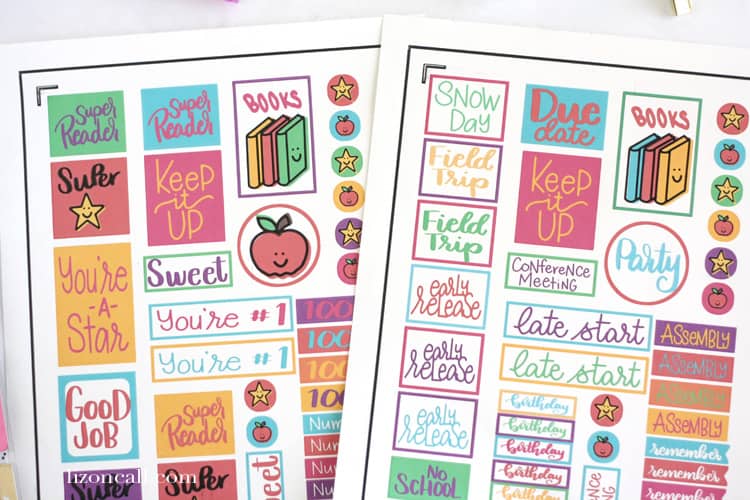 I hope you found some winners with this Ultimate Guide of Gift Ideas to Make with Cricut! The possibilities are endless and I could've found 100 more ideas! Let me know in the comments if you have a change to make any and I'd love to see your projects in our Facebook Group! Be sure to follow our Facebook Page. I post mini tutorials there to show you how to use your Cricut!
Get the Guide Print Out for Free!