St. Patrick's day is a day to just have some fun! Toast a friend and wear some green! Take this cute Shake Your Shamrocks free SVG and some HTV on a Green t-shirt and you're sure to get some attention but no pinches!
Let's get you started! First you'll need the free file.
Next the supplies you'll need to make this cute T-Shirt with the Shake Your Shamrocks Free SVG.
Things to note when making the shamrock:
You can layer it with the design and use a glitter in place of the black. That would be really pretty and have some bling to it.
You don't have to layer it at all. Just use one of the layers and size it to your liking!
Use the T-shirt template in Cricut Design Space so you know how big to make the shamrocks.
Instructions are very easy!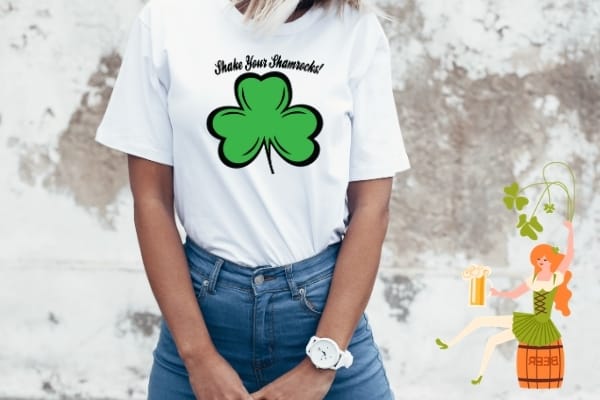 Upload to design space. Then grab the template for a t-shirt and size the design to fit.
Position and size on the template.
Ungroup, select the words and click on attach. Then go to Make IT! If you only want to cut one of the shamrocks, select the one you don't want to cut and click on the eyeball on the right to hide it.
On the mat – Select MIRROR for both mats!
Select your materials and cut!
Once cut, weed it and set aside. Then to get your t-shirt ready, set the Teflon matt down. Place the T-Shirt on top and put a piece of parchment paper inside the shirt to protect the back.
Use your Easy Press for the settings according to the HTV and T-shirt material you use. You can grab a copy of my Cricut Tips and Tricks and have all kinds of resources available to you at your craft station!
Then place the weeded HTV on the shirt in the spot you want it to be. If doing both layers of the shamrock, apply one, let it cool and then apply the next layer.
Let the HTV cool before you remove it from the shirt or it may cause wrinkles and it may not adhere properly. Check a corner before you remove the transfer tape to be sure it stuck. If not repeat the press again and apply a little more pressure.
If you need more guidance, you can check out this post on how we made the Gnomes with layered HTV.