Looking for the perfect gift for your child's teacher to show your support when the kids are back to school? Look no further than this easy iron on pencil case! It is stylish and functional, making it a great addition to any teacher's supply list. The best part it only takes a few supplies to make and you most likely already have them in your stash!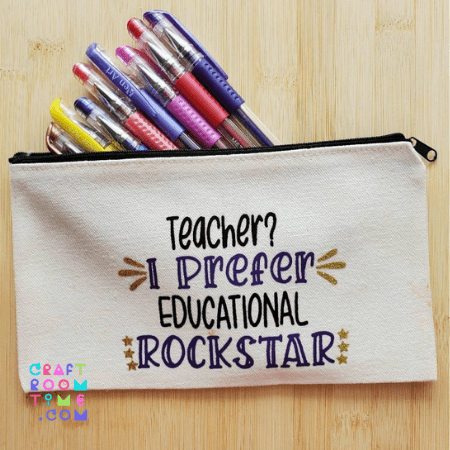 Tips for Iron On
First, let's go over some tips to make using HTV a breeze!
Always mirror your image. I have forgotten to do that way more times than I care to admit.
Place your vinyl shiny side down.
Be sure to use a brayer on your vinyl so it stays in place on your mat.
Pre-press your material to remove moisture and wrinkles.
After weeding, use a lint roller to pick up all of the HTV pieces from your work surface.
If you are having a hard time weeding your design, heat your surface a little with a warm (not hot) hair dryer and don't hold it too close! It will release the backing a little making it easier.
Use the Cricut BrightPad to see your vinyl better making weeding easier.
This post may contain affiliate links and we may earn compensation when you click on the links at no additional cost to you. For additional information, please see my full disclosure policy.
Supplies
Cricut Machines
Cricut Mat
Cricut Brayer
Easy Press Mat
Cricut Easy Press
Circut Iron On Vinyl
Cotton Pencil Case

Uploading the Design
Open Design Space and click upload
On the next screen browse for your image
Upload your free file and click cut image – Get your free file at the end of this post!
The Free SVG is in the resource library for personal use and if you are not a member, you can sign up to get it and many other freebies! (commercial use designs are in the shop)
And then click insert image. You will notice that the file is layered in 3 sections. You can turn off the sections by clicking the eye. This is very helpful when each section needs to be a different color.
Start with "Teacher? Educational first".
In order for all your letters to be together just as you see them, you need to select them and then click on Attach. Then Attach the "Prefer and Rockstar" and then the "designs and stars".

Go to Make it when you are ready.
Place your first color vinyl glossy/shiny side down on your mat. Make sure Teacher and Educational is the only part of the design showing. You can do this by turning the other two layers off. This is what it will look like:
Click make it and don't forget to MIRROR your image!
Cut using these settings
Repeat for the other 2 sections using your other 2 colors.
Once you have everything cut, start to weed your designs for pressing. I find it easier to remove the big pieces first and then use tweezers to remove the smaller pieces.
Pressing The Pencil Case
This step is completely optional but I find it a lot easier to press a harder surface. Heat press pillows are great, but when it comes to pencil cases, bags, hats, etc. I find cutting a piece of chipboard to place inside works a lot better. I use the 2MM size and cut it with exacto knife.
Place your first phrase onto the pencil case, cover with copy paper (or parchment paper), place it on your easy press mat and set the heat on your Easy Press to 350 degrees for 30 seconds.
Most HTV is hot peel but there are some that are warm peel and even cold peel, so read the directions for your vinyl to see which one you have.
Repeat for your second phrase, placing it between the as shown.
You will repeat the pressing process and peel according to your directions.
Tip– When I do elements like the splashes and stars, I cut them out individually so I can place them where I want. This helps my items look unique!
Glitter vinyl can be a little difficult to work with at times. Just take your time and it will turn out perfect.
Final Thoughts
Teachers have a really hard time buying supplies, so fill your bag to the brim with pencils, paper clips, scissors, etc. Your child's teacher will love you for it and cherish it always.
What do you think of this Easy Iron On Back to School Pencil Case? I'd love to see yours!
We love to see the crafts that everyone makes and others enjoy it as well. We have a Facebook Group "Craft Room Time" were we do giveaways for people just like you that share with us!
Want more Back to School Crafts?