Ever wonder what it would be like to fashion your craft room in such a creative way it inspires you daily? Well that's just what my fellow crafter Heidi from my Facebook Group Craft Room Organization did and I couldn't be more thrilled to get a chance to interview her on how she created her own Alice in Wonderland Inspired Craft Room!
Heidi comes to us all the way from Utah! I just love her craft room – I know you will too!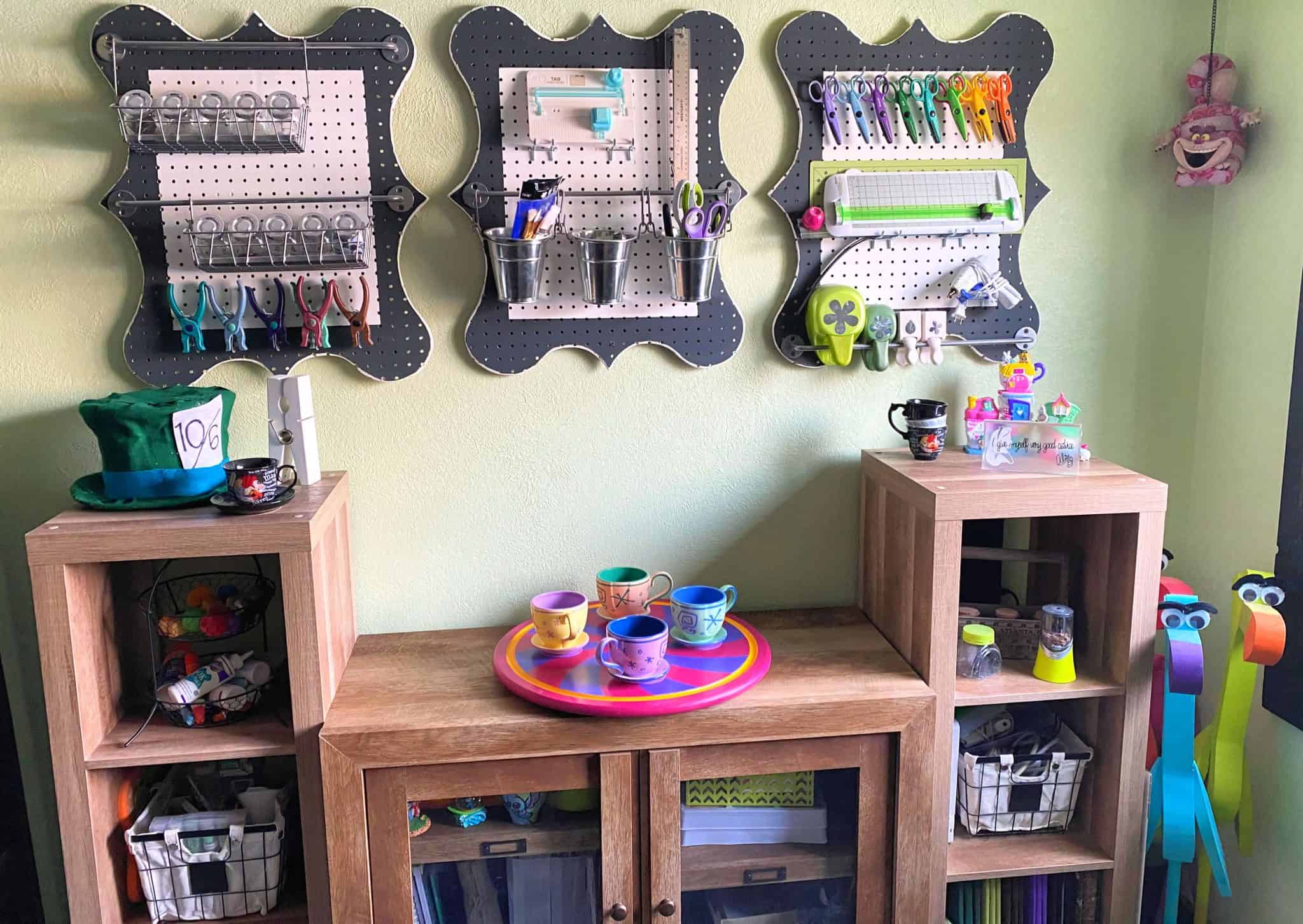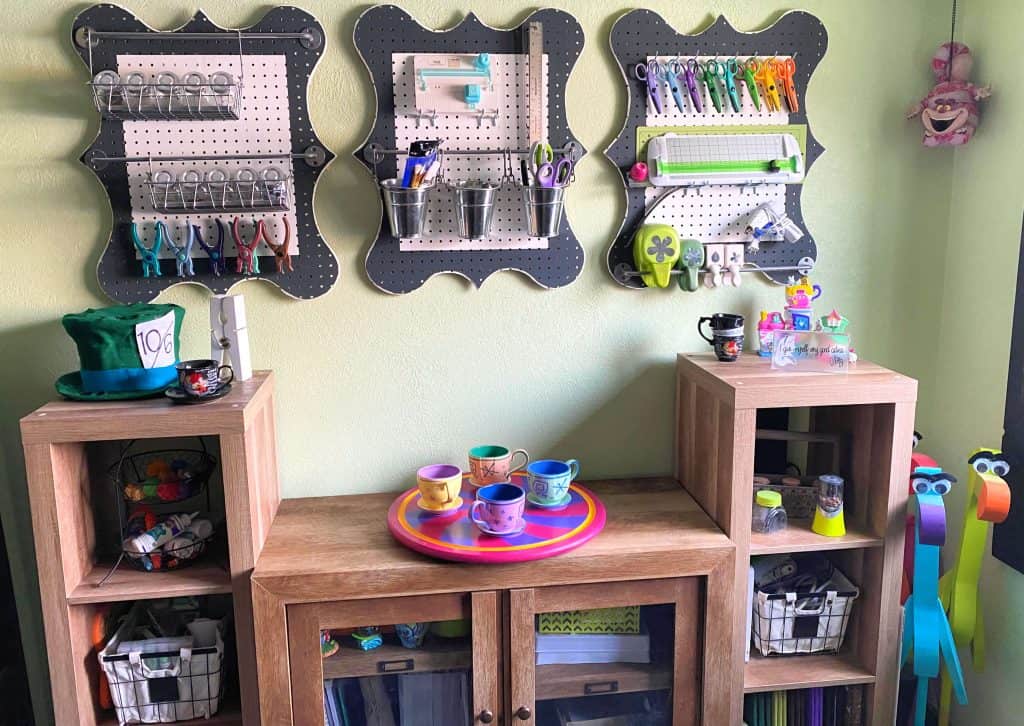 tell me a little about yourself. Such as what you craft, how you got started, what your favorite hobbies are, etc.
I have been creative and crafty since I could remember. My dad is a contractor. I worked construction throughout Jr. High, High School, and a little in college. So I have never been shy around power tools or trying new processes to create something.
I have worked with many mediums, but primarily crafted with wood, vinyl, and paper crafts. I am a big scrapbooker, but went digital in the last 3 years.
I also have worked with upcycling soda cans into various things. I had a business selling these crafts for a few years, but started to work more in graphic design and enjoyed it so much that moved my company in that direction.
I now design digital sticker sets for digital planning and printables for paper planning. I was a big paper planner for years, but was tired of having all the "stuff" and packing it all around to set up a planner. So I turned to digital planning and have been for 3 years now.
I have dabbled in painting and photography and would love to get back into that. I now craft for family and friends making wood home decor, paper layered shadow boxes, and vinyl design t-shirts just for fun. A run my business for graphic design more specifically for planning, but have done some logo design and branding as well.
I am a Mental Health Therapist by day. I currently work in a High School working specifically with adolescents, however I previously worked in a private practice for 3 years with all populations working in Domestic Violence both offenders and victims, trauma recovery, substance abuse, and general mental health.
Before that I worked K-12 in a charter school for 10 years working as a Special Education Director, Behaviorist, and Counselor. This field can get "heavy"; my craft room gives me an escape for my own self care. I need the creative outlet to balance myself as a professional as well as feeding my passion and soul.
I love crafts and art and hope that I can someday work in Expressive Therapy using craft and art as a way to help heal.
Where is your current craft room located?
Basement-Flex Space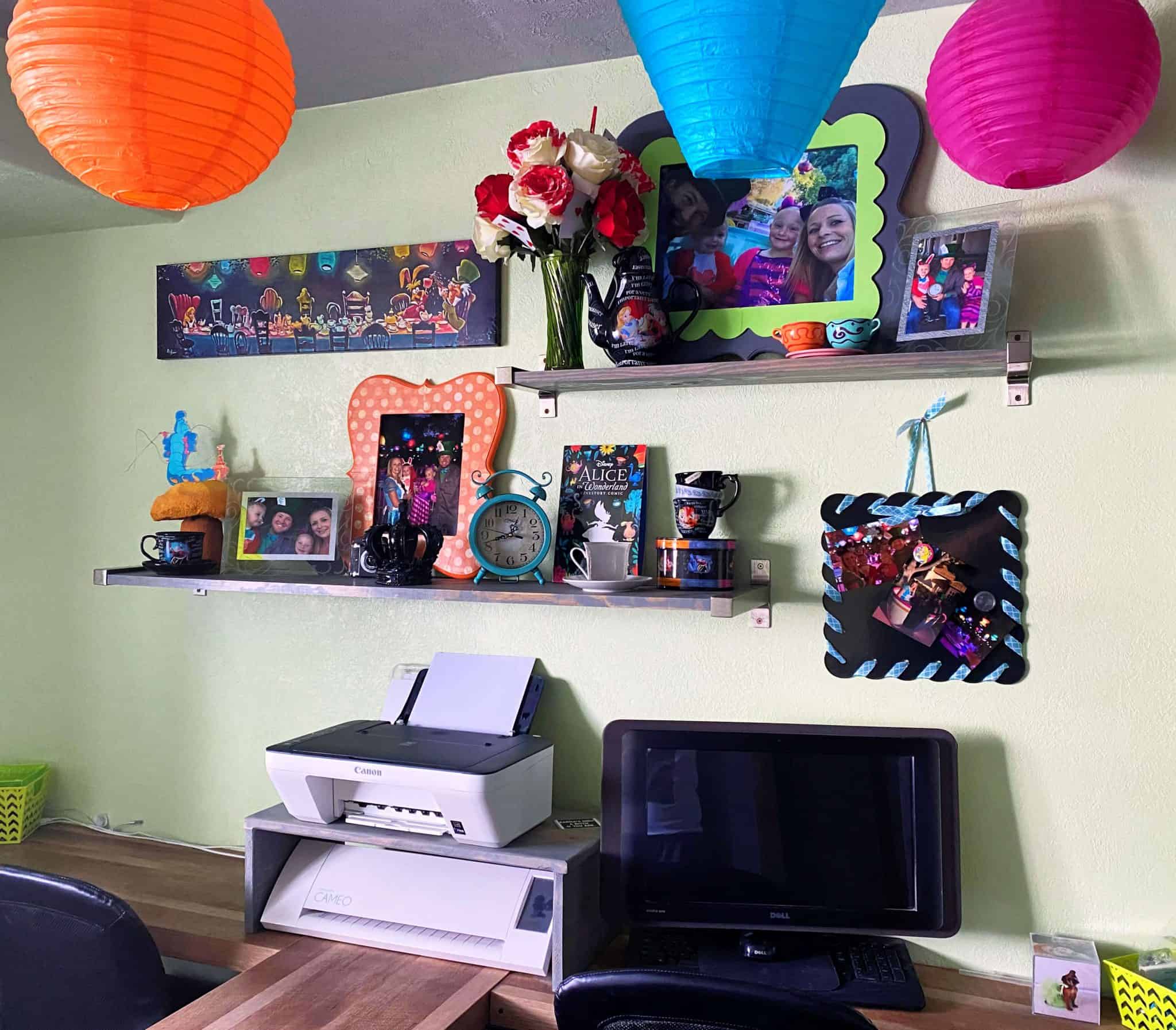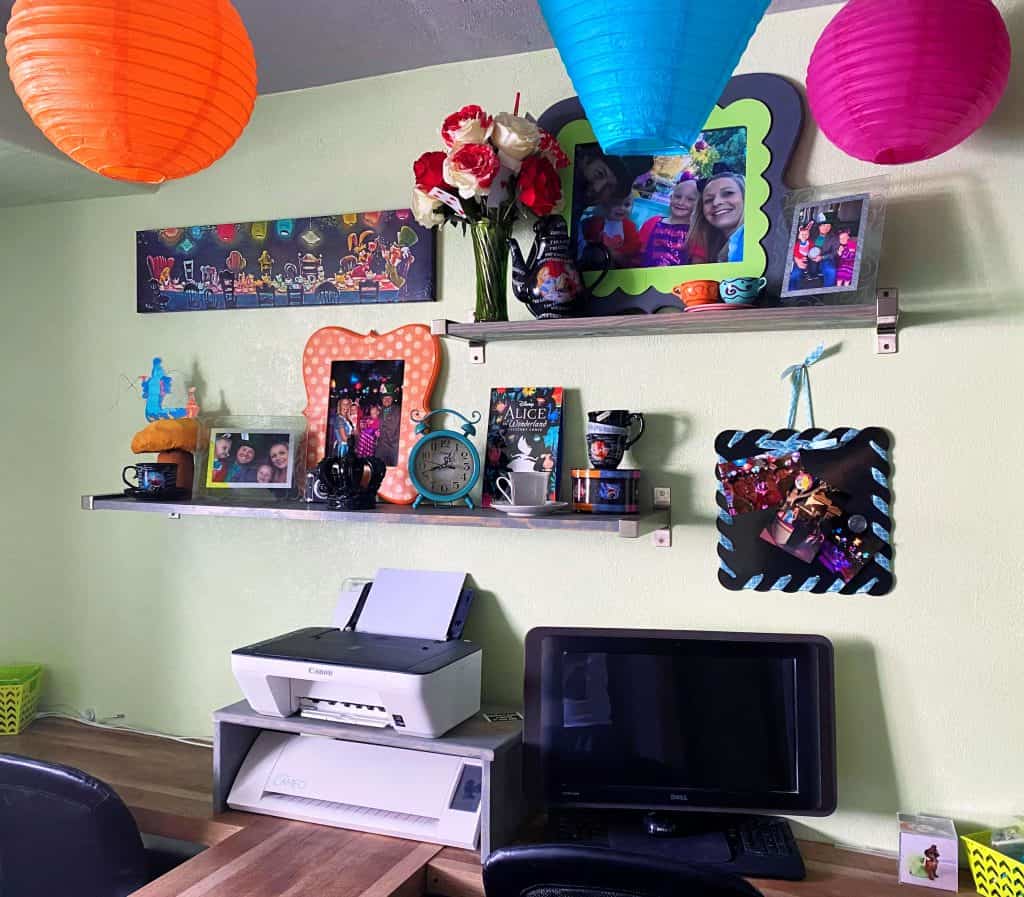 How big is it?
9′ x 9′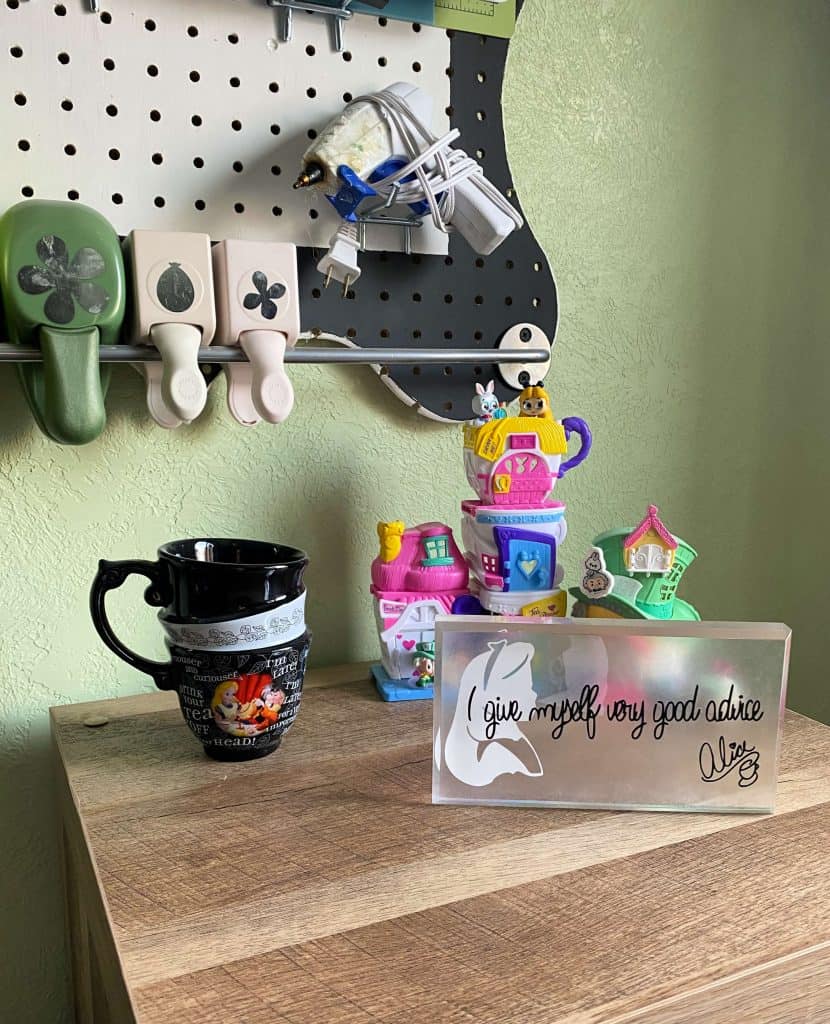 How did you come up with your craft room design?
I am a huge Disney fan. Especially Alice in Wonderland (my favorite) My family surprised me with a Mad Tea Party for my 30th birthday 2 years ago and made a lot of Alice themed decorations for the party that I just couldn't get rid of.
I already had a lot of Alice in Wonderland items so I decided to theme my office so that all my fun Wonderland items could be displayed. The T desk was designed so that my husband and I both have a space to work, giving a place for computers/laptops and a table space to work. We built the peg boards to be decorative as well as functional to hold the tools I use to craft.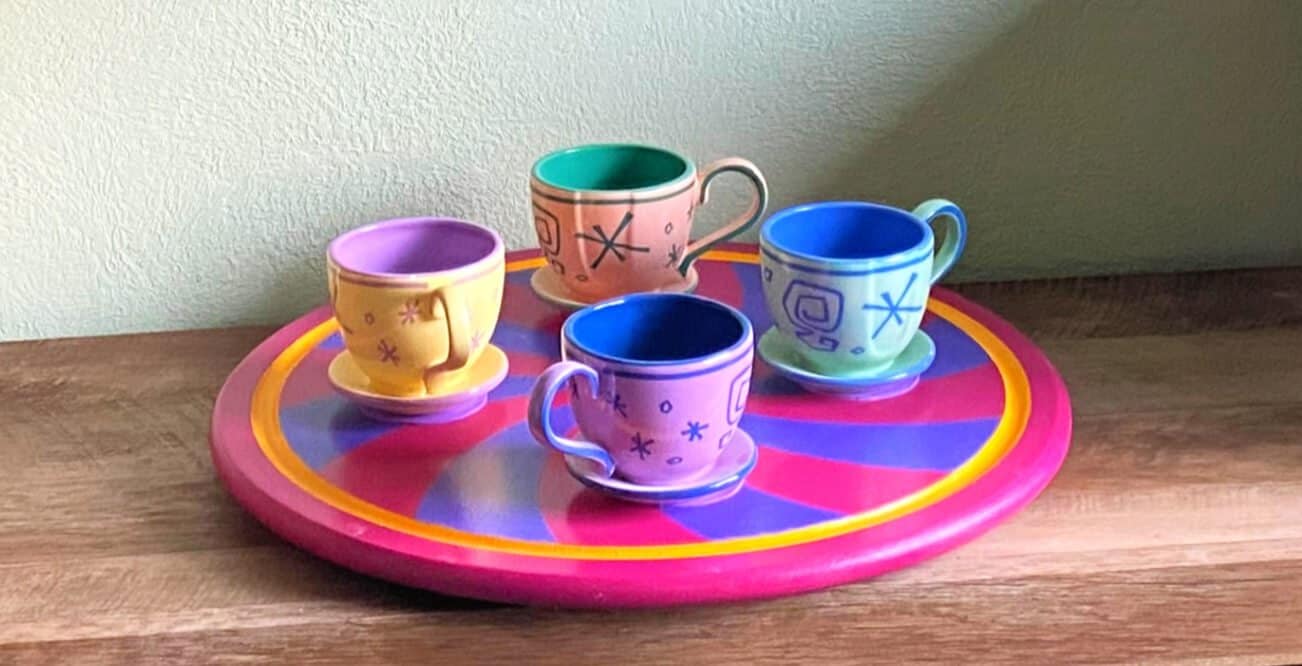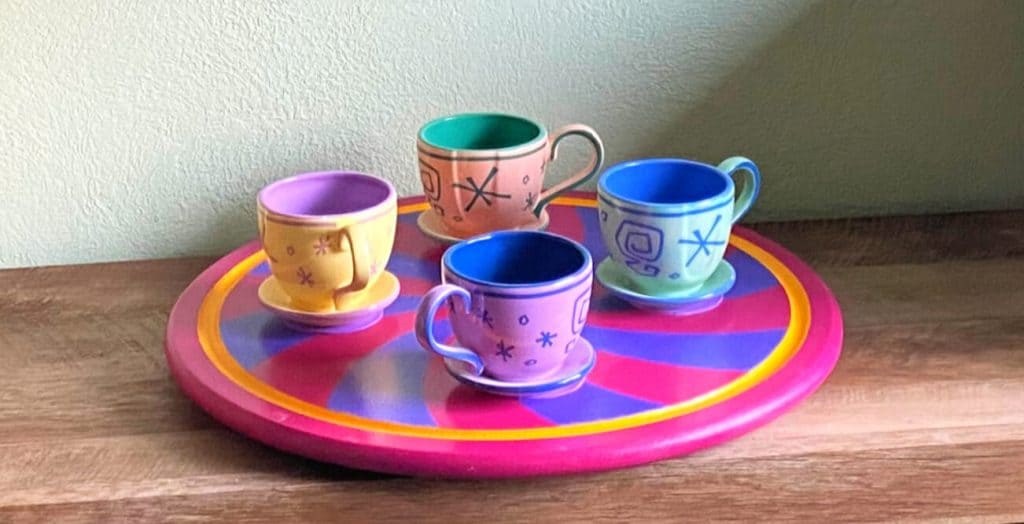 What is your favorite thing about your craft room?
My spinning tea cups. My brother made the turn table for me and I collected the tea cups from Disneyland (of course the Tea Cups are my favorite ride). It serves no function, but is just for fun. One of my favorite things about Alice in Wonderland is the whimsical nonsense. These spinning cups are that for my office.. just a nonsensical item for fun.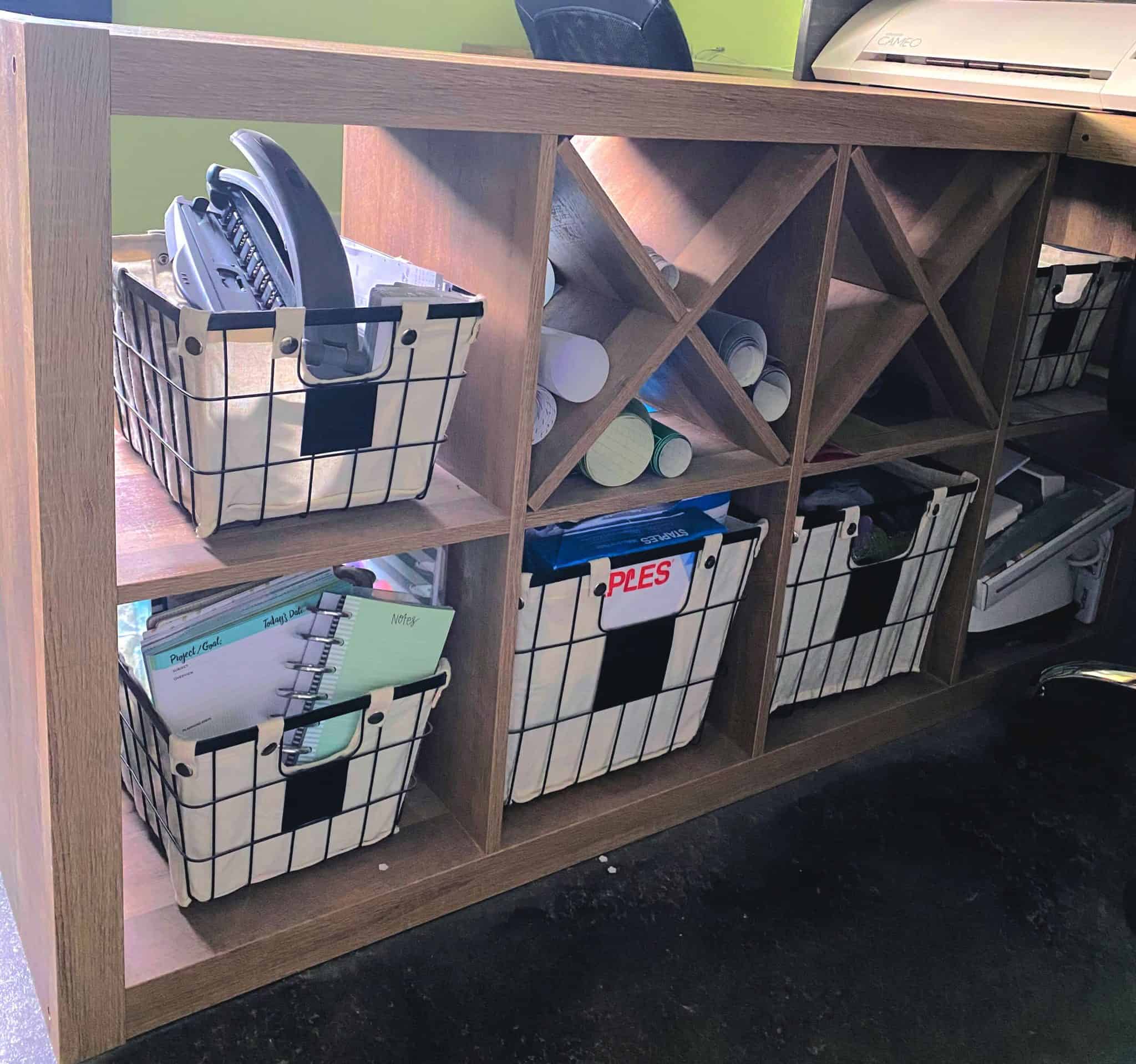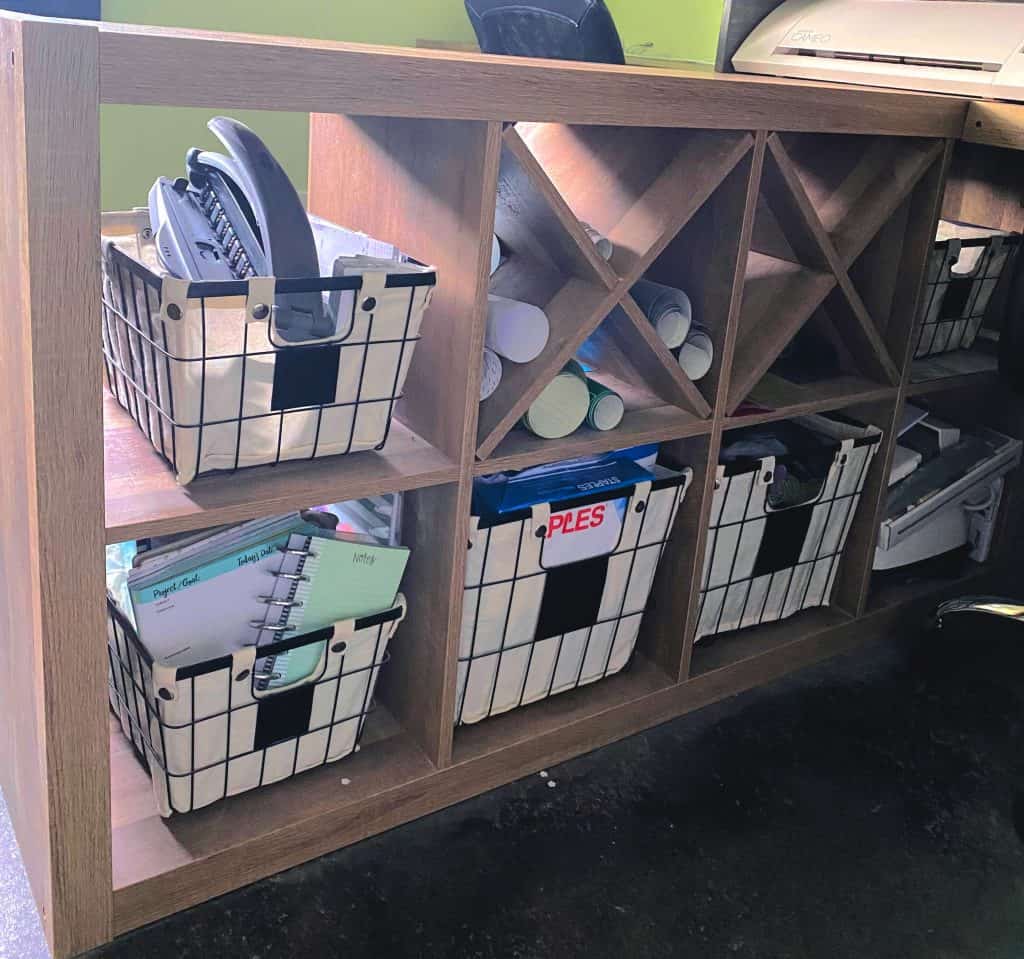 If you could add (or take away) to your room what would that be?
I wish I had room for a closet to store certain things out of site. I have some stuff that I would like to keep in my office that just do not fit. Like wrapping paper, my sewing machine and serger. I also wish I had a little more room in the room itself to be able to set up a table for a heat press in the room.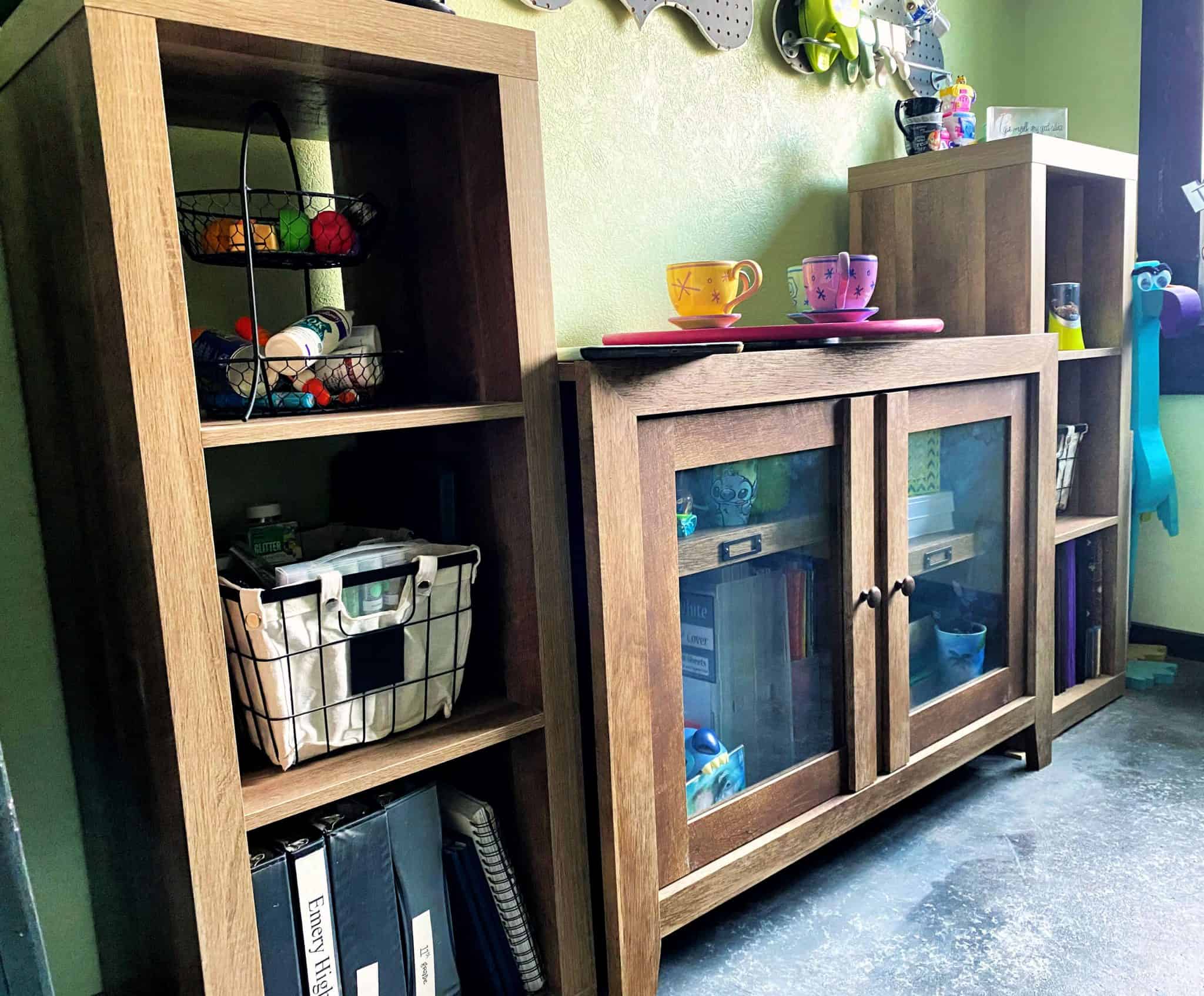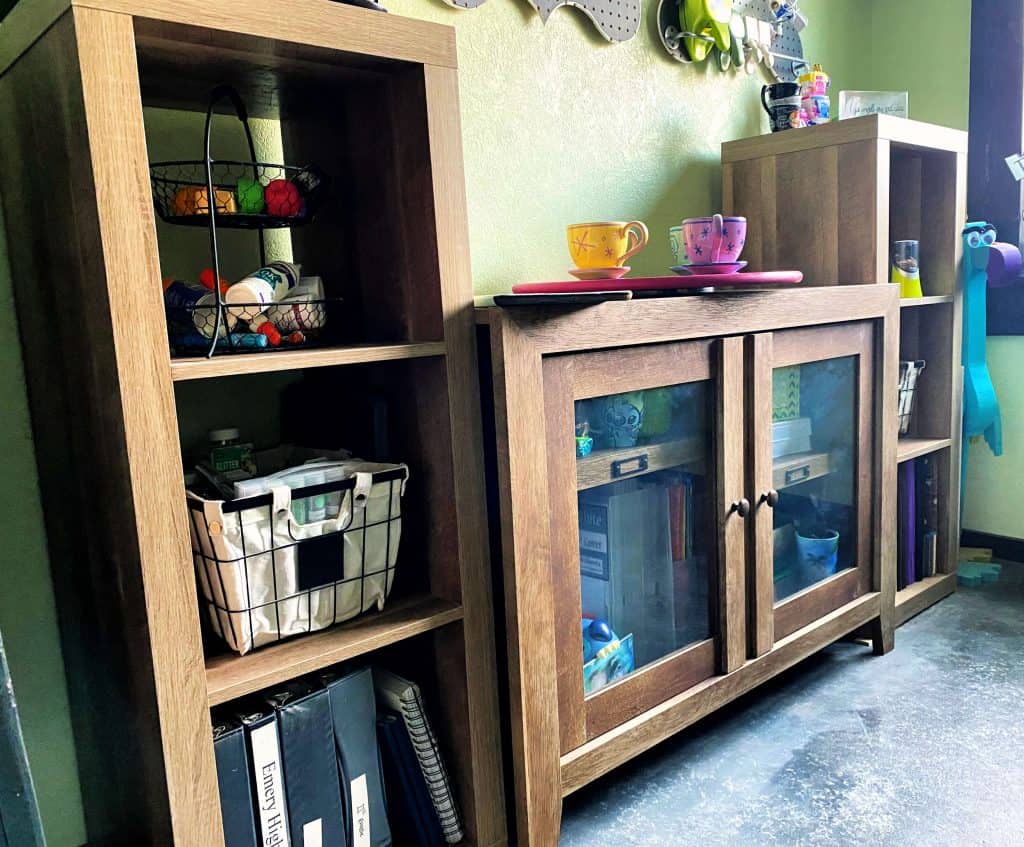 What is the most challenging thing you had to deal with when organizing your craft room and how did you solve the problem?
I actually downsized to move into the space as it is the smallest room in the house and as a flex space it is open to the rest of the basement. My husband built rolling barn doors to be able to close it off a little. (We moved to turn my old bigger office into a bedroom)
The biggest challenge in the smaller space has been storage. My solution was using cube storage with bins and a glass cabinet from the Better Homes and Gardens Collection- Walmart to make up craft and office storage.
I decluttered and went through a lot of my craft stuff keeping only what I really use. I got rid of a lot of scrapbooking stuff (I have gone digital) as well as many tools I didn't use anymore. As time has went on I started to specialize in certain crafts instead of just crafting everything in general. That has helped me get rid of stuff not being used.
If you could give one piece of advice to others wanting to create a room such as yours what would that be?
Be creative with your storage. Look for alternative options. The Better Homes and Gardens collections was a less expensive option that other typical cabinets and cube storage. It also came in the driftwood style in my office instead of just black or white options usually seen.
I also have kitchen items like produce baskets or wine bottles holders in my office to help store stuff. Don't limit yourself to the typical craft room storage. You can really find a lot of other options if you are open to looking beyond what is "typical".
What projects are you working on now?
Magnetic Chore board for both my kiddos, an Alice in Wonderland Shadow box for my office, trying to design a single space in my home for holiday decor and creating interchangeable wood crafts for the area, trying to catch up on last years digital scrapbook (I got to get caught up) and working on a few digital designs.
Do you have a website/etsy/or other social media account that you would like to share?
I design printables and digital designs for paper and digital planning. ohsowhimzey.etsy.com and facebook group facebook.com/groups/digitalplanningwithwhimzey
What final note would you like to convey?
Craft room space is individually to you and your craft. What works for me might not work for you. (You might not want to share a space with your husband LOL) You might need drawers for storage vs cubes.
Examine your crafts and what you need to have stored as well as the size of your space. Start slow it doesn't all need to be done at once. Starting with a desk or craft table you can then make a determination of what else you are needing for storage. You make the room fit your needs, not you fitting into a space that doesn't work for you.
Thank you so much Heidi for sharing your Alice in Wonderland inspired Craft Room with us! If you have any questions for Heidi, be sure to leave a comment and I'll be sure to get you an answer!
Pin It for Later: