Decorating a nursery can be both exciting and overwhelming, especially when you're trying to come up with a unique and fun theme. A ladybug theme is a timeless classic that is perfect for creating a warm and inviting atmosphere in your baby's room. In this blog post, we'll share some creative ideas on how to use a ladybug theme in your nursery decor.
Ideas:
Ladybug-themed bedding – This is a great starting point for your overall design. Look for bedding sets that feature ladybugs or have a red and black color scheme.
Ladybug wall decals or wallpaper – You can choose a single large decal or a patterned wallpaper. Alternatively, you can paint the walls in a red or black color and use ladybug wall art to add interest.
Ladybug stuffed animals – Incorporate ladybug stuffed animals and a mobile to create a playful atmosphere in the room. You can also use ladybug-shaped throw pillows or blankets for added comfort.
Ladybug mobile – what a cute idea to show them "flying" through the air.
Ladybug lamp – Use a ladybug lamp to provide soft lighting for late-night feedings or diaper changes. This can be a great way to add a touch of whimsy to the room.
Ladybug curtains or valances – Choose ladybug curtains or valances to add a finishing touch to the windows. You can also use ladybug tiebacks to keep the curtains open.
Ladybug rug or mat – Add a ladybug rug or mat to provide a soft and comfortable place for your baby to play.
Ladybug wall art – the options are unlimited in this space.
Ladybug storage bins – use ladybug-shaped storage bins to keep toys and other items organized.
Optional: You can also add ladybug-themed accessories, such as picture frames, nightlights, or even a ladybug-shaped clock. Use your creativity to add small touches that tie the theme together.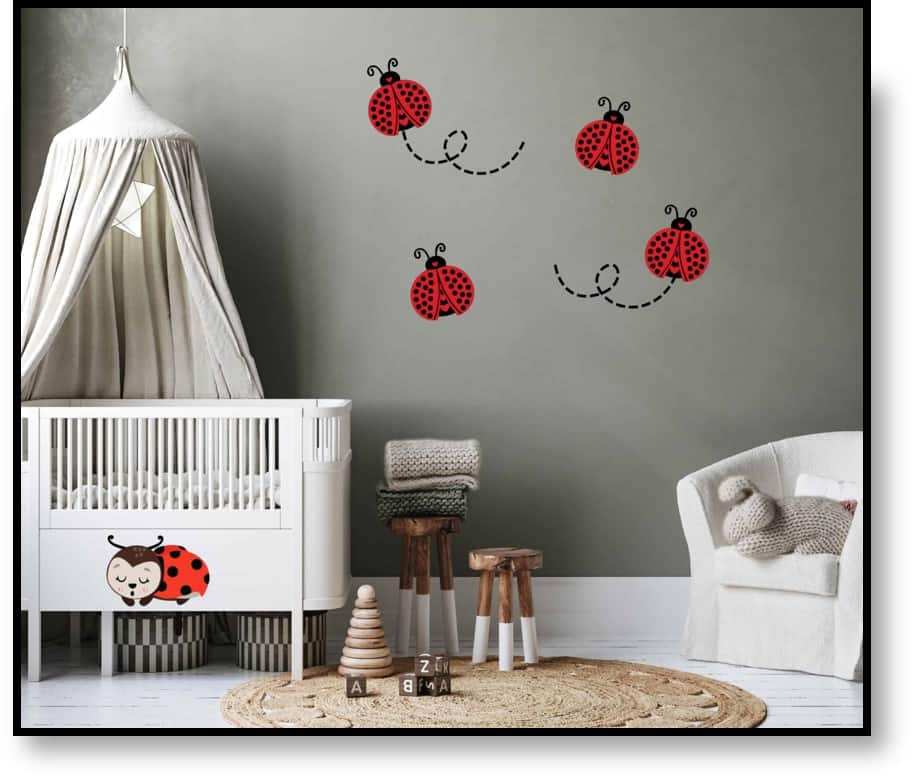 While this post focuses on a ladybug theme, the instructions can be applied to any nursery theme. Simply choose a different theme and use the same steps to create a cohesive and personalized space for your baby. The key is to choose a central theme and build around it with complementary colors and decor. Remember to have fun and let your creativity shine!
Of course, we crafty folks don't go out and buy these things (ok, maybe sometimes…) so, by all means, take these as jumping off points for embellishment. Use the files listed to make something ordinary extraordinary and turn a themeless room into something spectacular.
SVG Files:
Happy Crafting!