It's that time of year again. The leaves are starting to turn. It's getting a bit chilly outside and the holidays are right around the corner. This Labor day I was so excited to have my grand kids out for a visit. Time for me to find easy fall crafts appropriate for any age. I found these 5 easy fall crafts for any age!
My favorite thing to do with my grand kids is crafts! I plan every visit with crafts that we can all do together and it is always a hit! Keeps them busy, entertained and leaves them beaming with pride over their finished products. It's a win-win all around.
This past weekend we spent the day making monsters, mummy bottles, ghost pops, bats, turkeys, and acorns!
This post may contain affiliate links and we may earn compensation when you click on the links at no additional cost to you. For additional information, please see my full disclosure policy.
We had a blast. Check out the full instructions for each project below so you can make these 5 easy fall crafts for any age!Shortcode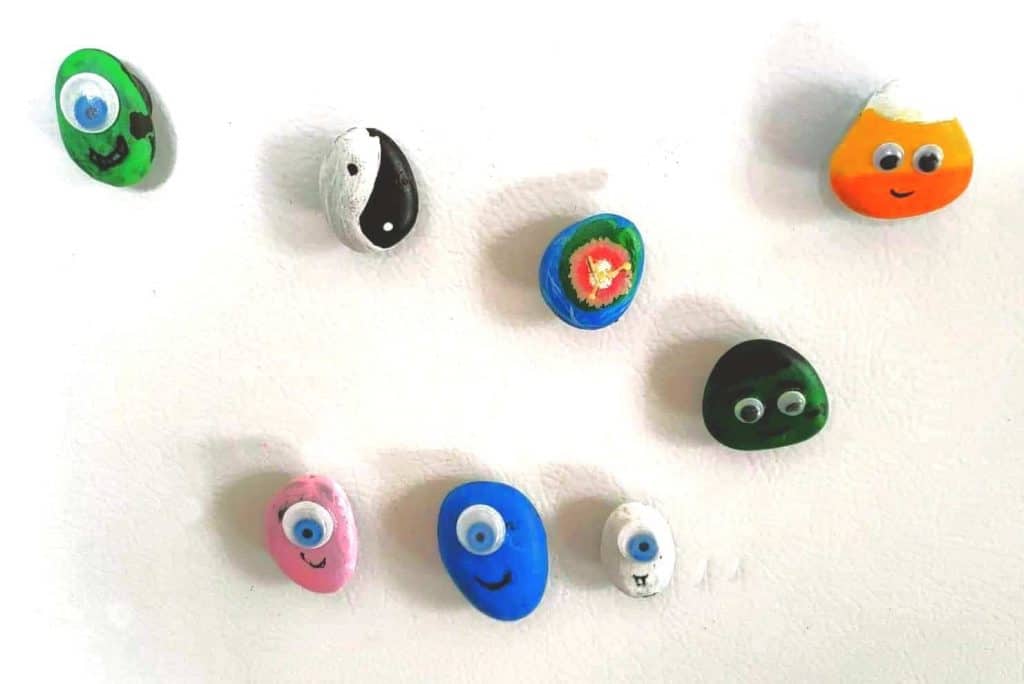 5 Easy Fall Crafts for Any Age
1. MONSTER ROCKS REFRIGERATOR MAGNETS
SUPPLY LIST:
Water, Paper Towels, Paper Plates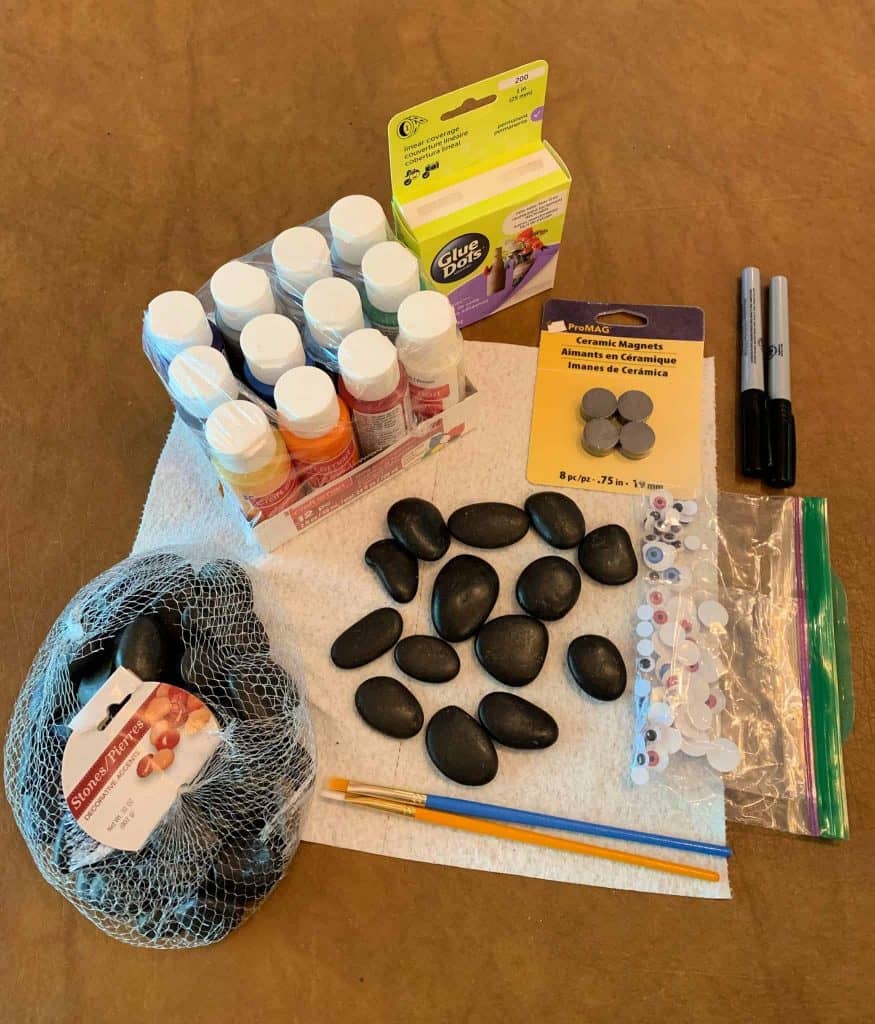 INSTRUCTIONS FOR MONSTER MAGNET CRAFT:
Paint the rock any color you wish. We used a photo from Monsters Inc. University for inspiration.
The kids came up with their own artistic ideas of course!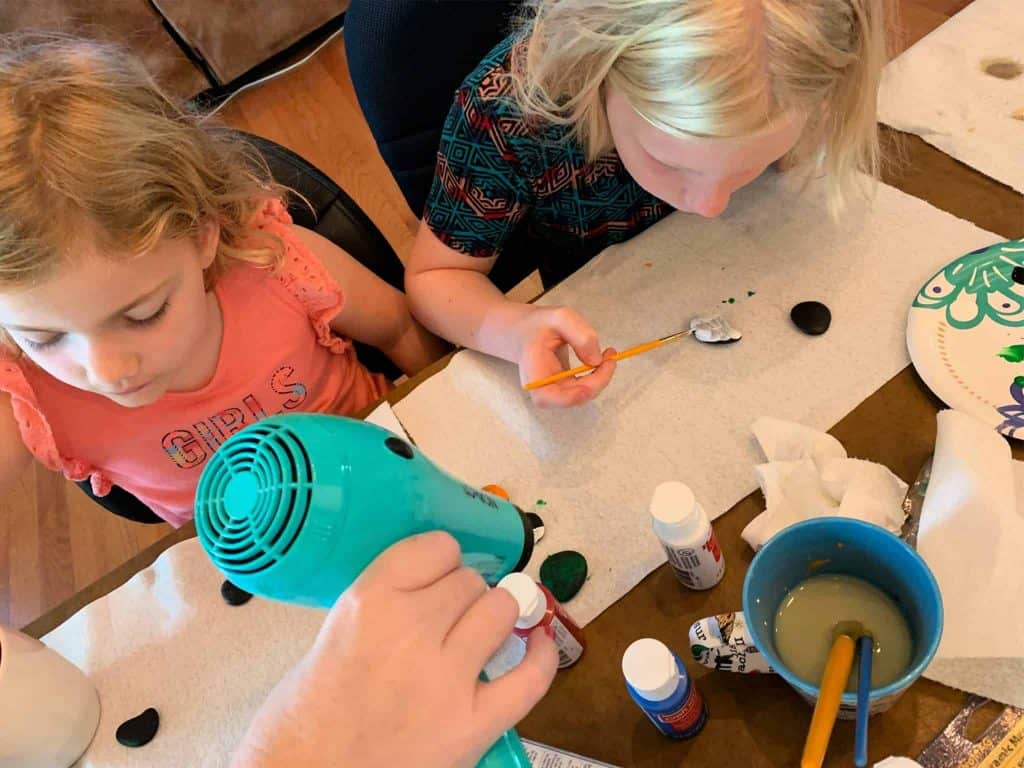 Let dry. We used a blow dryer to speed up the process a bit. It may take a few coats to get full coverage on the rocks. If the paint is not covering that well, try sanding the rock first so the paint will adhere better.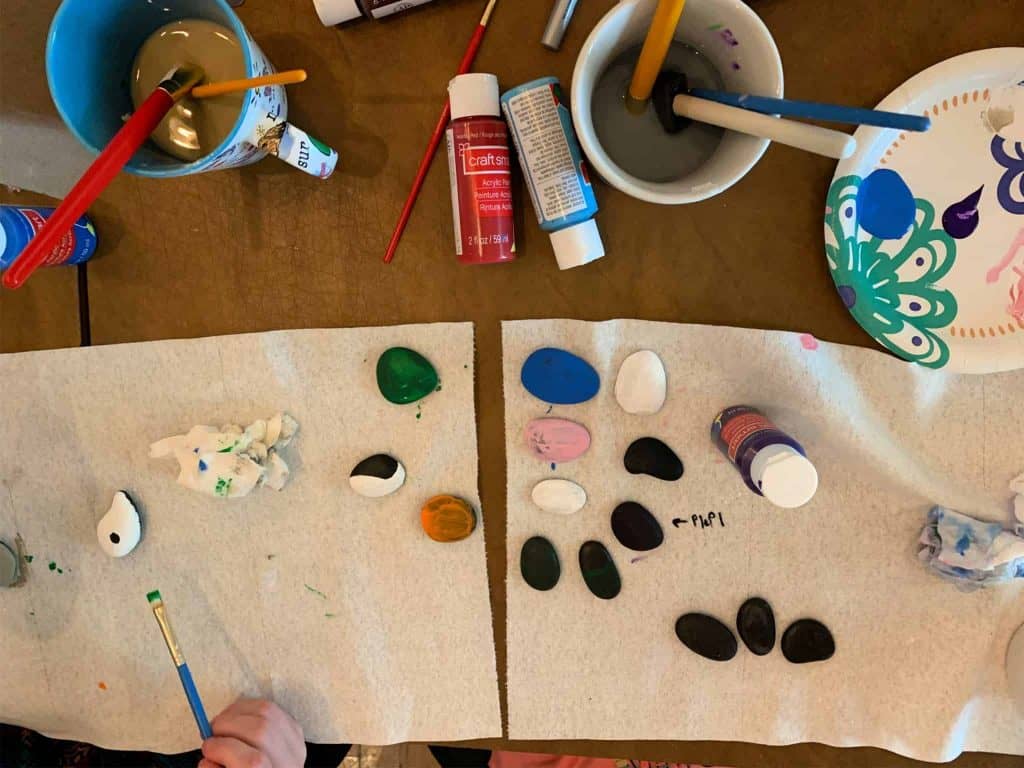 Once dry, spray the rocks (or use clear nail polish) to set the paint so it won't chip or peel. Do this outside and best done by an adult or with adult supervision depending on age of artists!
Let the spray dry according to directions. Then apply googly eyes using E6000 Glue or similar adhesive. E6000 Glue can create a big mess and is smelly. To make this easier, I am the keeper of the glue. I give the kids a toothpick and they dip it in the tube to get a little bit out to apply to the googly eyes. Makes it easier and not as messy. Once we are done with the glue, I put it in a plastic baggie to keep it from getting all over everything and to lock out the smell.
Then using the E6000 Glue apply the magnets using the same method.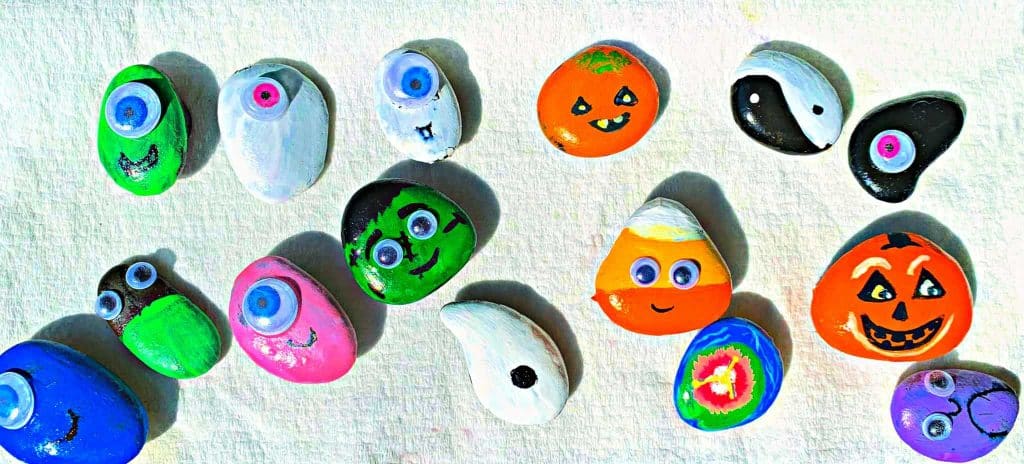 There you have it! Lots of monsters for your refrigerator!
2. MUMMY AND GHOST BOTTLES
SUPPLY LIST:
Bottle or Jar (any kind depending on what you want to put in them)
Stickers (optional)
Embelishments (optional)
Battery operated Candles or Tealights or Fairy Lights
Tape or E6000 Glue
INSTRUCTIONS FOR MUMMY AND GHOST BOTTLE CRAFT:
Clean your bottle or jar and let dry.
Using the gauze, starting in the back tape or glue it to the bottle at the top or the bottom.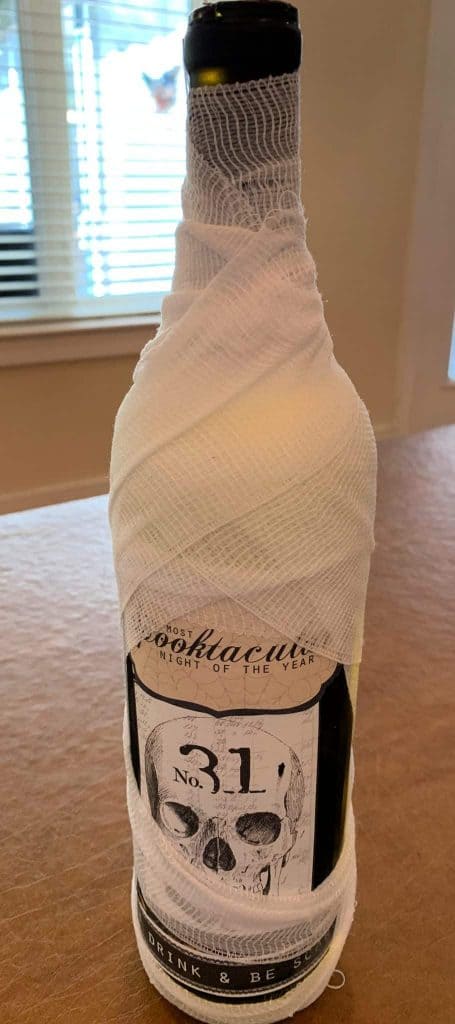 If you are using Fairy Lights with a battery pack you may want to put the lights in and drape the cord down the back and cover the battery pack at the bottom. Just make sure it has easy access and can be slipped in and out to replace the batteries and that the button to turn them on is accessible.
Wrap the bottle all around with the gauze until you get the desired effect. When done wrapping, tuck the end of the gauze in or glue or tape it down.
If you use stickers, be careful not to hide them or you can put them on top of the gauze. Add embellishments or whatever you can think of for the look you want!
These make fun candles jars or candy jars or anything you can think of!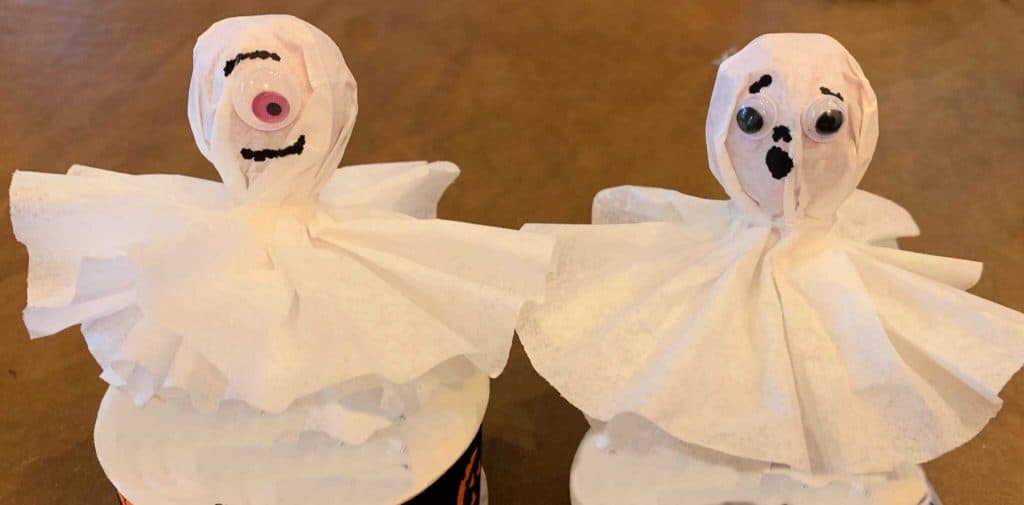 3. GHOST POPS
SUPPLIES:
Glue
INSTRUCTIONS:
Wrap two coffee filters over the Tootsie Pop and secure with a white rubber band.
Add Googly eyes with glue or use marker to make faces!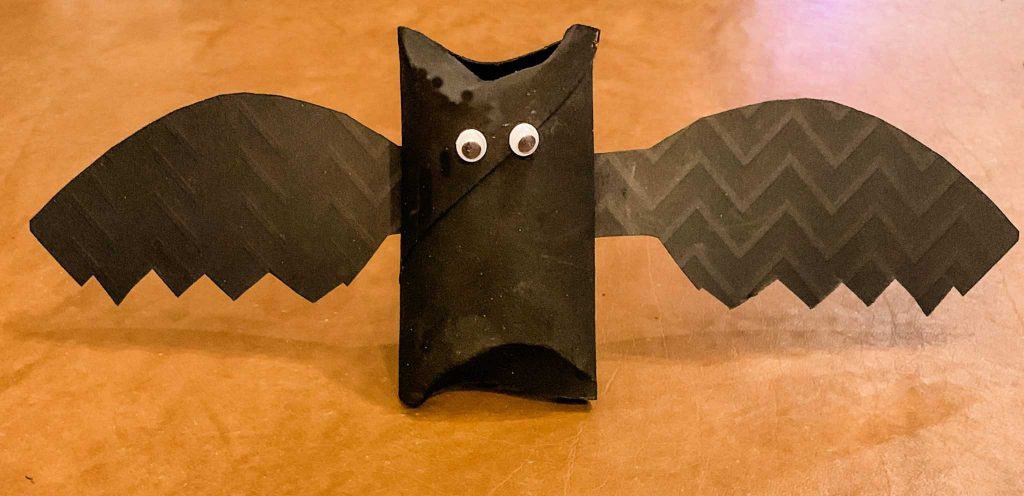 4. FLYING BATS
SUPPLY LIST:
Toilet paper rolls
Black Acrylic Paint
Nylon Thread and Needle
Water, Paper Towels, Paper Plates
INSTRUCTIONS FOR BAT CRAFT:
Using both hands, crimp the paper roll as shown.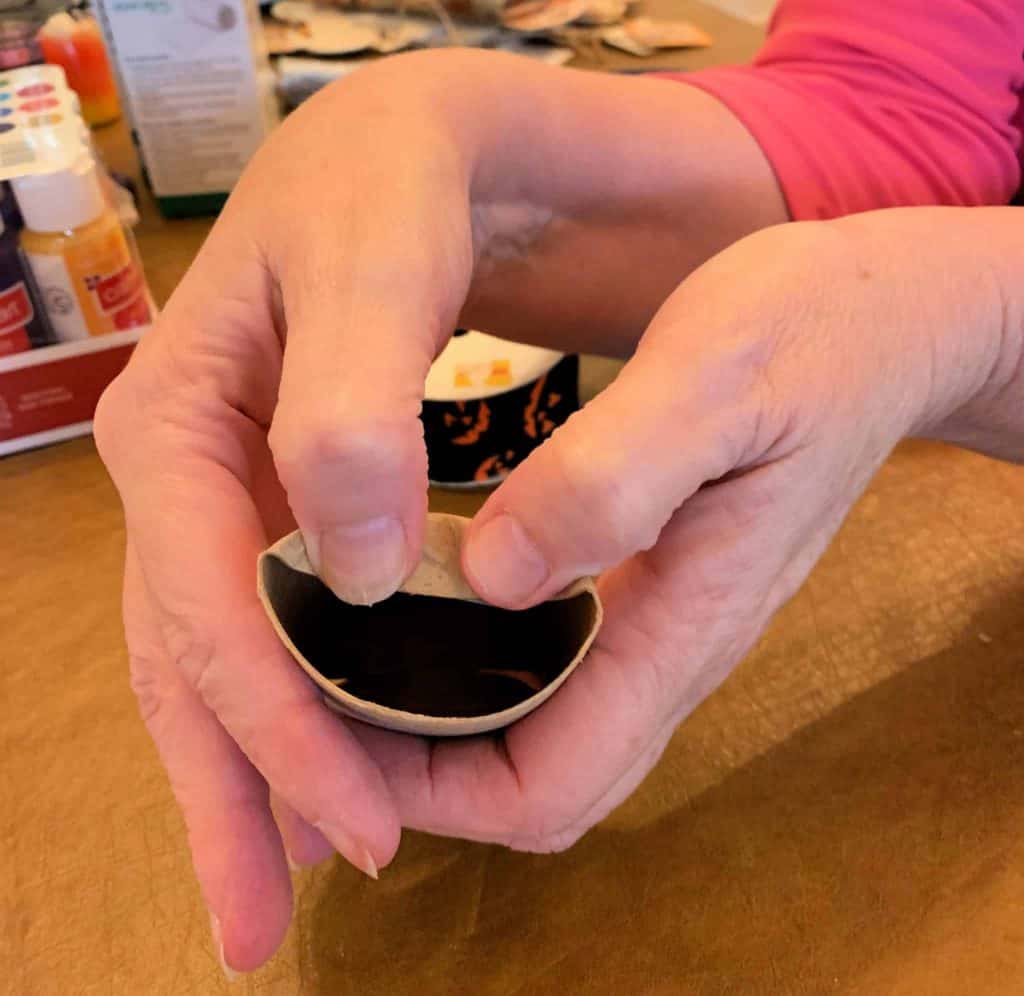 Paint the whole thing black and let it dry.
Attach the googly eyes.
Fold the black paper in half and using the template provided here:
Cut out the bat wings. I found some paper from Michaels with texture but black construction paper works fine. Open the wings and glue to the back of the bat.
Use a needle with the nylon thread and feed it through the back of the bat's head to hang.
Create a mobile with several bats to hang for decoration.
5. TURKEY AND ACORN SIGNS
SUPPLY LIST:
Dollar Tree Turkey and Acorn
Dollar Tree Netting
Dollar Tree Velvet Leaves
Scrapbook Paper and/or Stickers
Water, Paper Towels, Paper Plates
Easy fall craft with minimal costs.
INSTRUCTIONS FOR TURKEY AND ACORN CRAFT SIGNS (SAME FOR BOTH)
Paint the Turkey/Acorn a neutral color. Using the scrapbook paper and/or stickers, adhere to the center of the sign with Modge Podge on back. Cut out designs or use stickers around the edges and decorate to your liking. Cover the entire surface with Modge Podge.
Once dry, add velvet leaves as embellishments with glue.
Take the netting and make a few full bows. Add leaves. Attach to the top of the Turkey/Acorn top with string or wire.
All these 5 easy fall crafts are suited for any age. What are some fun things you like to make with your kids or grand kids?
You and your kids may like making things for Thanksgiving too! Check out this:
5 Easy Crafts for Kids to do for Thanksgiving
Pin it for later: