Whether you love to travel or simply dream about doing so, decorating your home with globes and maps is a great way to remember that you are part of a larger world. These 20 Easy Globe and Map Projects for your home offer up some truly creative ways for you to fill your house with geographical beauty.
There are wonderful make-overs that you can do to globes, tables, and more. The Map Covered Coffee Table is so bright and cheerful, it makes me think of being on a beach.
If you have a vintage globe, be sure to check out the beautiful Vintage Globe Makeover Project to see the amazing difference a coat of paint can make.
If you are more interested in making a beautiful and unique artistic map project creations for a wall or tabletop, you'll find those here, too.
From the rustic and beautiful Wood Pallet Map to mobile involving stars and a glittery globe, there are all kinds of pretty things here.
CHECK ALL 20 GLOBE AND MAP DIY PROJECTS HERE:
VINTAGE GLOBE MAKEOVER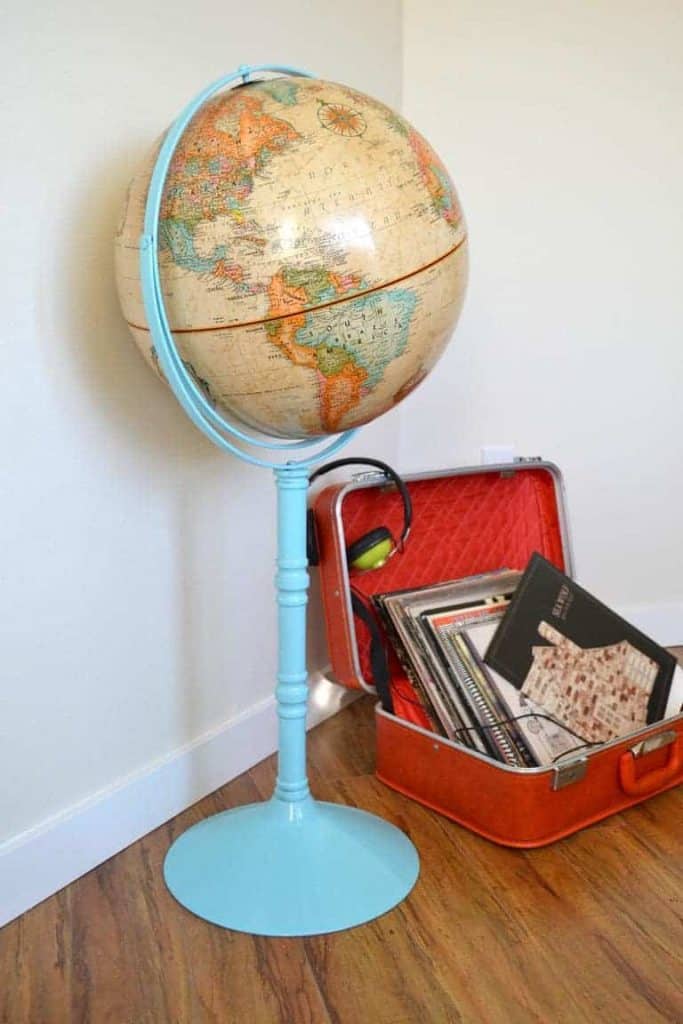 Sometimes, a fresh coat of paint is all a vintage globe needs in order to bring out its "personality." Fair Robin Revival shares how she brought new life to her beautiful vintage globe with just a little time, patience, and some pretty blue paint.
DIY CHALKBOARD GLOBE
Blue is Style Blog – DIY Chalkboard Globe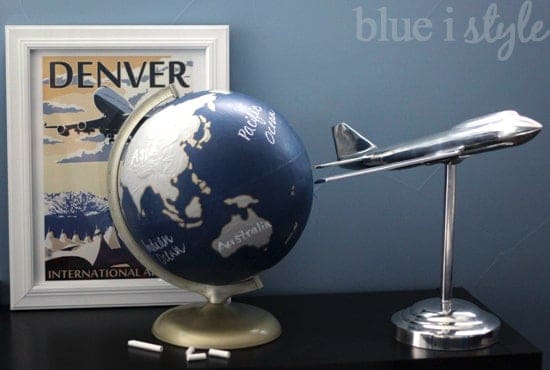 This wonderful Chalkboard Globe makeover project is as pretty as it is practical. Not only is this desktop globe an attractive decoration for any room in the house, it's a great way to practice identifying the different areas of the world!
This project requires: a desktop globe, sandpaper, grey latex paint, blue latex paint, a gold Sharpie paint marker, and some multi-surface chalkboard paint.
TYPOGRAPHICAL GLOBE
Mad in Crafts – Typographical Globe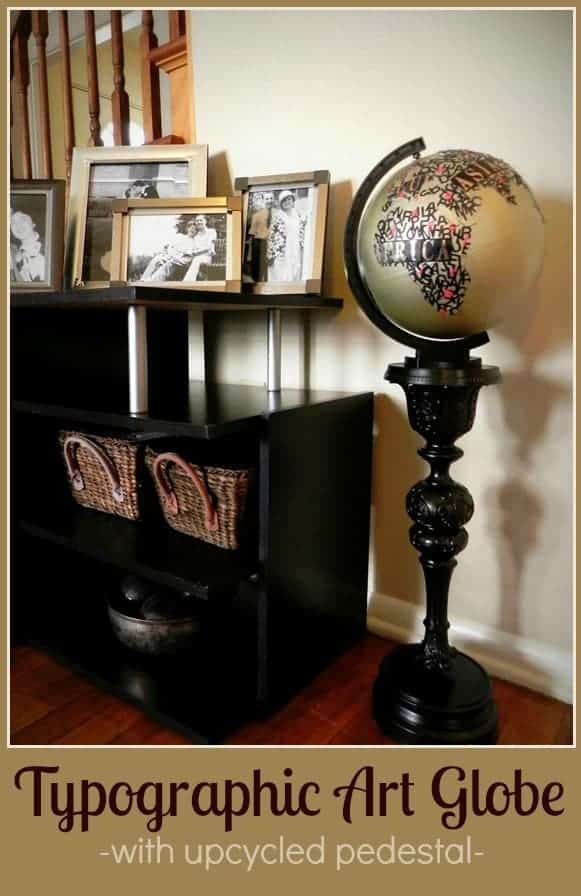 This unique and lovely craft project is a great way to express yourself. Follow the blog instructions exactly to create a similar typographical globe. Or simply use her suggestions to come up with your own unique globe creation!
For this project, you will need: a globe, a floor-lamp base of choice, hex nuts, Champagne Nouveau spray paint, Oil Rubbed Bronze spray paint, an assortment of letter stickers, packing tape, wax paper, a marker, scissors, and some clear protectant spray.
DIY DECORATIVE GLOBE USING YOUR CRICUT
Sparkles of Sunshine – DIY Decorative Globe using your Cricut
This decorative globe looks great in just about any room of the house. Not only that, it's a wonderful way to remind yourself of a favorite scripture or positive affirmation!
For this project you will need: a globe, a Cricut Cutting Machine, and some Cricut White Adhesive Vinyl.
ANTHROPOLOGIE HACK: FLORAL QUOTE GLOBE
A Joyful Riot – Anthropologie Hack: Floral Quote Globe
This is one of those globe projects that actually kind of takes the "globe" out of the equation since the map is completely painted over. But this project is the perfect way to display a favorite quote or sentiment, and it a wonderful opportunity for creative self-expression!
For this project you will need: a globe, Mint colored spray paint, a paint brush, Mod Podge (Matte Finish), a gold Sharpie, and some some gold spray paint.
DIY GLITTER GLOBE MOBILE
Delineate Your Dwelling – DIY Glitter Globe Mobile
What could be more fun than a mobile made of a globe, glitter, and sparkling stars? It's a great way to add some travel inspiration and cheer to any room!
For this project you will need: a globe, an angled paint brush, some gorgeous glitter, and decoupage.
DIY PAINTED PHRASE GLOBE
Mountain Modern Life – DIY Painted Phrase Globe
This beautiful globe project is a great way of expressing a favorite word or phrase. The project pictured shows a snow white globe with the word "Love" on it. As is, it is a perfect decoration for a wedding or anniversary. But this project is completely flexible and will look great in any variety of colors and design!
For this project you will need: a globe, double-sided tape, paint, and a paintbrush.
3D MAP STARS
Pillarbox Blue – 3D Map Stars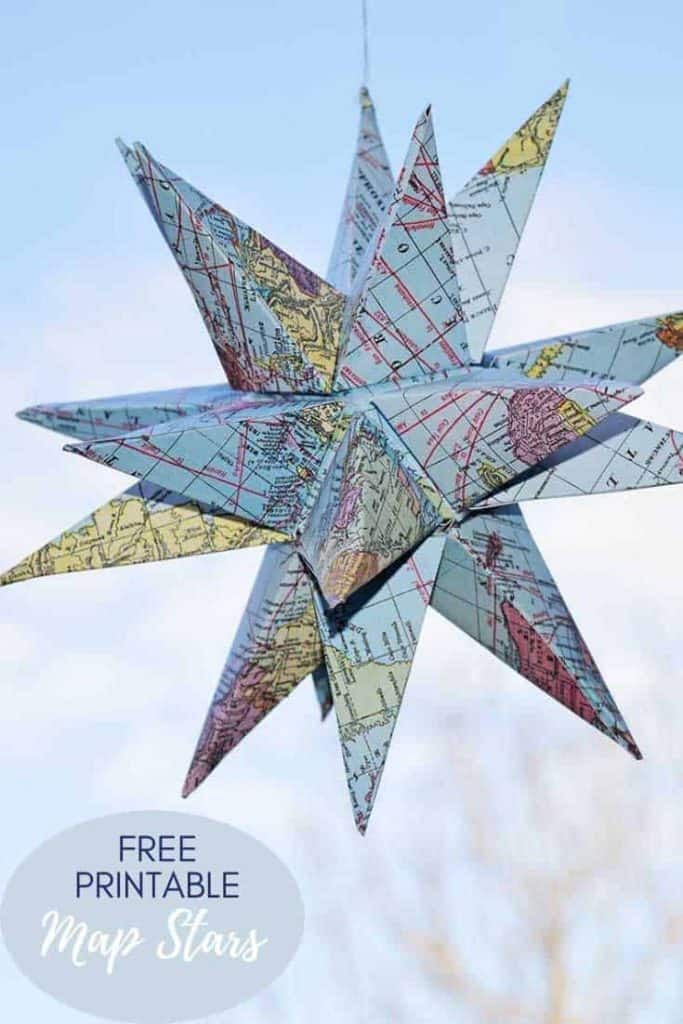 These 3-D Map stars are so pretty. They are a wonderful Christmas and holiday decoration. But if you love stars, no one will blame you for hanging these gorgeous stars all over your home!
For this project, you will need: heavy cardstock, star templates, a decorate map to print on the cardstock, a printer, a sharp craft and utility knife, scissors, a ruler, and some all-purpose adhesive.
DIY SUPERHERO GLOBE
Lolly Jane – DIY Superhero Globe
This fun superhero globe project is a great decoration for a kid's room – or any place where you want to be reminded of your own inner superhero.
For this project you will need: a globe, some superhero comic books, a black marker, Mod Podge, and some scissors.
SHEET MUSIC GLOBE
Cutesy Crafts – Sheet Music Globe
The sheet music globe project is really such a beautiful way to make-over an old globe, especially if you or someone you love actually plays music. Countries are created from vintage sheet music rather than maps – for a look that is truly amazing.
For this project you will need: printable vintage sheet music, blue spray paint, stickers, white spray paint, and some matte finish Mod Podge.
MAP COVERED COFFEE TABLE
The Painted Hive – Map Covered Coffee Table
This beautiful makeover project is a wonderful and creative way to breathe new life into a used glass-topped coffee table. Between the maps covering the top and the snow white paint, there is something so fresh and breezy about this coffee table project. If you've got a table that needs some help, you've gotta check this out.
For this project you will need: some world Map wrapping paper, clear matte finish spray, Mod Podge, Minwax Polyurethane Clear Finish, white latex paint, a paint brush, and a sanding block.
RECYCLED MAP DRAWER MAKEOVER
DIY Inspired – Recycled Map Drawer Makeover
If you've got some drawers in need of a makeover, you've really gotta check this project out. The drawers pictured are plain and white, but I'm sure this would also be a great way to dress up damaged wooden drawers, too. I think that this project also offers up a lot of great ways to personalize it. You could use maps of your favorite countries or states. You could use modern maps or vintage ones. With maps, there really is no way to go wrong.
For this project you will need: maps or world map gift wrap, Mod Podge, a ruler, scissors, an X-ACTO knife, paint brushes, and a cutting mat.
GLASS MAP NECKLACE
Happy Hour Projects – Glass Map Necklace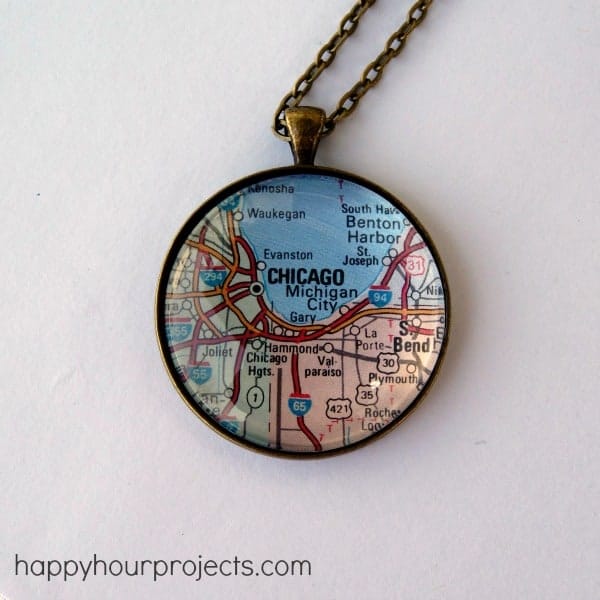 Adrianne, the blogger at Happy Hour Projects, used to sell this adorable necklace in her Etsy shop, but she couldn't keep up with the orders. The good news is, now you can make your very own glass map necklace, featuring any location your heart desires. And who knows? If people start asking you where you got your great necklace, you might decide to start selling them yourself!
For this project you will need: a handy atlas (or other source of maps), some Mod Podge, a paint brush, a craft applicator squeegee, this antique-brass looking Bezel and Cabochon, some antique-brass looking chain, a lobster clasp jump ring set, and some multi-surface weatherproof glue.
DIY PUSH PIN WORLD MAP WALL ART
Smiling Notes – DIY Push Pin World Map Wall Art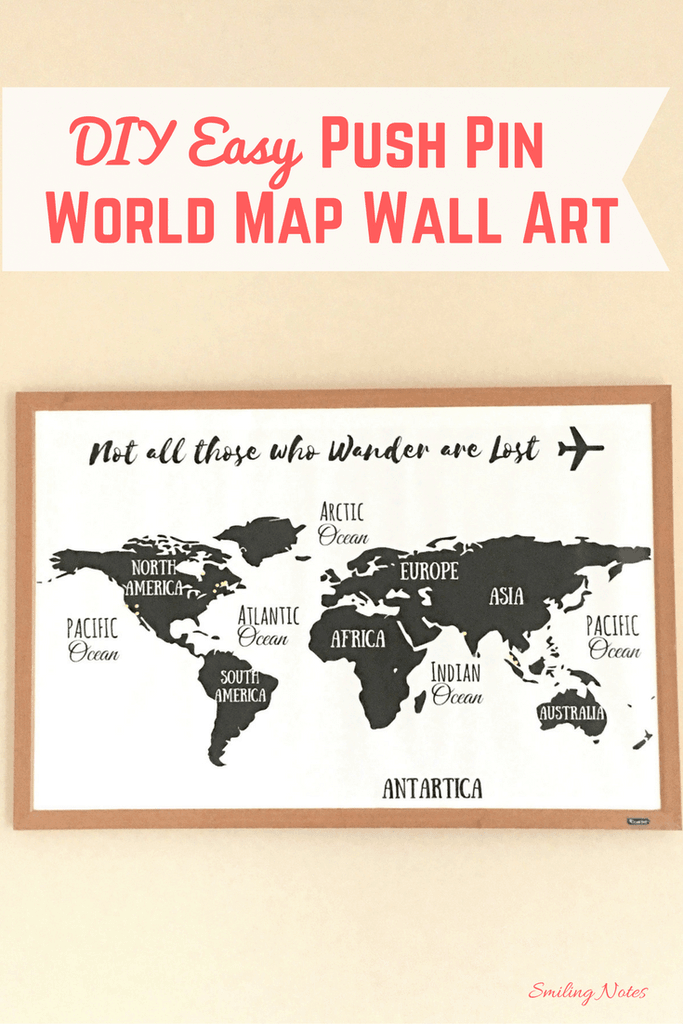 I really like this art project. It's simple and attractive, and easy to personalize in any number of ways. You could change the quote you use or pick another map image from the one shown, or even choose to do something different with the lettering. There are just so many wonderful ways to make this piece of artwork your very own.
To make this project according to the instructions, you will need: a nice court board, Mod Podge, something to hang your picture with, and some pretty push pins.
WOOD PALLET MAP
The Idea Room – Wood Pallet Map
If you are a fan of antique maps or artwork that looks like something recovered from an old pirate ship, I bet you will love this Wood Pallet Map. It sounds pretty fun and easy to make, even though it looks like it would be hard. All you really need to get started is a nice wood pallet, which you can often find for free from nurseries and other businesses.
In addition to a wooden pallet, you will need: some wood glue, some vintage map gift wrap or this antique map poster, an X-ACTO knife, and some Minwax Polycrylic finish.
DIY TYPOGRAPHY WORLD MAP WALL ART
Just a Little Creativity – DIY Typography World Map Wall Art
This wonderful map based wall art project is a great way to express your love of life and adventure. Super easy to customize, you can choose pretty much any map and statement that you wish to express. So creative and unique, this wall art would make a great gift, too!
For this project, you will need: a map or this vintage map wall poster, a picture frame, a foam core backing board, carbon paper, black paint or marker, craft and utility knife, spray adhesive, and some Command strips for hanging your picture.
DIY DECOUPAGE MAP SERVING TRAY
Today's Creative Life – DIY Decoupage Map Serving Tray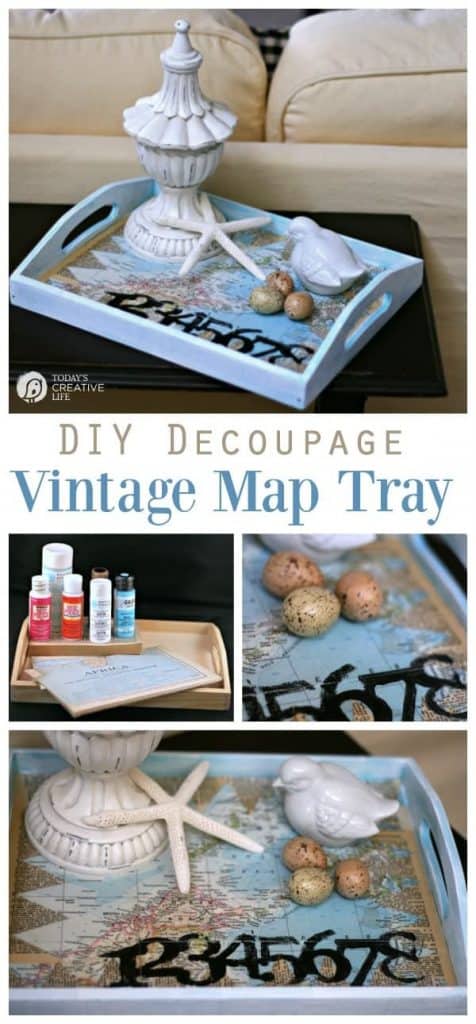 This beautiful serving tray is as handy as it is decorative! There are so many ways you can style it, too, depending on your personal tastes. From changing the map to the colors of the paint and designs, you can really make this project your own.
To make this tray according to the instructions given, you will need: Mod Podge, Mod Podge Sparkle, acrylic craft paints, crackle effect paint, map of choice or vintage map gift wrap, pages from an old dictionary or other book, foam paint brushes, and a wooden tray in your choice of size.
DIY TRAVEL TAPE
The Mayberry Home Journal – DIY Travel Tape
This is a pretty cool project. It's not so much about home decor, but rather, a great way to incorporate map printed tape into a number of places. Some suggestions by the blogger include using this tape to seal envelopes or to tape paper lunch bags closed. If you love maps, I'm sure you'll find all kinds of great uses for your own homemade DIY Travel Tape!
For this project, you will need: some favorite old maps or antique world map gift wrap, double-sided tape, an X-Acto knife or, if you prefer scissors. And, if you go with the X-Acto knife, you'll also want a cutting mat, and a ruler.
DIY MAP COASTERS
The Country Chic Cottage – DIY Map Coasters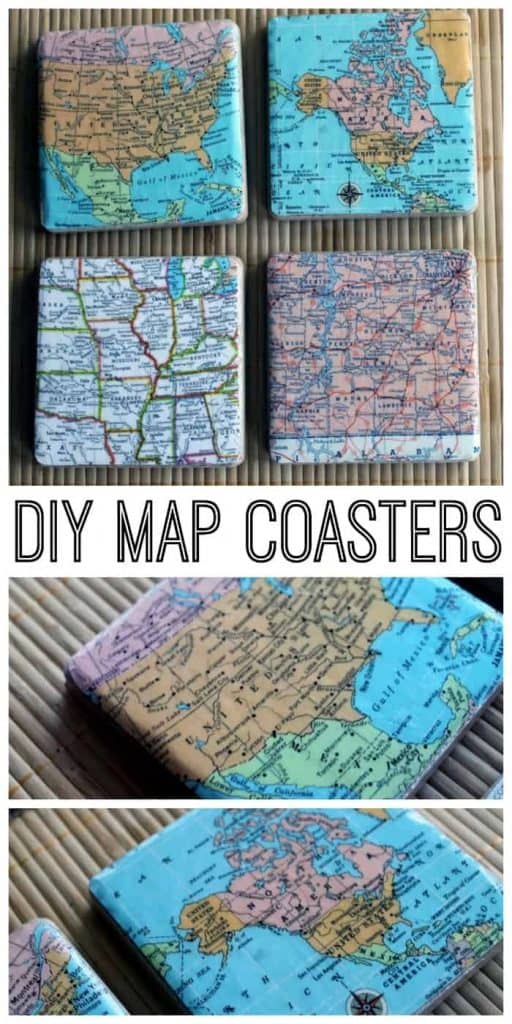 Drink coasters are always handy to have around. After all, they are a very practical and necessary way of protecting your furniture from moisture rings left behind by cold beverages. And besides – they just look nice. If you love to collect a variety of toasters, you really need to check out these Map Coasters that you can make yourself. They are so cute, and they are an awesome way of upcycling some used tiles if you have them.
(Holiday Protip: A set of these would make a great DIY gift for anyone you know who loves to travel. You could even personalize it by featuring maps of places that they have visited!)
To make some DIY Map coasters you will need: dishwasher safe Mod Podge, maps, some old tiles you want to upcycle – or new ones you like. Although the project on the blog shows square coasters, I like these hexagon tiles, too. You'll also need some self-adhesive felt sheets, scissors, a pencil, and a paint brush.
IKEA HACK: MAP LAMPSHADE
Pillarbox Blue – Ikea Hack: Map Lampshade
Although this DIY map project is meant to be an Ikea lampshade hack, I bet it could be done with many other lampshades, too. So if you have an older one you'd like to upcycle, you might want to check this out and see if it will work.
However, if you want to work the project as it is written, you will need: A Rismon Lampshade from Ikea, old maps or map-printed decorative paper, Mod Podge, a mat and rotary cutter set, a pencil, and a ruler.
WHICH WILL YOU CHOOSE TO MAKE OUT OF THE 20?
There are so many awesome DIY things in the 20 easy globe and map projects. I'm not sure which one I'd like to make first. But if you make any one of these , I would love to hear about it!
Try this post on Decorating with inspirational wall art for more DIY decorating ideas!